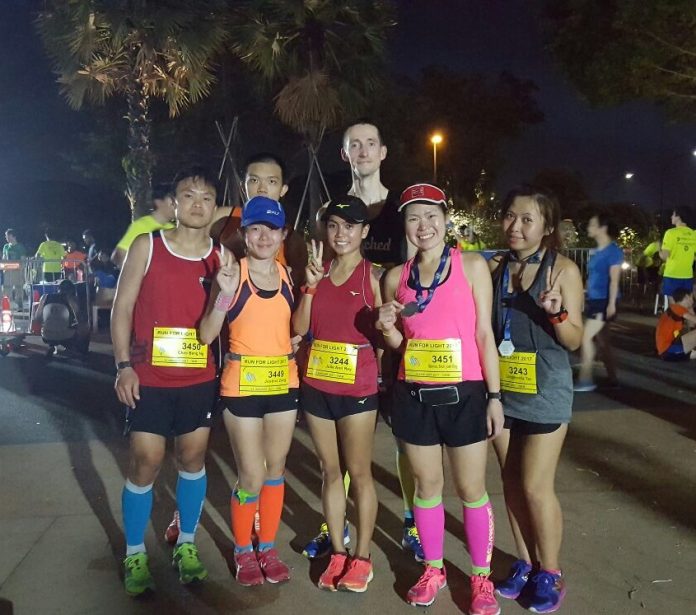 Thank you July for giving me a slot to the run so it's a free run for me! Yay! 😊 Though it's a charity run but I am cutting down in signing up running events, I have so many runs which I didn't sign up, maybe change my target to running in Malaysia 😊 Travel more so next time I can be brave enough to go places further alone and be safe.
It's not a good day for me at first, was quite disheartened by the pole class hours before the run because I can't do the pole moves, I have fear in doing the moves, it's called shoulder mount and I fear of crushing my collar bones or shoulder bones and it's extremely painful! 😖 Hopefully I can overcome the fear!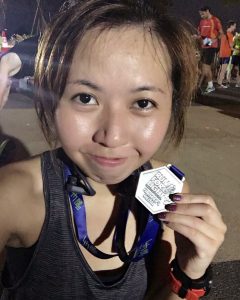 Unexpectedly, I got a personal best timing by 4 minutes! 😍 I don't have any aims for this run at all actually and tell myself 平常心 in direct translation it means normal heart because of the torturous pole class before the run and the more I have aims in a run the more I am stress, then it's the same nauseous feeling during the runs that I had like those feelings when I sit for examinations in school and of course affecting the performance.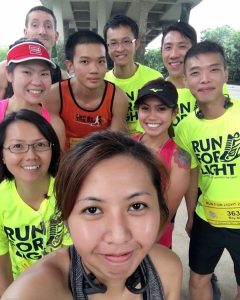 Before the run, my friends and I took the shuttle bus service provided from Kallang Leisure Park to the race site at Gardens by the Bay East. It's a good service as it's not a long queue or long wait at all for my friends and me. And baggage deposit and collection and the portable toilet all no queues, I like! 👍🏻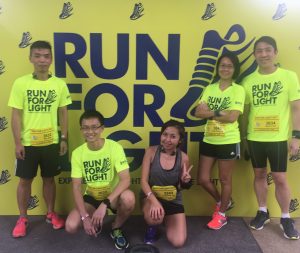 It's not a very big event with about 2000 participants for the 1km blindfold walk, 10km competitive run and 5km fun run. There's a cause for this run, the organizers will donate $10 to the Guide Dog Association for every people who registered for the blindfold walk. Sometimes we need to be reminded of how blessed we are to be given the gift of sight. Not just that, we are living, we can think, we can eat, we can breathe and we just need to be grateful and be contented to what we have in life 😊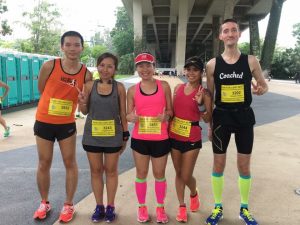 And there is also an event attempting to break the Guinness World Record to be the largest resistance band demonstration. Don't know is it successful or not. It's too tiring that they have this resistance band demonstration before the run and it's 30 minutes long plus it's torturous to do this because you are doing a 10km run later so I didn't complete it and request to leave and go to the start pen Maybe they should hold the resistance band demonstration after the run, somemore those who complete the resistance band workout have to carry the resistance band throughout the run? 😅 Now I really wish they got an option to donate our event tee or something like $5 will be donated to the beneficiaries if we opt out of event tee. That would be nice right?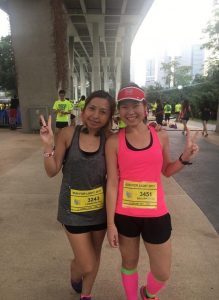 Though I have my ear piece with me, but I tell myself don't listen to the music but listen to the my breathing first till I'm safe, I don't want to be panting and grasping for air since the beginning of the run. Because people with anemia will get breathless easy because lacking of oxygen in the body and my organs get tired easily. Don't know because is it whether that these two weeks been taking the supplements given by the doctor like folic acid, vitamin B complex and ferrous funarate daily that is good for the blood that I perform better in running and after the run, I didn't feel any run die me feel. Doctor only gives the iron tablet, but I requested folic acid for boosting red blood cell production. I need oxygen in my body 😊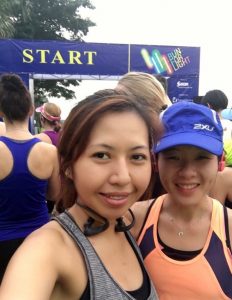 Flag off is on time at 6.30pm for the 10km category. There's the running of the upslope at the Barrage at about 2km after the start. It's so nice to see Noah at the beginning of such a torturous slope, he's there cheering for the runners and he just said to go easy on the slope. Yes, thanks for the reminder! If I chiong the "mountain" the rest of the 8km I can walk already 😂
Then at somewhere near flower dome at Gardens by the Bay I saw spit fly. It's the first Kenyan runner, it's really not nice because the road marshalls are wheeling and whistling to open path drawing attention to them and some more he is the first runner and he spat! 😱 It's like the spit that Jack taught Rose on Titanic. It got the distance, got the sound and got the speed. Omg, the spit literally flew in the air like 3 seconds luckily no one kena 😖
Somewhere near Marina Bay Sands I saw Captain America and his Mrs just mere seconds behind him. It's like so nice that both runners are a couple, or this couple are both runners. Is it the same meaning? They can get motivated and inspired by their partner maybe that's why many of my female friends who their partner are also runners keeps on improving in running. Then I started the counting and saw Justina as the number five female runner! 😁 Top five runners have podium prizes, but in the end one female runner over took her by seconds and Justina missed her podium just by a little.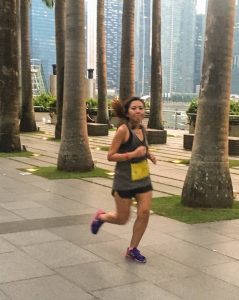 I saw the distance board marked 7km when I returned just after Marina Bay Sands and the Helix Bridge. Feelings kena cheated when I looked at my Garmin and it only shows about 6.5km. I trust my Garmin more 😂
I keep chanting breathe, don't slow down. And keep on doing the Maths in my mind throughout. 10% of the run completed, half of the distance covered, another half to cover which is another 5km. 1/5 distance left. And keep on doing the estimation and mental calculation that if I run at this pace I can get back in what time, if I slow down to my slowest speed, I can get back in what time. But I keep telling myself "You better don't slow down" when at about 8km I realise I can get a PB that I'm so excited and I feel my eyes getting warm with tears! The last time I get a PB is at Ground Zero run last year and I have many more 10km runs after that which I can't break my own record. Though there's once during a training run I clocked 1hour3mins plus but I paused the timing at traffic lights so it's not really an official timing though I feel that any recorded time on your tracking device is legit or it is up to you to consider what is legit.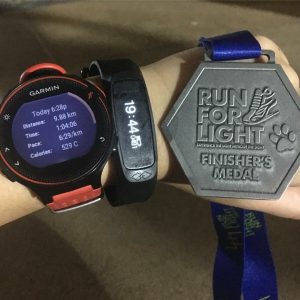 It's so good that the last 100m or so I still have stored mana to chiong to the finish line and don't have the super shag feeler any lousy or sick feelings after the run 😊