Karen KOH, in her late 30s, has a nice problem.
People would add her in Facebook because she looks like Rosamund Kuan, Hong Kong's famous actress. Sometimes, she would tease them: "Do you add me because I look like Rosamund Kuan, or Rosamund Kuan looks like me?"
Without a doubt, her celebrity look-alike and affable personality has earned her many close friends with most of her leisure time spent on social activities such as karaoke, shopping, chilling out and fine dining.
However, her social lifestyle took a 180 degree turn when she got reconnected with the alumni from her alma mater, Tiong Bahru Secondary School a few years ago.  She would provide support during their regular runs and joined them for dinner fellowship after that. Soon, they invited her to run with them.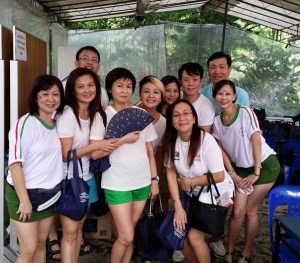 "To be honest, I hated running when I first started. It was torturous. But my friends are really nice – they kept encouraging me to run at my own pace for as long as I can.  Soon, I got the hang of it and I can never stop running," admitted Karen, an admin executive, in a phone interview from her Bukit Merah office.
Ever since she took courage to complete her first 5 km race in Pocari Sweat Run in 2015, she has gone on to conquer her first half marathon in SAFRA Half Marathon 2016.
These days, she would run at least twice a week in Marina Bay between 5 km to 18 km per workout.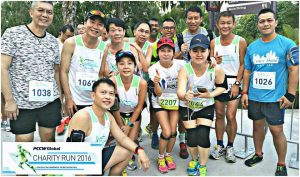 Said Karen: "I believe that it is important to run based on how our body feels and not overdoing it. We should feel good after the run and look forward to the next session. One should not run to the verge of burnout, and that is why I never fix on how much mileage I should run every week."
On hindsight, Karen agrees that running has definitely boosted her confidence and self-esteem. It is also one of the best forms of exercise to lose or maintain our body weight.
"I wish I have started running much earlier. Running is such a great stress reliever. Whenever I completed a run, whatever the distance, I would take a deep breath knowing that I just did something to improve my health and well-being- there's nothing like a good cardiovascular workout to achieve that!" affirmed Karen.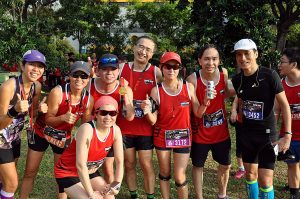 What advice would you give to beginners?
I strongly suggest that they start with a pace and distance that they feel comfortable and achievable – run easy, be patient, and enjoy your run. Over a month or two, you would see your fitness level improves and that you can run longer and further.
What is on your bucket list in 2017?
I wish to take part in an Ultra race after seeing so many running friends completed them.
If there is one sentence that describes you as a runner, what would that be?
The miracle isn't that I finished. The miracle is that I had courage to start.