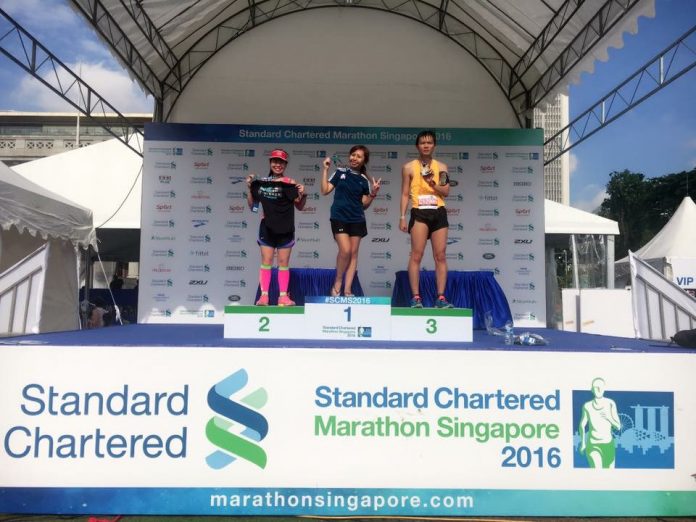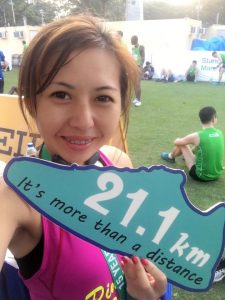 Ask, and you will receive what you've ask for! X'mas came early for me! Thank you JustRunLah! for the race slots and I have another medal added to my collection 😊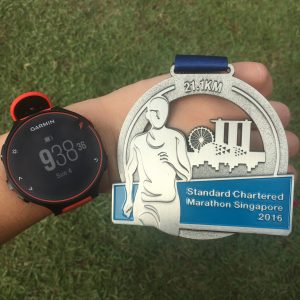 Now I really am thinking thrice before registering for any races and I feel that the race fee for SCMS is really too expensive, with this amount of race fee I can sign up for at least 2 or 3 other runs! 😂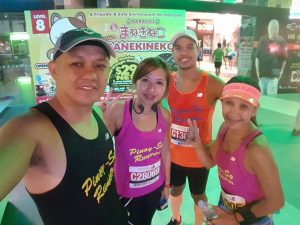 There is no train services at all this year, very troublesome for me as the distance from home to shuttle bus pick up point is more that 2km away but it's ok, used to it already as many our runs also do not have pick up from Khatib. And I just want that extra 10 minutes of sleep and end up I sort of run there. Reaching the bus just nice at 1.58am and I'm already sweating a lot like I have already ran my race and that maybe subconsciously I already have the feeling of do not show for the run.
Thank you Rey, your art talent is very much appreciated 😆 Its good that they gave a grace time and left at 2.05am. Can't remember which race, the shuttle bus left exactly just 1 minute after the stated pick up time. I think just like meeting with friends or even going out on a date there is a acceptable time frame to wait for the late ones although by right, don't be late is the best thing 😊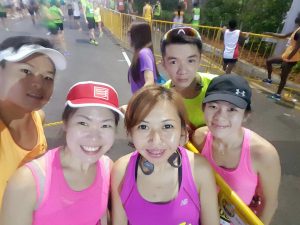 I bought the shuttle bus ticket at $5, there's pick up at 3am but I choose 2am because I want to deposit my bag and hang around, I actually don't want to bring bag as it's troublesome as I remembered the van is parked very far away at SCMS205 and last year I ran the full marathon it was quite killing to walk after that. But I want to have slipper and a fresh set of clothes to change into as it's really comfortable that after a run you get out from your soaking wet clothes.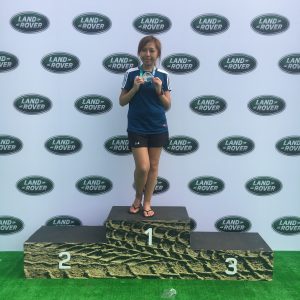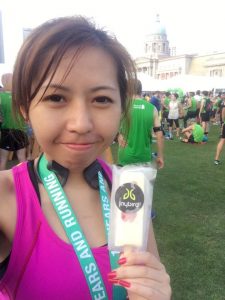 I ran the half marathon category and I think its the best category among all because once I'm back in the race village, I have time to explore the race village really like a boss 😎 My legs is very ok, I walked around, eat ice creams, go around taking photos with the elite runners like a fan 😆
Congratulations Dr Mok Ying Ren and Dr Ashley Liew on their podium winnings in the full marathon category! 😍
I went to Raffles City's toilet to change into a fresh set of clothes after collecting my baggage. I don't even dare to think about portable toilet thought there's no queue 🙈 Great baggage deposits and collections, no queue at all though have to walk quite a distance to collect my baggage. In fact, all my friends is running the full marathon and the Ekiden category but I'm the only one doing the half marathon. As they are fast runners, its not a long wait and I think I'm pretty good at keeping myself entertained and occupied 😆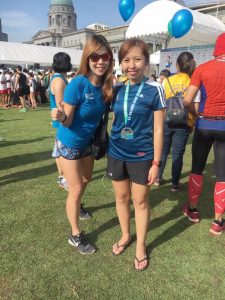 I think the half marathon is the best category this year to run in. As there is no bottle necks, not like what I've expected and no shoulders rubbing shoulders at all since from the very start to finish. It's a run that I looked forward as I feel that I can achieve a personal best and I had thought it will be a very good run for me. Though due to biological issues, its really not a good run for me as its a constant pain on and off throughout the entire race and I even have the thought of did not finish since the very beginning of the run. And I even thought that it should just be a did not show but now I'm glad that I turn up and got that beautiful medal. It's really a beautiful medal, but its quite heavy that at one point I carry it sling across my shoulder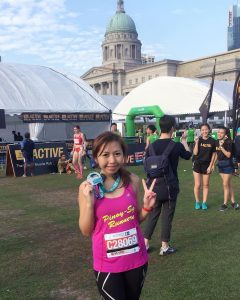 Hydrations point is great, though mineral water is not cold, but 100plus is cold. And the 100 plus available at the race village is very generous, free flow of super cold 100 plus! But heard that those who came back late didn't have water at many hydration points! That's really jaw drop, its 42km for many runners, how to go far without hydration? 😨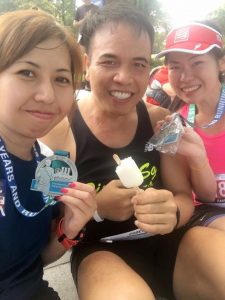 Many of my friends who are running the full marathon feedback that it is too jammed at the last part of the run as by the time they returned, as many of the 10km runners were walking 😔 Hopefully next year the organisers can do something about it.
Race Entry Pack Collection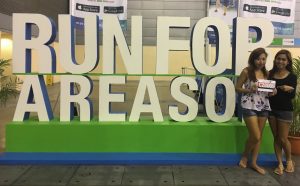 Collected my race pack on the first day of REPC. July accompanied me for the race pack collection and we have a lot of fun 😁 There's no queue at all when I went in the evening at around 6pm.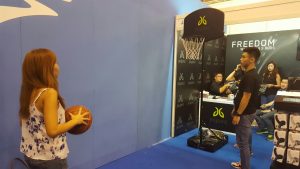 July and I went to the Jaybird booth and play basketball. It's in one minute time see how many shots you can score and the top scorer of the day will win their ear piece worth $200plus! I thought it's easy, but it's not 😆 But so nice lah, they still got a "thank you for your participation gift", a draw string bag.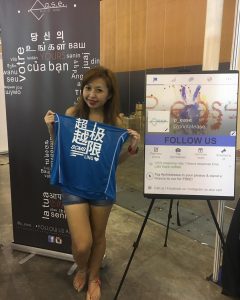 And thank you P_eace for the customised prints on my race singlet! 😍 Love it so much! We can choose from a few meaningful the designs template and customise our name on it. And the design that I choose is in Chinese characters, which means surpassing limits. Best thing is, it's only a 10 minutes wait for me while I use the time to explore the race village.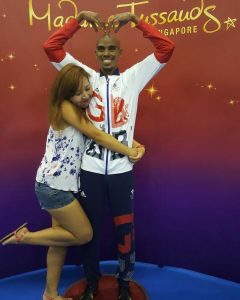 My favourite part of the whole Expo is none other than the Madame Tussauds Mofarah Mannequin! 😍 Show the world some love! Recently I've been thinking of poses during running, so it's not the common "peace" and "good" signs. Maybe I shall try sailormoon and ultraman pose if I spot any Photographers during my run. So Madame Tussauds have a contest to post a cutest caption to stand a chance to win a Fitbit.
---
Race Videos: