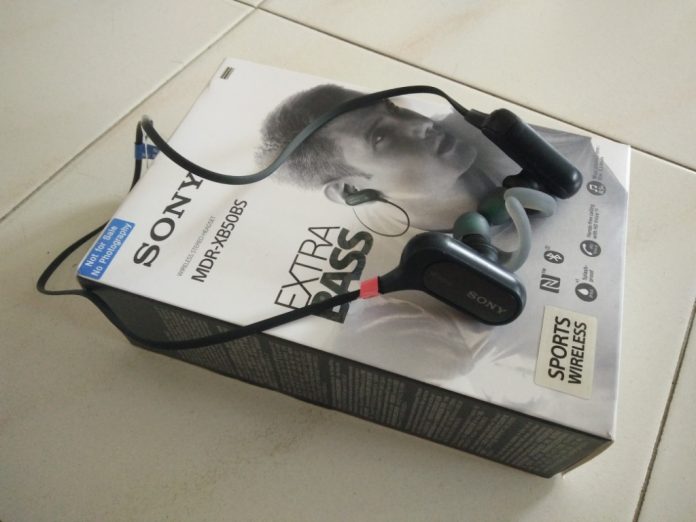 In the box
The headphone itself
A Micro-USB cable
Long Hybrid silicone earbuds (4 sizes; SS/S/M/L with M fitted onto the headphone)
Arc supports (3 sizes; S/M/L again with M fitted onto the headset)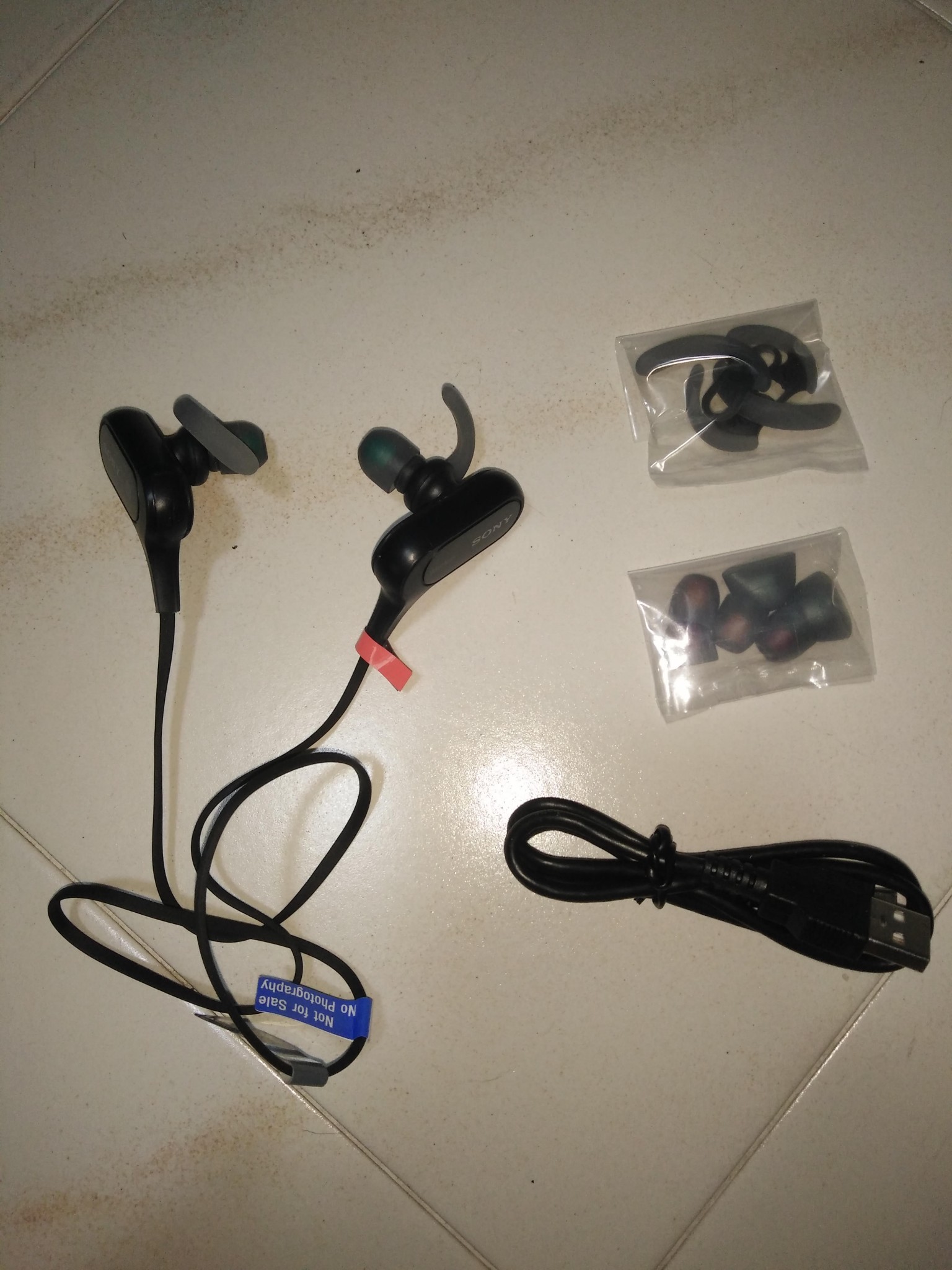 The headphone is available in 3 colours; black, red and blue. The one I am reviewing is in black.
Fit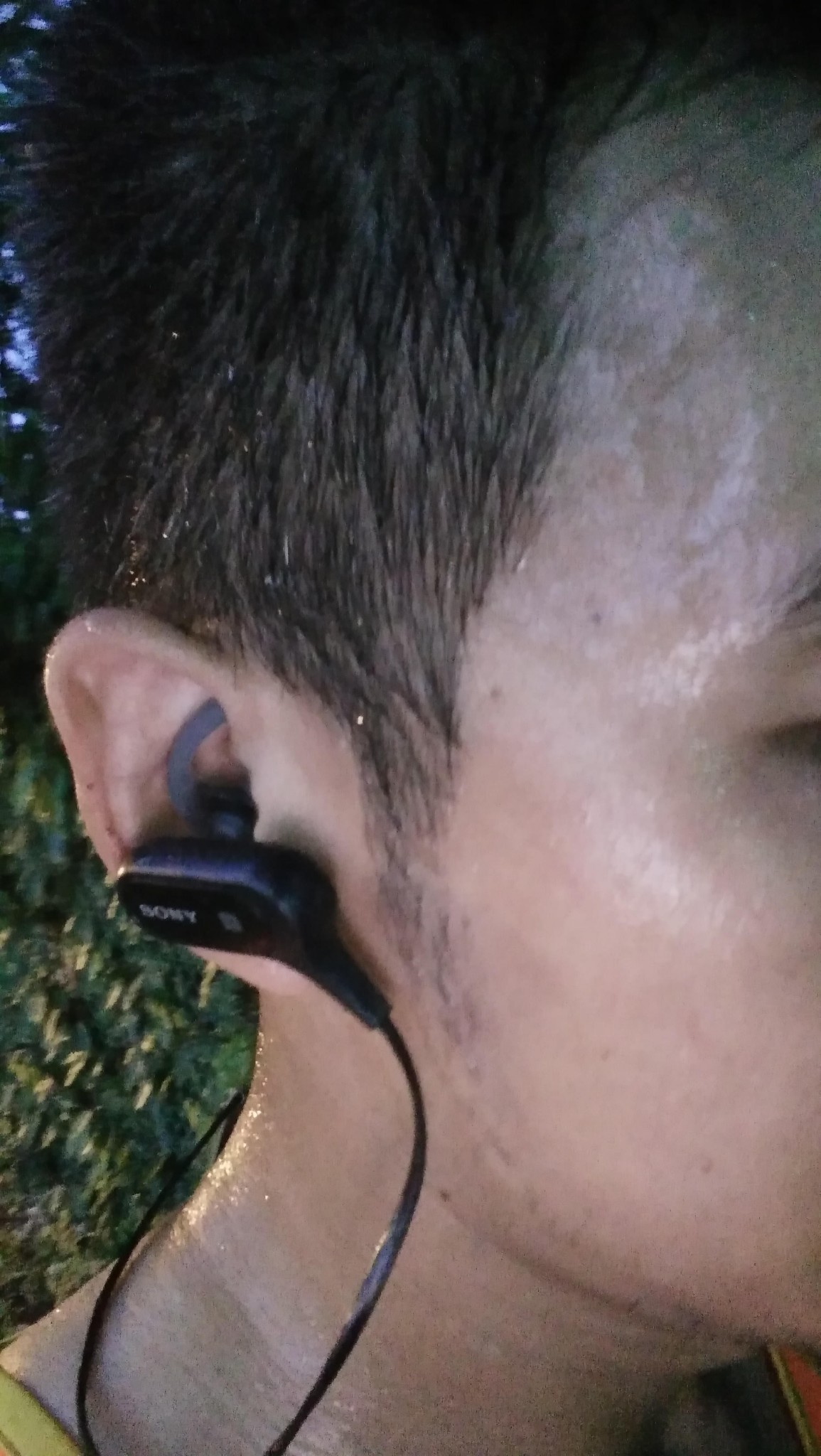 Having never worn in-ear headphones before, I did not initially know how to wear them. However, they are surprisingly easy to fit into the ear and they fit snugly. Even when I shake my head left and right during runs the headphones remained firmly in place. And with its light weight of approximately 30gm, I hardly felt it during my runs. However, during my runs, I felt the cable sometimes tangling on the right of my neck and it was a little uncomfortable. But then this could be due to the cables being new so are still a little stiff.
Use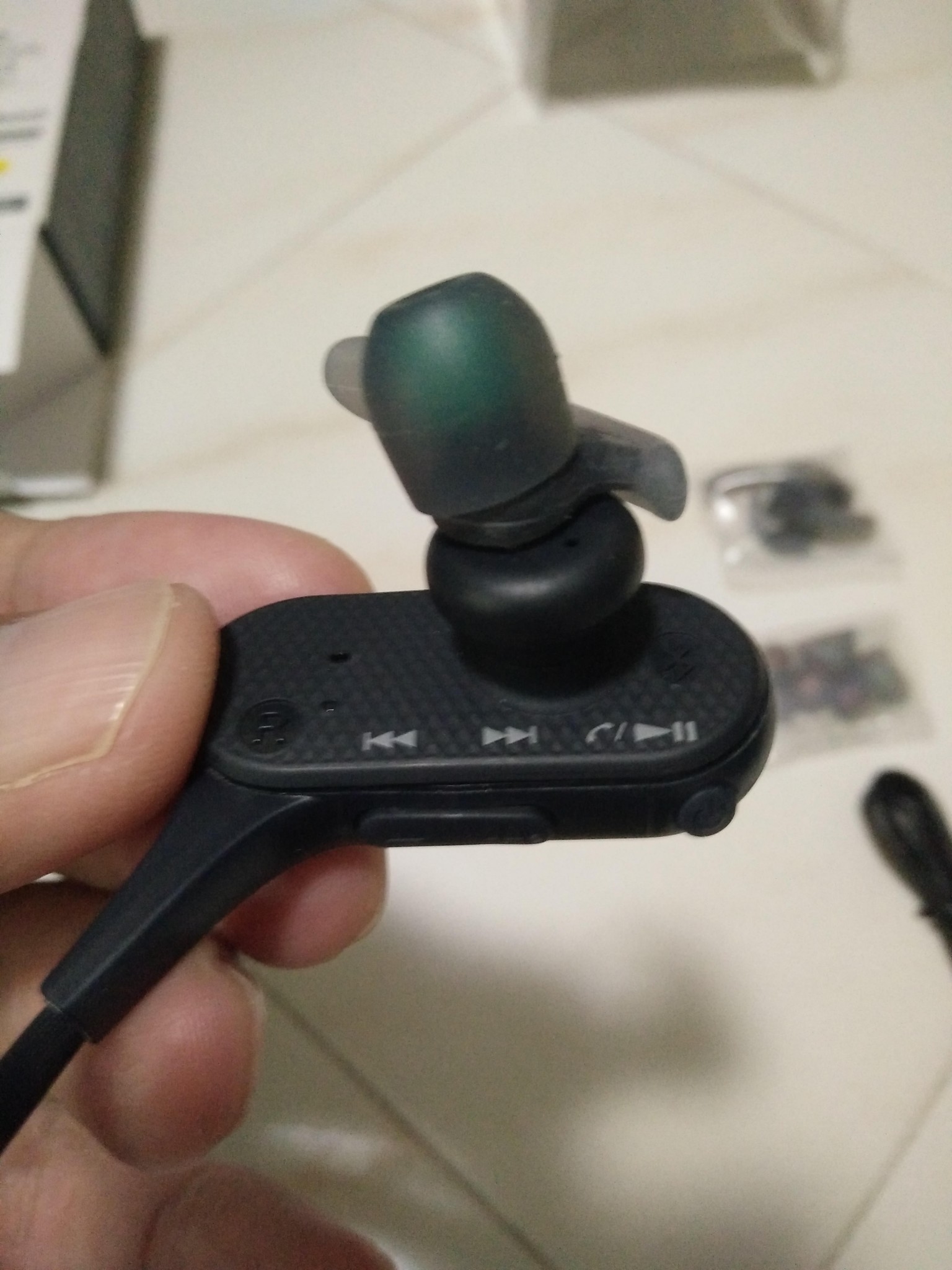 There are only 2 buttons on the headphone, which are located on the right ear piece.
1 round button to power on/off, play/pause and to accept phone calls. To power on, just press and hold the round button. A Blue LED will light up upon powering on. After which you may see a Red LED lighting up. Depending on the current headphone battery level, you will see either a quick flashing Red LED indicating battery level is critically low or 3 flashing Red LED with long pauses in between indicating battery level is still high.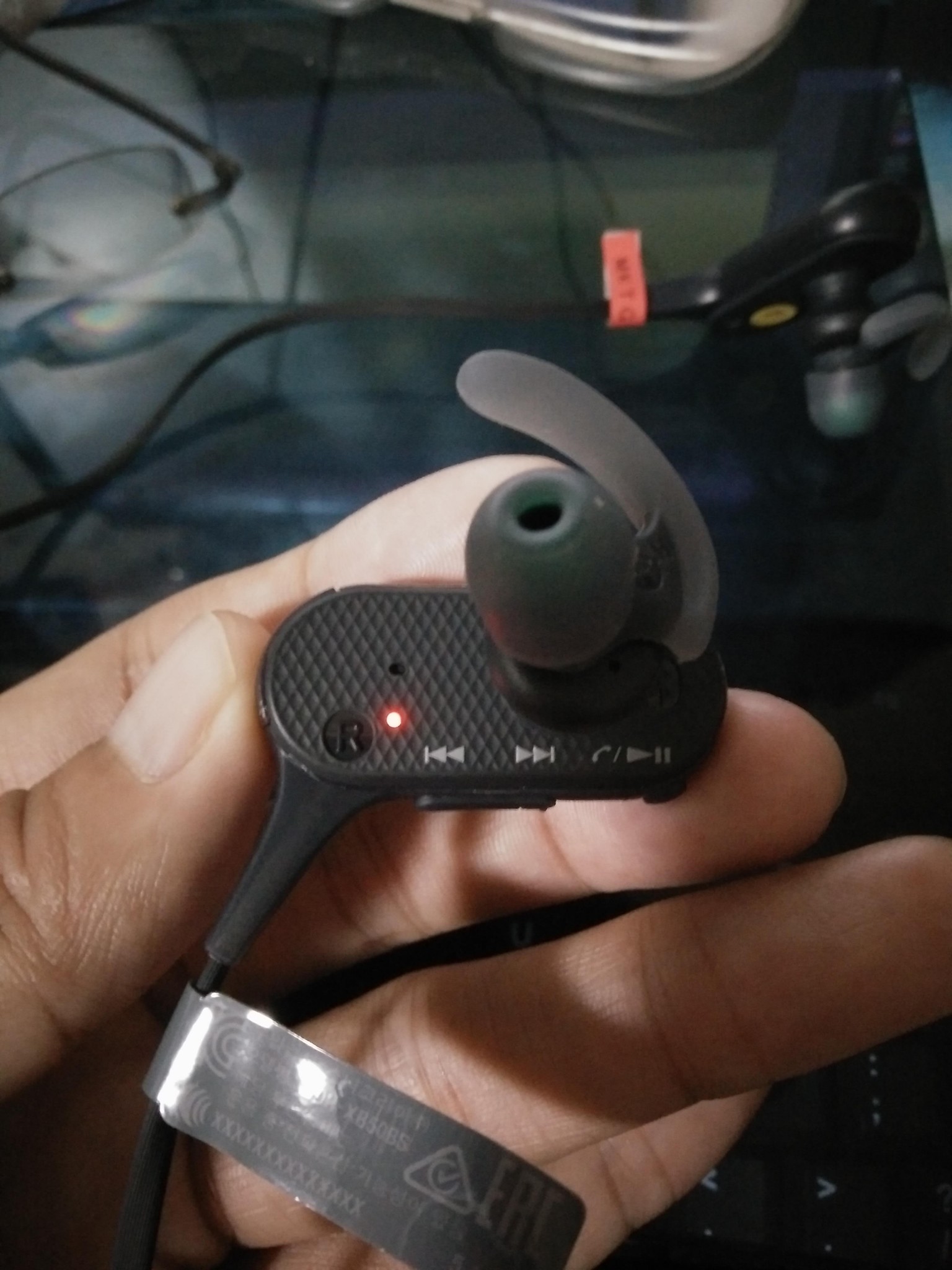 Press the round button during play to pause or resume playing songs and to accept calls while in use.
The other longer one is for volume up/down adjustments and forward/backward selection of songs. A quick tap will raise/lower the volume. Upon reaching the maximum volume, there will be a soft beep notification that maximum volume had been selected.
To fast-forward to the next track or return to the previous track, hold the button until you hear a beep, and the song selection will change.
The headphone is stated as IPX4 splash-proof. So using it while in the rain or rinsing it under running water after use offers no problem at all. Just remember to keep the Micro-USB port cover close before doing these.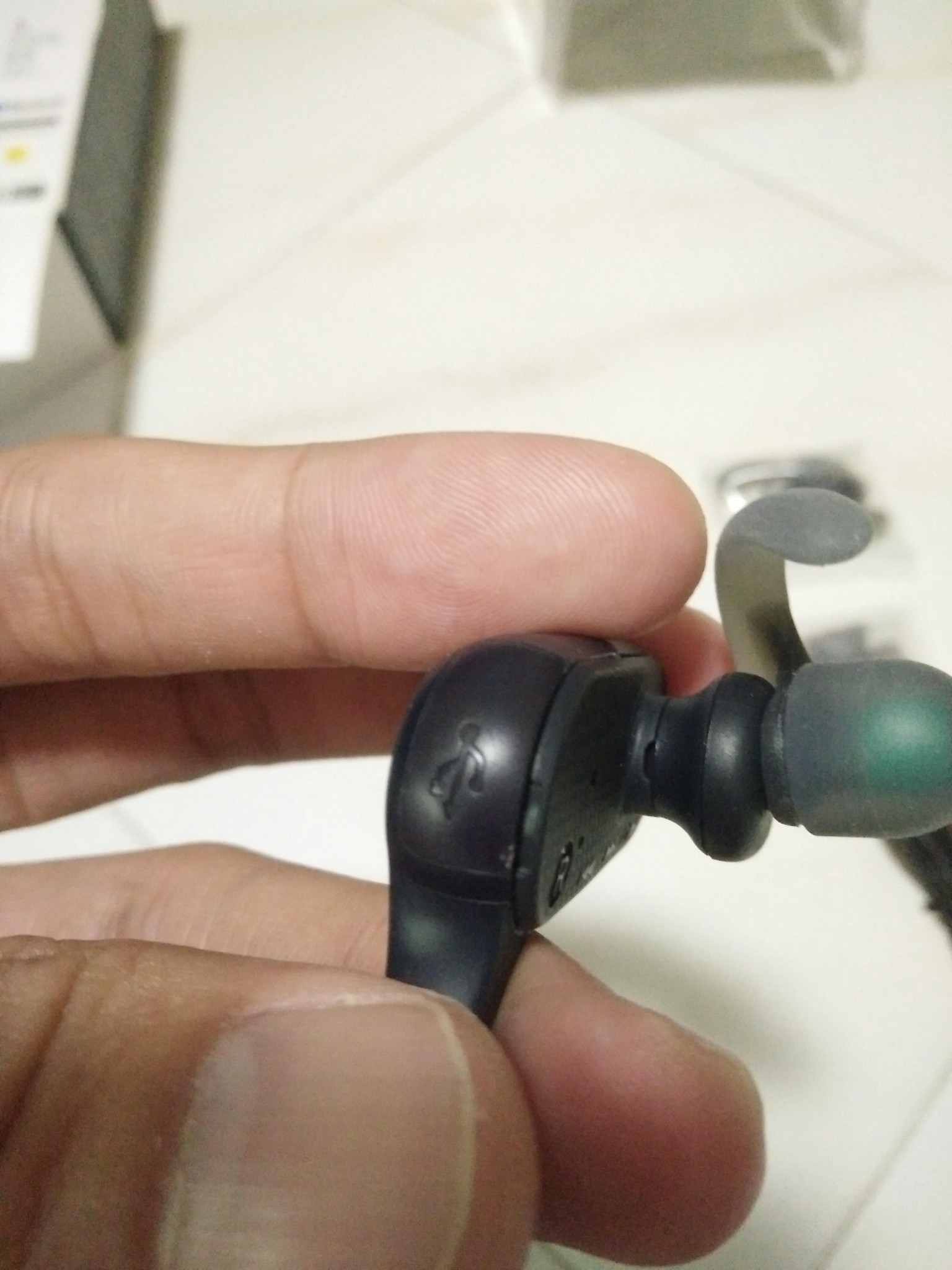 Pairing with Handphone
Connecting the headphone to my handphone was easy. I just need to turn on my handphone's Bluetooth connection, select the headphone, and connection is established within a second.
Sound Quality
I must say I am not an expert in this but the songs I played sound pretty good and clear. The noise isolation feature works pretty well too as I can hardly hear any outside noise. With this in mind, I would suggest taking this for runs at PCN running tracks or areas with less traffic where situational awareness is not so crucial.
Call Quality
Call quality was pretty okay with my friend at the other end hearing me pretty clearly and I hearing him well too.
Battery Life
This has to be one of the most important features for any wireless headphones. Based on Sony's specification, the headphone can last for a maximum of 8.5hrs of playing time on a full charge. However, during my trial, on maximum volume, I found out the headphone actually kept on playing for almost 9.5hrs before it went flat. I must say this is pretty impressive considering 9.5hrs is more than sufficient to last a runner even for the 8hrs cut-off time afforded by the 2 local full marathon organizers. Of course you will also need to factor in the battery life of your handphone for this duration too. No point having a long lasting headphone but a short battery life handphone.
Apparently, iPhone users are able to see the battery life of the headphone using their phone. But as I am not an iPhone user, I was not able to test out this feature.
Charging the headphone from flat requires about 2.5hrs using my laptop's 1A USB port. Charging using the newer 3.0 USB port should reduce the charging time.
Overall
The Sony MDR-XB50BS is priced at $119. I must say at this price point, it is really value for money. I had scouted out some other wireless headphones before but they are usually either priced higher or have shorter battery life. It is simple to use, easy to connect to my handphone, what with the pretty good sound and call quality thrown in, this pair of sports headphone is definitely worth a try without burning a hole in your pocket.
Thank you Sony Singapore for the review unit.
Though the review unit was provided by Sony Singapore, my review is based on my own unbiased opinion after trying it out.
The Sony MDR-XB50BS is available at all Sony authorized retail shops with a recommended retail price of $119.
Read also: 5 Things Runners Need To Know About Sony's NW-WS413 Sports Walkman
From now till 2 January 2017, you can enjoy 10% off Sony's NW-WS413 and discounts on other Sony products. Head over to www.sony.com.sg/sonydays or visit any Sony store or authorised dealers for more information on the Sony Days exclusive year-end promo.
Disclaimer: A free unit was provided to the blogger for review.