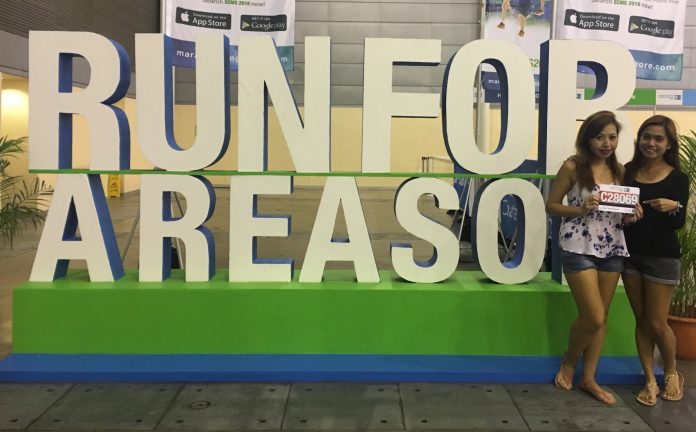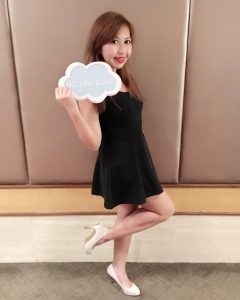 Hoseh bo? Wish everyone who is running SCMS all the best and run happy!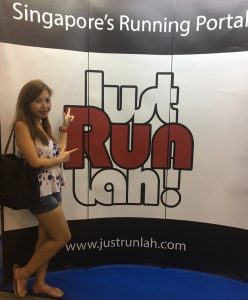 Ask, and you will receive what you've ask for! Thank you Just Run Lah! for the race slot! Because now I really am thinking thrice before registering for any races and I feel that the race fee for SCMS is just too expensive, with this amount of race fee I can sign up for 2 or 3 other runs but actually it can't be compared this way because even for chicken rice there's $3 or the $30 ones. But seriously I don't really understand why the flag off for 42km and 21km is together. Really got no eyes see 🙈 Hopefully no bottlenecks and not chaotic at all. Or they got plan swee swee liao so all these will be avoidable? Just hope everything will go smoothly for the runners on race day. And this year there is no train services but lame excuse from SMRT that SCMS never informed them earlier and due to track maintenance, cant do that on the rest of the 364 days? And then why SCMS never inform earlier leh? Since every year SCMS is at about the same period right or must be the cost to activate train service over budget? So anyway, I bought the shuttle bus tickets at $5, which will be picking me up super early at 2am because I want to deposit my bag, I don't want to bring bag as it's troublesome but I want to have fresh set of clothes to change into and slipper, it's shiok that after a run you get out from your soaking wet clothes. Just a reminder to those who purchased shuttle bus tickets to remember to collect the wrist tag for the shuttle bus during the race pack collection 😊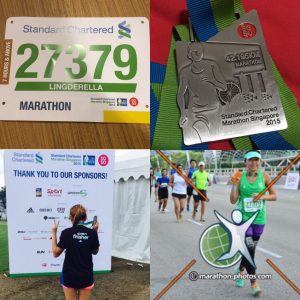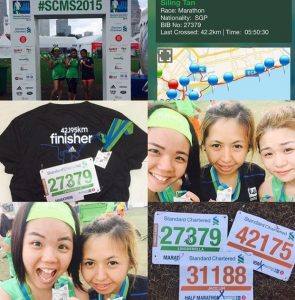 Last year, I hero signed up for the full marathon alone while my friends ran the half marathon. The race singlet and finisher tee is Adidas, and very difficult to go wrong with black so the finisher tee is super nice, so I guess for last year, its what makes the race fee worth it and also running a full marathon is one of the item on my bucket list and it have been long that I want to strike that off from my bucket list and finally able to clear it last year. Maybe life is also about making your dreams come true. A few weeks ago, I was at Sportslink and I saw the exact same Brooks race singlet selling on their racks 😔 It's not exclusive anymore and don't know why people will buy it if they are not running unless they are collectors.
I've only know that Standard Chartered Marathon races is available in Singapore, Kuala Lumpur, Hong Kong and Taipei. So far, I've ran Standard Chartered Marathon Singapore and Kuala Lumpur. Next year, I will be running in Hong Kong, which makes me a Wonder Woman again wondering that I shall go to Taipei Standard Chartered in 2018 maybe? 😆 Can't believe it that just for a piece of medal I decided to run 42km instead of the 21km. And I've got only 2 more months to prepare for it! OMG! 😂 Still better than Sundown marathon this year, I ran a full marathon in a 1 day notice 😏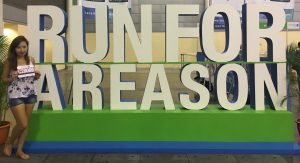 SCMS is one of the largest running event of the year in Singapore and the race pack collection is at Expo. It's at Hall 4 and when I reached at 5.30pm on the first day of REPC after work there is no queue at all! Phew! But many of my friends were complaining of long queues for their collection. But don't know what they mean by long queues since our tolerance level of queues is low nowadays, but should not be that long I Guess 😅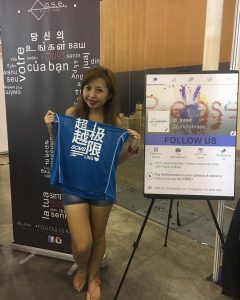 Thank you P_eace for the customised prints on my race singlet! Love it so much! We can choose from a few meaningful the designs template and customise our name on it. And the design that I choose is in Chinese characters, which means surpassing limits. Best thing is, it's only a 10 minutes wait for me while I use the time to explore the race village.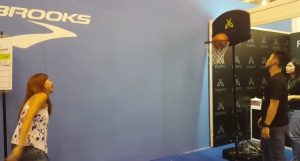 July and I went to the Jaybird booth and play basketball. It's in one minute time see how many shots you can score and the top scorer of the day will win their ear piece worth $200plus! I thought it's easy, but it's not 😅 But so nice lah, they still got a "thank you for your participation gift", a draw string bag.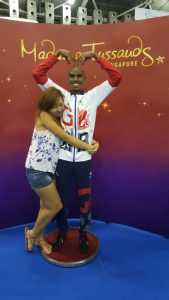 My favourite part of the whole Expo is none other than the Madamn Tussauds Mofarah Maqnequinn! 😍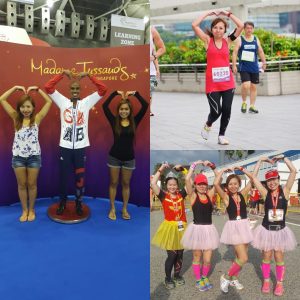 The pose is cute right? Show the world some love! ❤️ Recently I've been thinking of poses during running, so it's not the common "peace" and "good" signs. Maybe I shall try sailormoon and ultraman pose if I spot any Photographers during my run 😅 So Madamn Tussauds have a contest to post a cutest caption to stand a chance to win a Fitbit. But if it's a "valentine day challenge" think my pose may qualify for the cutest pose, the boyfriend will feel so much love right? 😆 So the #buddybuddy and #friendshipgoals can use this as reference 😘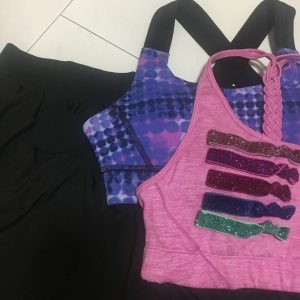 There's many things but I only get some hair bands, shorts and the sports bra is only at $20 each and it's nice!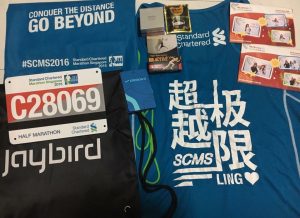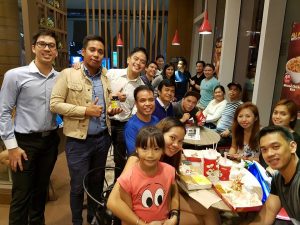 (Loading with Pinoy-Sg Runners after the race pack collection)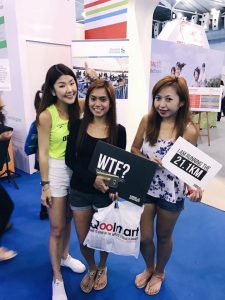 (With Ying Tian, one of the pacer from Running Department pacing the 5hr15mins)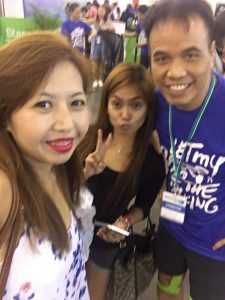 (With Coach Arnel)