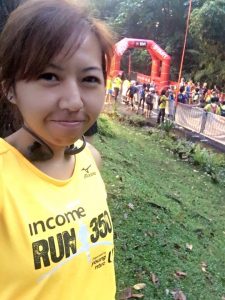 This isn't my race. I'm just suppose to go and show support to my friends who are running and do a short run then go home continue with my "beauty sleep". Somehow, I have a little bit of of regret that I didn't signed up and I become Wonder Woman now how come I didn't signed up 🤔 Must be because the thought that I have to cut down on races since August when during July and August I have a total of 9 races! That's about 1 every weekend! That I have to forgo one of my favourite activity to nua on bed during weekend 😂 I thought I'm not what they call a medal slave, to run for medals but now I look back I think I'm indeed one medal slave 😅 See my signature pose: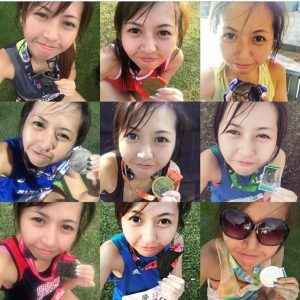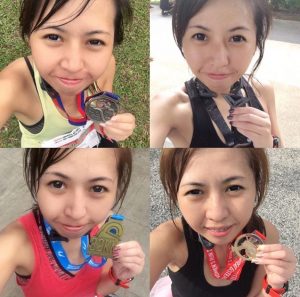 Sorry to damage your eyes because seeing too much of me 😂 Apparently I really am a medal slave since I'm quite sad that I have to go home without a medal and have to borrow Rey's medal for a photo 😭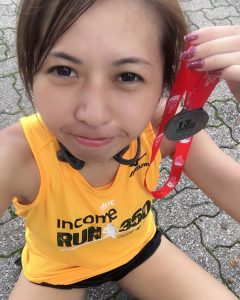 Moral of the story is: Just register lah! 😅
Anyway there is this Run Free run next year. It is a free run! Free! But includes nothing, wonder if you run past their hydration point can even take water to drink or not 😂 It's concept is interesting, if you want to get anything from them can buy. You can buy the baggage deposit at $2, can buy their accessories like singlet and medal and bib. Singlet I will consider as it's quite nice, but do I need it? 🤔 I have so many race singlet already which my wardrobe is about to burst 😅 Don't say it's bluffing you it's a free run because you need to buy medal and bibs and etc, you can don't buy what. A medal slave like me will definitely and willingly buy the medal which cost $9.90 and I think I will buy the bib too which is also $9.90, a "hoarder" like me keeps bibs and medals for all my runs 😆 Though I must say my medals and bibs didn't wash and contains my sweat as I didn't wash or even wipe 🙈 MUAHAHA!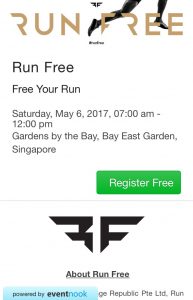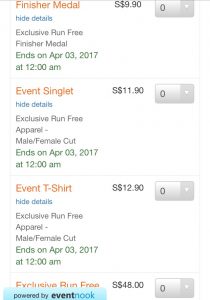 The coming standard chartered marathon in Hong Kong only have medals for runners who run full marathon and have to finish within a cut off time of 6 hours! That's what makes me so undecisive of which category to sign up for because it's too risky for me that I may probably finished more than the cut off time 😅 But I want the medal! So how eh? Just run lah?
Luckily I reached just in time to see the 50km runners to flag off at 7am. So while Kelvin and I went to video the flag off so that our friends will have some snap shot of the video as photos but the super noob me only realised after like 3 minutes that I didn't press record on my phone 😅 Think I didn't fully wake up yet and was still dreaming 😑 I did manage to video the 25km and 13km runners at least 😊 I have created a photo album for photos of TNF2016, I may have captured you 😊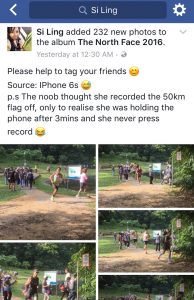 Is not I try to be consoling to myself that the blur photos is lousy but I think it turns out to be actually quite nice and artistic because there's some part is focus and some part is blur 😂 It's your perception that determines what a good photograph is, just like how people have different taste and view in beauty and food 😆
I still remembered my cross country in my secondary school which was also at MR. I was in secondary 2 that year and I shocked a lot of people that someone with no CCA can even get a trophy for coming in as the top few runners. Because the rest of the top runners are either the Netball girls(my school Netball girls used to be super strong) or girls who are in the sports team. I don't run last time but I play basketball in the neighbourhood basketball court very frequently with friends since I was in primary school, which I backside itchy choose a secondary school without girls basketball team. That's my only achievement in running other than coming in 5th (there's only 5 runners, just kidding lah 😂 At the very least also more than 100 runners estimated) from my company's running event last year 😆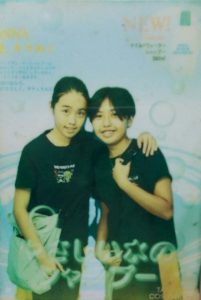 (What a typical "street basketballer" looks like in those days. I remembered we love to wear slippers to play basketball and wear those No Fear, No Rules T-shirt we get from Pasar malam 😅 The right one was me when I was 12 years old 😂)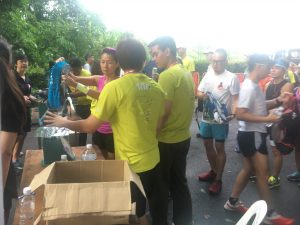 So, according to different category they have different requirements to have hydration bag/pouch with them and weigh in before going into the start pen. After Chiu Ping Zeh Zeh goes into the start pen, I have about 5 mins to chiong to another spot because I wanted to capture runners running with a different scenery. Like I said beauty is subjective, I think it's a nice background of the Reservoir with people at the back Kayaking 😆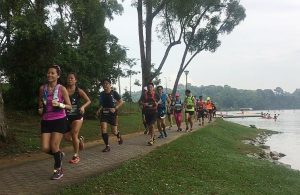 (Photo Credits: Me 😆) Love this photo of Chiu Ping Zeh Zeh as this is what a genuine run happy is!
After that I went for a short run myself as I have about 1 hour plus before the 13km runners flag off. One thing I like about running in MacRitchie Reservoir is I always sweat more whenever I run there, soaking wet with sweat, I like! Must be because of the slopes that makes it tougher. So the plan was after the short run, waited after the 13km runners flag off I'll go home sleep then go pole class and attend my company's dinner and dance in the evening 😁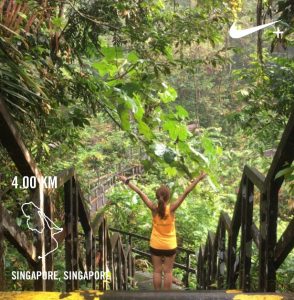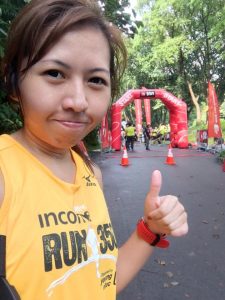 So after my run die me run, I went to look for the rest of my friends who are running the 13km. I was very happy to be covered with sweat, feels really good. Then I suddenly have the thought why not run with them? It will be fun and this place is open to public right? I can just run with them! Plus considering I ate KFC for the past two days, and I need more stomach space for feasting at dinner and dance the night so why not just run together with them? 🤔 Considering doing the "beautiful beautiful pace" with Serene Zeh Zeh and think I can still reach home on time and go to pole class 👍🏻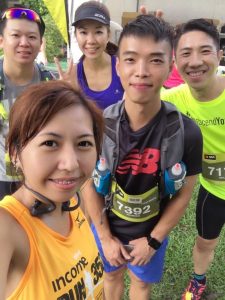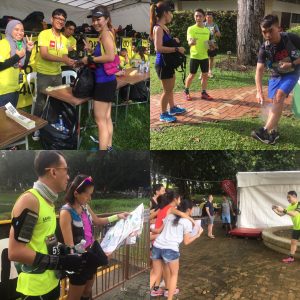 (Baggage deposit, spraying inspect repellent, part time photographer and route navigating/familiarising 😁) After they go in the start pen, there's only about 10 minutes to flag off, I rush to Mushroom Cafe to get myself Ice Milo and gulp down. I really need it because I didn't had any food yet only ice teh much earlier and I saw coach Arnel and the rest of the Pinoy-Sg runners and manage to get a photo with them before rushing off to camp at a spot to video the 13km runners 😊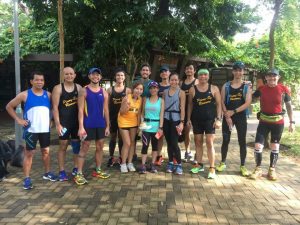 Running on trail is not easy, there's rocks, there's mud and there's upslope and downslope. All are potential fall risks so have to be extremely careful so I'm always very humji to run on trail, which I think I only ran before at (if Green Corridor is also considered)Green Corridor, MacRitchie Reservoir and Bukit Timah Hill. Saw many runners went Cameron Ultra recently at Cameron Highlands running the 25km and 50km that I'm also tempted to go next year. Even the leave for it is approved already although it's next year July but still see how first. Not I kiasu, is my company kiasu that every year November have to plan and ballot for the leave next year already 😑 But still I'm quite scared to go run on trail because I worry of "I want to play a game" or 127 hours may happen that I fall and get stuck I will need to cut a part of me to stay alive. Or got kidnapped and get hidden under the kidnapper's basement. Always imagining the worst case to die, sibeh sadist. Watched too much gore and horror movies already 😅 But what's living with fearing to die? Means that I haven't live enough to welcome death yet. But first thing first! Bungy jump I'm coming! Recently I'm very interested in going overseas to run, even if it's just the next door Malaysia I will be happy. Maybe I'm bored with Gardens by the Bay and East Coast Park already. I was supposed to run Penang Bridge but I decided not to go anymore since I'm lazy to run 42km so I decided that I will definitely be happier running 21km at SCMS. Registered for it at first because I thought Penang is my hometown because my parents are from there and I'm giving up Malaysian citizenship so I thought it is quite meaningful as I was saying bye bye to blue ic and hello to pink ic. I was born in Singapore so Singapore, I grew up here so here is my hometown. I will leave the 42km to places like Japan, Taiwan or Hong Kong. But even just thinking of 42km is torturous, really respect the ultra runners. So much perseverance and determination is needed.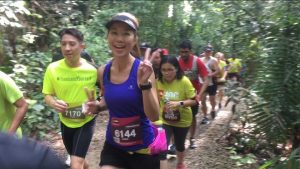 (Photo Credits: Me 😆 Another really nice photo that I like! Serene Zeh Zeh's run happy smile!)
The 13km category have really a lot of runners and I ran with Serene Zeh Zeh the 13km entirely 😊 Thank you for sharing water with me and give me ice cream to eat after the run 😊 It is super enjoyable chit chat run except that some runners is not graceful and kept yelling. I heard one uncle even shouted: "Hello! Uneducated is it? Don't know how to keep left ah?"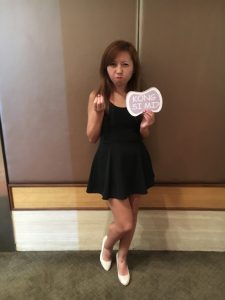 Just nice I saw this at the photo booth at my company's Dinner and Dance that evening. Seriously I'm not happy about that uncle 😡 It's really not nice and there's so many foreigners in this run, the image he is giving out about Asians and Singapore is not very nice. It's a run, not a matter as big as life and death. It's nature and nature is a peaceful and happy place. I'm sure everyone tried their best to stay left but it's just that the path is too narrow, the terrain is also not easy to navigate and there is too much runners.
The weather is good though at one point I thought it will rain as the sky turns very dark but luckily it didn't. Some parts of the route is very muddy due to the rain the previous day. There's one hydration at about 4km for the 13km runners. Consider it 2 hydration point since the return journey also will also pass by the same hydration point. But there's a ranger station just a little more than 1 km which have water cooler so water should be enough for the runners. There's food like Subway, ice cream and banana for the runners.
So, after the run I rush back home immediately for a bath then head out to go pole class with all my barang barang for dinner and dance. I didn't want to attend pole class at first as I was too tired and pole class is getting disheartening. Last week we learnt shoulder mount and dismount which is simply cruel and torturing to my collar bone and shoulder. As predicted, I attended pole class with no strength to do the moves. I'm hungry, I didn't had any solid food yet since previous evening's KFC. I'm considered at "advanced" class but I just feel very weak and like a beginner and after class I still even asked my instructor that after this term if I'm still lousy will I get "retained"? 😂 But I was told not to be silly and that everyone progress at their own pace 💪🏻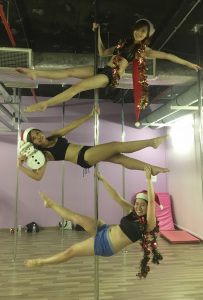 (Participating in our dance studio contest 😊)
After pole class headed directly to City Hall and meet my colleagues to go Dinner and dance. Totally forgot that it says door opens at 6.30pm does not means that food will be serve on time, waited till 8pm then the first dish is serve, after the so hardcore run and the so hardcore pole class makes me so hungry and finally first solid food for the day! Hungry and angry (Hungry woman is also angry woman! Roar!!)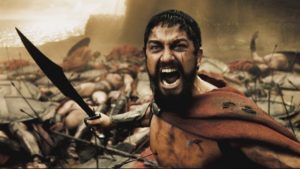 (Picture Credits: 300) Seriously this is me when the food comes and luckily 2 of my colleagues didn't turn up so so I no need paiseh and eat ah! Meow! 😆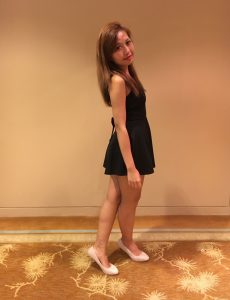 By right the next day I'm meeting Sabrina for a run, but luckily she gladly welcome the idea to change it into "Exploring Singapore Day" 😆 And we seriously took a minimum of 500 photos and I'm not exaggerating! 😅 We were out since 8.30am in the morning and our first stop is at Changi Airport. Inspired by Justina's beautiful photo at Changi Airport with #buddybuddy and #friendshipgoals so I also want to go there and take photos 😜 Had been aiming the Hello Kitty cafe for a long time at Terminal 3 and secondly because of the super big Pikachu. It's cute although I have never watched a single episode of Pokemon in my life and I've never downloaded Pokemon Go in my phone. But I can't resist cute things, just like Hello kitty, I've never watch a single episode of Hello Kitty or even Winnie the Pooh, or did I even watch Micky Mouse before?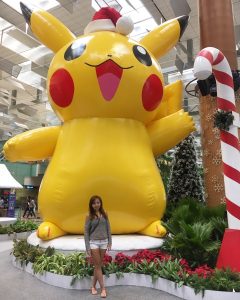 The Hello Kitty cafe is at T3 and open 24 hours! I find the food and dessert nice! Especially the pink velvet cake, will never say no to dessert and definitely want to go again to try other desserts 😍
After that we went to the Singapore Art Museum, Fort Canning Park, National Museum and the National Gallery. And wow, thank you so much for reading to the very end! 😘 Hope what I've written is entertaining for you during your toilet break or transport journey and now let the pictures do all the talking 😊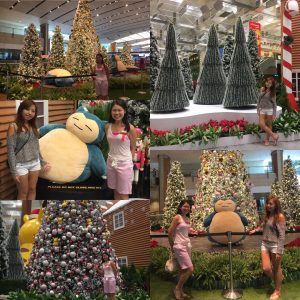 (Changi Airport)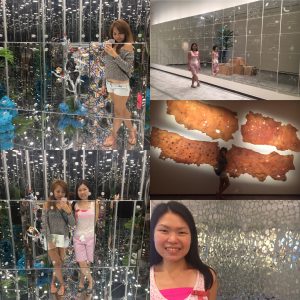 (Singapore Art Museum: An Atlas of Mirrors)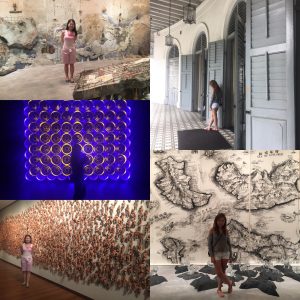 (Singapore Art Museum)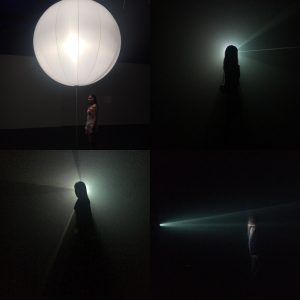 (Singapore National Museum: What is invisible is not invisible)
(Fort Canning Park)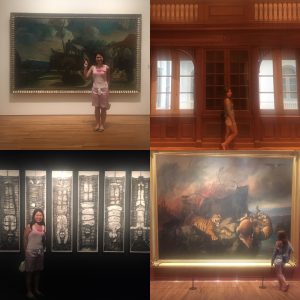 (Singapore National Gallery)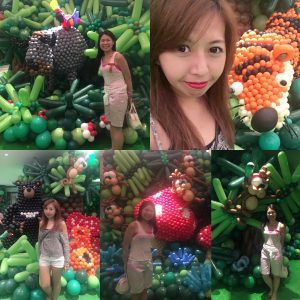 (Singapore National Gallery)