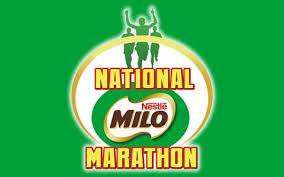 DAVAO CITY – Sonny Wagdos scored a rare three-peat as he won the 40th MILO Marathon qualifying race held last Sunday (November 6) at the SM Lanang Premier.  This marks the third straight year that Wagdos topped the 21-kilometer race to determine the cast for the Philippines most prestigious footrace's National Finals in Iloilo City this December 4.
Just like in the first two wins, Wagdos had to fend off the challenge of archrival Michale Jan Echalino to finish in 1:16:15.  Echalino finished runner-up again for the third straight time in 1:17:30 while Alan Arbois took Third Place in 1:19:40.
Newcomer Mae Barit ruled the Women's Division in 1:51:45 but the youngster's time was not enough to qualify her for the Nationals based on her age group.  Madelyn Carter settled for Second Place again for the third time in 1:53:16 followed by Olive Firmeza in 1:54:58 but the two veterans will proceed to the Nationals as Davao's only female representatives.
A total of 46 other male runners earned tickets to Iloilo together with the podium finishers. Sunday's race marked the last chance for runners get a spot in the Nationals.
Overseas runners who wish to join the 40th MILO Marathon can still catch up by sending a finishing time certification from any AIMS member race held after December 4, 2015 and proof of identity to feedback@runrio.com and wait for a confirmation and instructions on how to claim the free race kit.  All qualifiers through the 13 regional races this year are also instructed to confirm their participation in the Nationals by sending an SMS to +63 908 6927 indicating one's full name and the city where one qualified.
Other Winners: Agustin Ychon and Diana Memoracion (10 kilometers), Daryl Mark Daban and Andrea Annabel Deguia (five kilometers) and Jayson Apostol and Arlene Jane Onso (three kilomters).