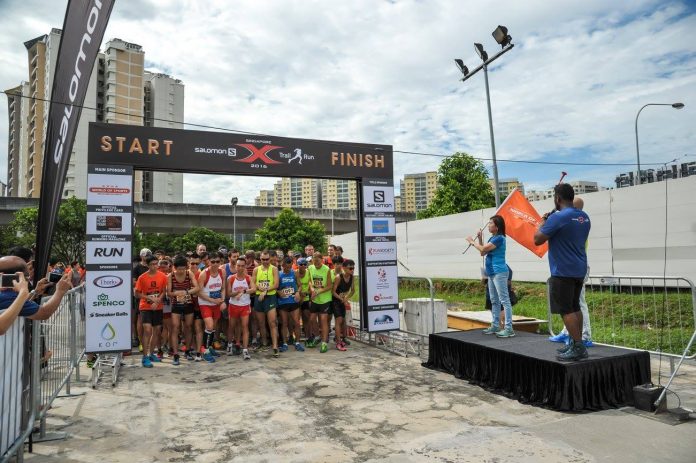 I genuinely found this to be quite a thrill. Or trail, should I say. I will try to provide an adequately detailed, objective account of my race experience. Do look out for the font in italics as I highlight some aspects constituting my race experience 🙂
Race Category
10km Competitive! Original rates were pretty pricey but a discount code we acquired made that much more affordable 😀
Pre-Race Matters
If you've read my previous reviews, you may have inferred that I don't particularly enjoy having to collect my race pack prior to race day. Race Entry Pack Collection took place on 1 October from 11am-9pm at Kallang Wave Mall. Thankfully, I had assistance in the collection and was thus spared the errand. The entitlements included a 30% Salomon discount voucher, the race top, two bottles of Lucozade – all contained in a sturdy Salomon shoe bag.
The Race Precinct
The LRT took us right to the race venue at Punggol East. Though the weather was previously searing hot (flag-off was scheduled to be at 4.00pm!), it improved substantially and we even enjoyed a momentary drizzle. There was baggage deposit and portable restrooms available, without too much of a queue. Hydration was also available for runners before they decided to begin the run. This event comprised of a small field of runners – perhaps 400~ for the 10km competitive category.
The Race
Runners were flagged-off a few minutes past 4pm. The race route (with my judgement solely derived from the map below) seemed initially…mild. This was based on my understanding of previous editions of the race. To be honest, I had expected that the majority of the "trail" portion of this race would be on Coney Island as the rest of the route seemed to follow the park connectors. That was awfully deceptive.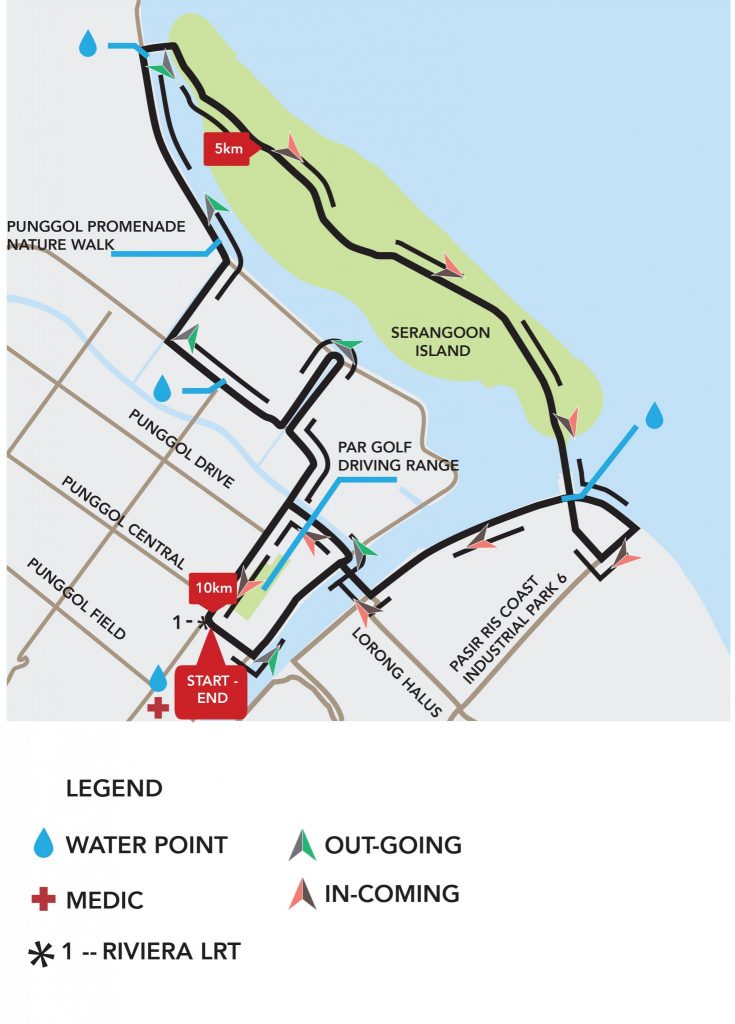 It was a challenging route. Right from flag-off, runners were made to run across a muddy construction region (no doubt this trail experience was enriched by the previous day's continual downpours). No doubt it was slippery (a participant beside me fell on his knees). Thereafter came a pretty steep but short descent before we tasted tarmac. For awhile.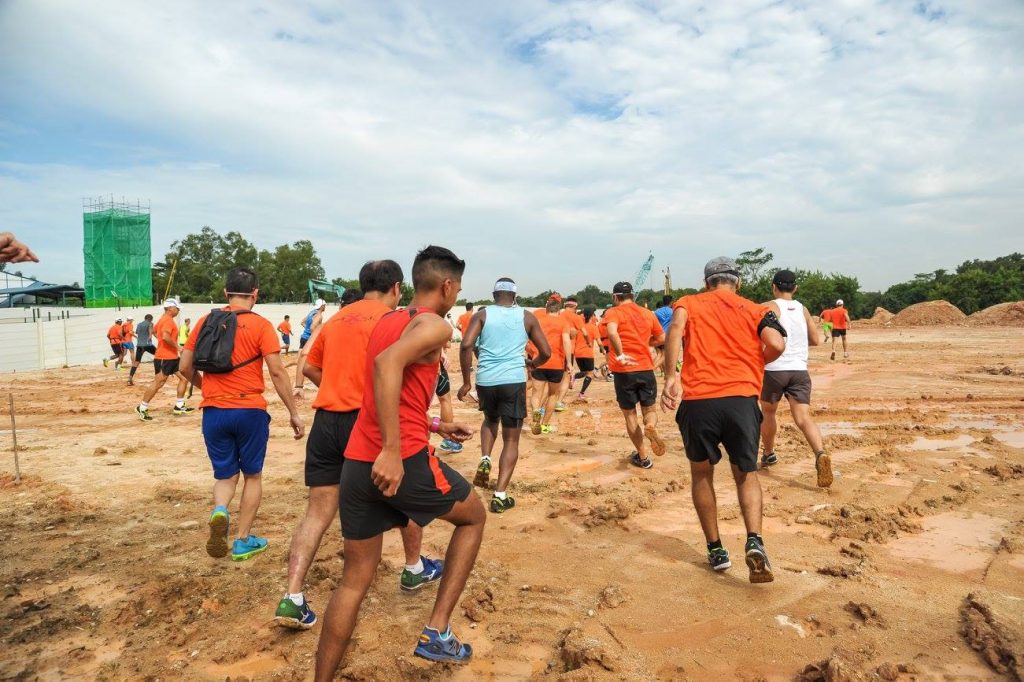 A decent portion of the route involved running along gravel, grass, mud – all of this parallel to the nicely constructed PCN. In addition, there were some waterlogged grass fields to trudge through. Each step would take submerge my feet – I was pretty cautious with my steps in order to protect my ankles. Contrary to my preconceived notions, perhaps the mildest trails were those that took participants through Coney Island itself.
There were some hazards towards the later portion of the race as well, where runners were running along a 'breakwater' that faced the sea – the kind you see in East Coast Park. Some of the stones here weren't too secure – a risk factor for ankle injuries.
3 Hydration stations were present across the route, serving isotonic hydration (Lucozade) and water. There were numerous marshals along the way to direct participants along the correct route. In addition, some portions of the route featured red tape attached to branches to guide runners along. I didn't actually notice any distance markers present along the route. The last portion of the race featured a flight of stairs before a turn towards the Finish.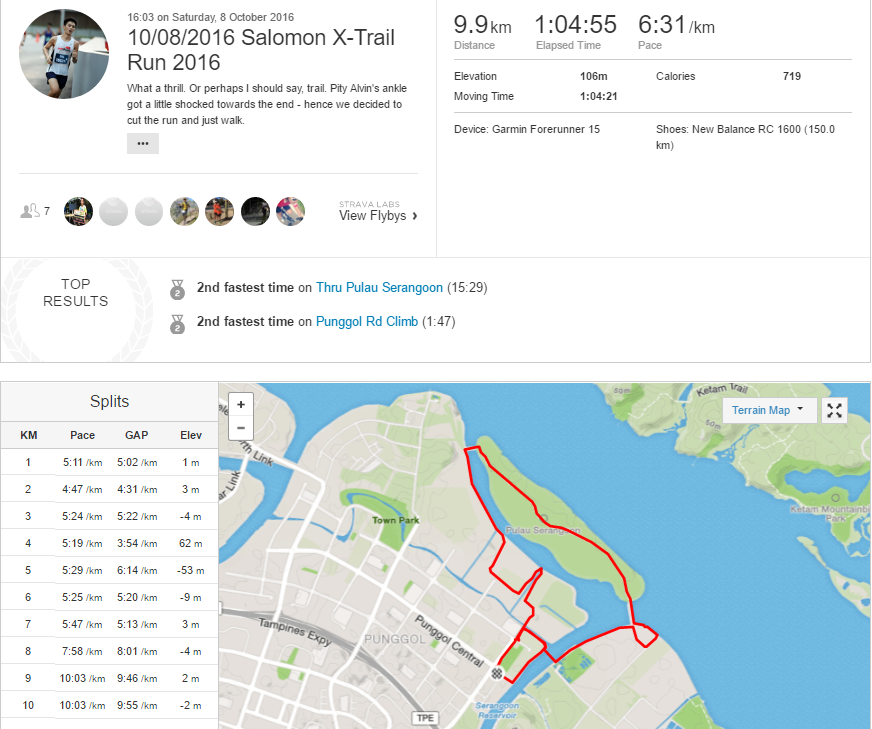 Post-Race
The Finisher's Medal, a banana and hydration was handed out after participants crossed the Finish. The medal was decent but nothing to boast about. Race results were emailed to participants two days after the race.
That's all for this slightly delayed review, hope it was informative 🙂 Feel free to check out my personal experience of the race here!
Cover photo credit: Salomon Singapore