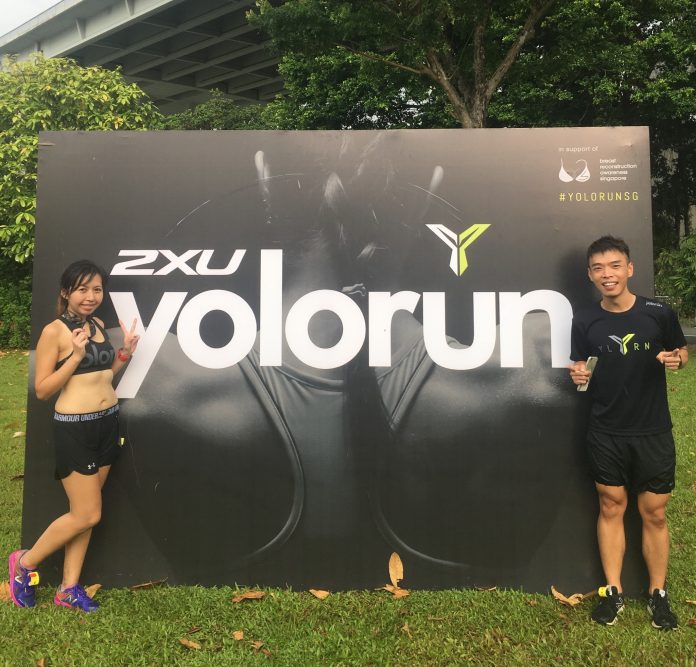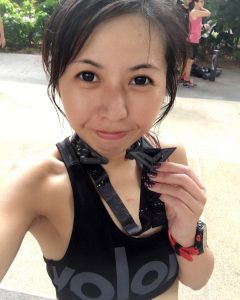 Love me, love my fats. This is what I've learnt for this run too 😆 Although it's a run for a cause to raise awareness and donate a sportsbra to Breast Reconstruction Awareness Singapore(BRAS) with every runner who runs shirtless on the race day, but to me it's actually more than that. It's about embracing your body and accepting your body too ❤️ Because all these years, I really don't know how to accept my body or the fats on my thigh and tummy. But it says: Free yourselves. But it says: You only live once 😊 Then I finally remembered what's important is you being happy 😁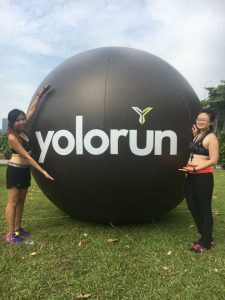 Not long after the registration for Yolo run opens, I tell myself I have to sign up! Not because I got any good figure to show but quite the opposite, I'm flabby and full of fats. I wanted a motivation to achieve abs but still even when race day comes, there's no abs 😂 It's not easy to get abs, for years I've been dreaming for getting it but maybe it's just that I'm not determined and motivated enough to work my ass off for it. It's called excuses they say 😂 But I did lose some weight, 5kg to be exact in about a month. My weight can fluctuates a lot, I can gain weight easily and I can lose weight easily too but it's not about weight actually. It's gaining muscle mass that is the tough one 😭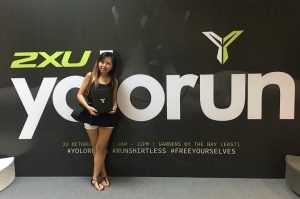 I collected the race pack on the last day of REPC and there's no queue at all which is great. The race pack is packed readily and super nicely in a box, all the things like race tee, bib, timing tag and sports bra are already packed inside the box, thats maybe why the collection is efficient too. For the women's race pack comes with a T-shirt. I DON'T LIKE T-SHIRT, and I think many other ladies would also prefer singlet too or it will be good if they can give us the option to choose singlet like what the guys get. Just like I think I said before, singlet uses lesser cloth than T-shirt and this can help cut cost also right 😂 The sports bra design actually looks nice and it feels comfortable to wear too 😊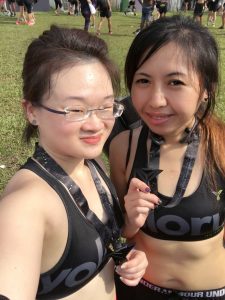 I thought I will need to spend money on taxi again for races but luckily there's shuttle bus service available at $4 from Yishun MRT available offered just a few days before race day! I very appreciate that and I feel so lucky as shuttle bus is only available from 3 MRT station and just nice I get to enjoy this service. If not taxi fare is at least going to cost me $30 and it is too troublesome for me to take public transport to the race venue at Gardens by the Bay East. Though there's free shuttle bus services available from Stadium MRT since 5am but there's no public transport available yet at that timing 😅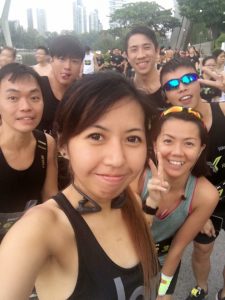 Flag off timing for the 10km run is at 7am and we were flag off on time, starting from Gardens by the Bay East running towards the Promontory and back. Guess many runners will get a PB for this run but according to my Garmin watch, the run is only 9.5km and my friends also noticed about the shorter distance for this run. But even if I do the Maths and convert it into a 10km run, the net timing is my PB! 😆 There's no bottle neck at all and it's quite challenging as we need to run the up slopes at Marina barrage twice 😂
This is my first time running a run shirtless and I'm actually super cold! Maybe because the sun is hiding and seems like it may rain soon but luckily it's only a slight drizzle starting at about the last km of my run.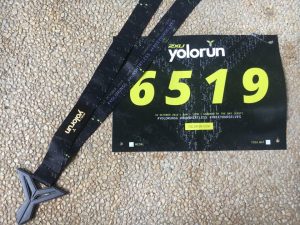 It's a simple and pretty medal and the yoga mat given is very nice. Hopefully I will put the yoga mat into good use by utilising it to do strength and core workouts. Didn't really explore the race village but if we post our photos on Instagram and hashtag #yolorunsg we can get the photos printed out as souvenirs and it's fast! 😊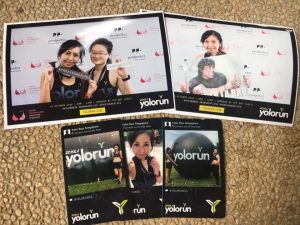 There's also the photo booth from the BRAS with many cool nice boards for us to take pictures with! My favourites boards are: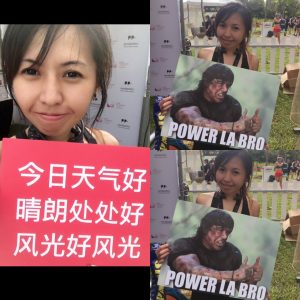 😆 One of the very popular meme currently and if you are from my era, you might remember the lyrics from the song from the famous Chinese drama 還珠格格 😆
The best part of this YOLO run event to me is actually the Milo van! 😆 Milo is my all time favourite drink since young and I really hope that all the coming future runs will engage us the Milo van 😆 That will be really awesome!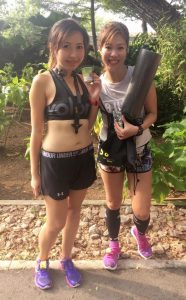 Though I have no problem with baggage depositing but the queue for collection is really long plus I'm both tired and hungry that makes the queueing worse and the portable toilets placed near the race village I don't dare to use as it have very strong unpleasant smell walking pass it 😖
There's also a mass yoga workout after the run but I'm not really into it. Overall, it's a good running event with all the goodies like the sports bra and yoga mat given to the runners, it's quite worth it for the amount of registration fee 😊