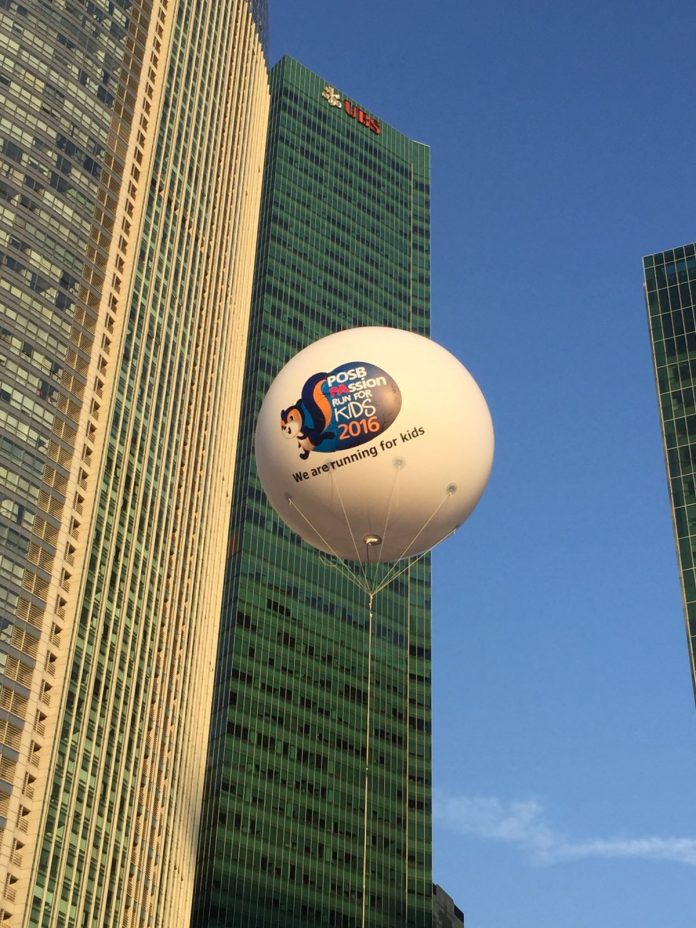 Marina Promontory was the venue for this year's POSB PAssion Run for Kids.  It is Singapore's largest charity race for kids and is jointly organised by the People's Association and POSB.  Around 7,500 turned up to the event yesterday to run and have fun at the Carnival.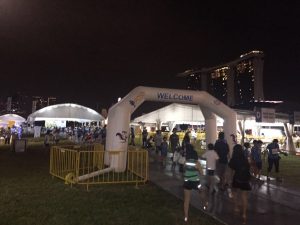 I signed up for my usual 10km, a distance that I'm becoming fairly comfortable with. We were flagged off at 6.30am – which is an ideal time to race.  It's cool, still dark and you get to see the sun rising as you run.  It's always great to see pacers on race day and yesterday was no exception. There were three lovely groups to run with, depending on your target time.  The kids' competitive 1.2km races flagged off at 7.00am with the 11-12 year old boys category, followed by the girls at 7.20am.  The 7-8 year olds ran 800m and there was also a 3.5km Family Walk at 9.30am.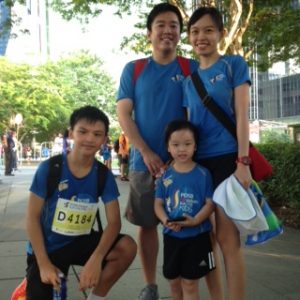 I often hear people complaining about the city races because of the "same old route all the time".  This is not the case for me.  I will never tire of these views and the stunning skyline as the sun rises over the city.  For me, it is simply breathtaking – and not just because my lungs are on fire!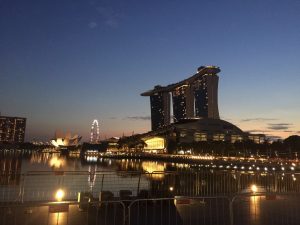 So, I got to the start pen around 15 minutes before flag-off and basically walked straight to the Start line.  I'm not entirely sure that this was my best idea as when the gun went off, my plans to pace myself went out the window and I found myself being swept along with some of the boys from True Fitness.  Obviously this speedy pace was short-lived (for me) but fair play to some of these guys – they are fast!
The 10km route started at Marina Bay Financial Centre and took us past Marina Bay Sands, along the reservoir and that horrendous twisty hill at Marina Barrage.  That hill was the least favourite part of the race for me.  We also ran along Gardens by the Bay East and I recall there was a nice breeze which made the second half of the run almost pleasant.  There were four hydration points which is perfect, although I didn't stop this morning.
At this point I should mention the goodie bag – it was quite decent actually!  My daughter had most of the items and the rice cakes and juice were snaffled before I had a chance to photograph everything!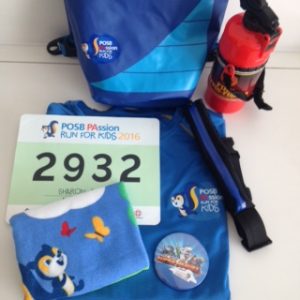 I was quite pleased with my race time and even managed a bit of a sprint towards the Finish Line.  My husband managed to catch a few action shots, one of which proves that I can actually have both feet off the ground at the same time haha!
Yesterday was a real family event and it was so lovely to see so many children participating and sprinting around the course, enjoying themselves.  There was plenty to do at the Carnival afterwards including Kids' Yoga, right against the gorgeous backdrop of Marina Bay. There were lots of other activities going on in the pre-race kids' tent like balloon sculpting and hip-hop dancing!
Chatting with some of the race participants in the race village, the general consensus is that the event was extremely well-organised. It's also for a very worthwhile cause and I, for one, will definitely sign up to next year's event!  #RunForKids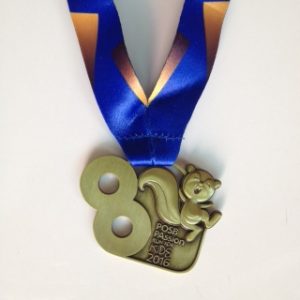 *Photo Credits: Lee Ledbrook