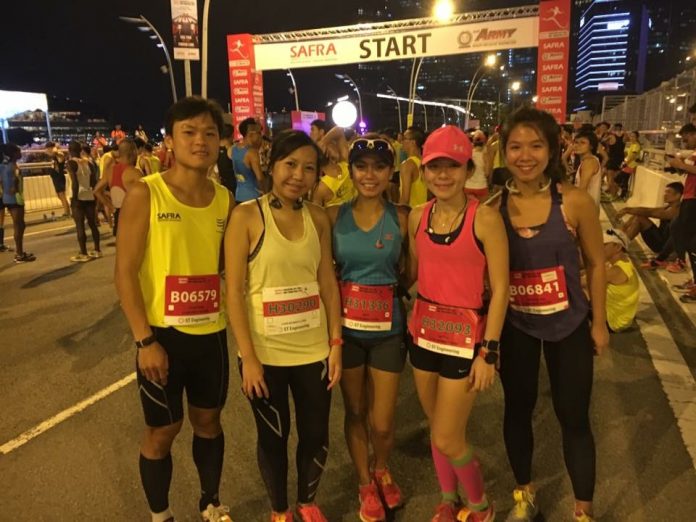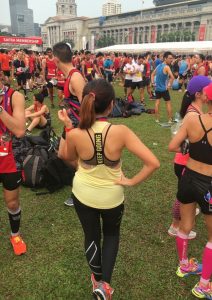 Keep going! 💪🏻 That's my motto for this run. Many times during today's run I was so tempted to walk but I didn't! Because partially of the top I'm wearing, if people run pass me saw me walking and say "keep going" I think I will be very embarrassed 😅 Part of the run I was also chanting in my heart what Dory had taught me: Just keep running! Just keep running! 💪🏻 Keeping myself motivated is very important 😁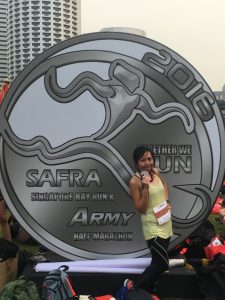 I thought I would walked the upslopes but I didn't! I'm quite amazed with myself, I thought I would walk! This is the first time I never walk in a half marathon! 💪🏻 I only walk at each water point for water for about 10 to 15 seconds and carry on running and I finished strong. Strong as in I don't feel like 'run die me' or couldn't catch my breath or my heart beats super fast. And I must say hydration points are very well organised! Especially impressed by one of the water point they placed at a grass area out of the running route after Tanjong Rhu nearing sports hub, it's very well planned! Because the route there already is narrow, if the water point is very near the running route it will sure jam up the place! Nice! 👍🏻 All the water points area are littered with paper cups but there is so many dustbins and huge black plastic bags prepared 😅 And I'm super grateful for the many water points along the route especially nearing the end of the run.
First of all, luckily and quite a relief that PSI is not high and the race is carried out as usual. It's always this period of the year it gets hazy and many running events had already changed the dates of their runs to a much earlier or later dates to avoid the haze.
Shuttle bus option is only available at certain Safras and Yishun Safra is actually just about 1km away from home but bus tickets were already sold out! 😑 It's one of the biggest running event in Singaopore and should have prepared more shuttle buses and make life easier for the runners right? 😭 There is no choice, I'll need to take a taxi there. But in life, there is always a choice. I can choose to never sign up for runs, I can choose to sleep in on weekends morning. But no, I choose to run. Still, fare is about $25 sibeh expensive leh 😭
Thank you JustRunLah! for the race slot! The race slot is quite expensive for people who never served NS and like me who is char bor 😂 I reached the race site quite late already and went quickly for baggage deposit. Security is tight, they even have those scanners like what we saw in the airport to screen through our bags first. And I must say that both the baggage deposit and collection is very fast and smooth 👍🏻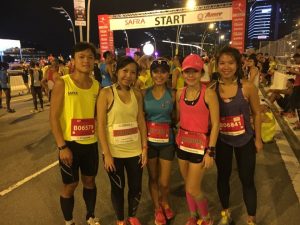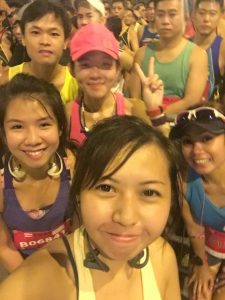 So I quickly rush to look for my friends who are already at the "start". And the volunteers directed me to to go this way where I saw many runners go the other way, maybe that way is for the elites, jialat confirm will be at the very back this time, can still catch up with pacers? That's part of the reason I like to be at the front, so that I can manage to follow the pacers. Then when I saw that there are not so much people at the start and saw many familiar podium runners it is only then I realised that I was in the front where "seeded runners" is given privilege to be at the front of the start line, what is "seeded runners" I also don't know actually 😅 I'm really paiseh lah! 😅 Maybe is a slot from Just Run Lah that's why the privilege to enjoy the spacious place to breathe in front for a few moments more and not be packed like sardines at the back 😆
I was actually aiming to follow the 2hr 20mins pacers at first but I think I need to be realistic because all the half marathons this year I did is worse than my first and only half marathon last year, at GEWR completed in 2hr24mins and my CSC run last month I did 2hr43mins! 😭 But for the half marathon at KL after CSC run I did 2hr36mins, still much better than CSC run. Now I wonder is it the "been there done that" mentality so I have lesser motivation to run full marathon and half marathon anymore 😂 Did 2hr25mins which I'm quite happy 😁
I was hoping that I will never ever see the green and white balloons, that's the balloon color of pacers running 2hr30mins and slower. But 2hr20mins pacers pass me shortly after 3km! 😭 Set another aim not to let the 2hr30mins pacers to passed me and I did it! 💪🏻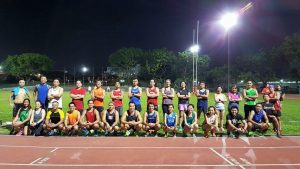 I credit the improvement to the weekly training with Pinoy-Sg runners, I've certainly become stronger 😁 And I must say the entire run I'm pretty motivated to run, because like nobody walks! There is people who walks lah but it is only like 0.01% maybe? Usually I saw a lot of people started walking after 10km but today is not that day 😆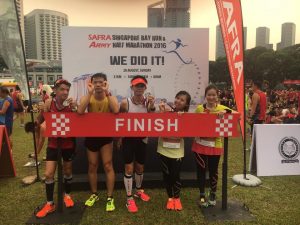 From the start I try not to listen to my MP3 because all the songs have very fast beats and I will end up going too fast and hit the wall, but it is important to keep myself occupied so I listen to my surrounding. Mostly I'm listening to the different types of footsteps and the way people run, stomping, shuffling etc and different types of breathing, I hope I'm a "quiet" runner because I listened to a lot of different types of breathing such as "hahahaha", "hurhurhur" and "hehehe" and "huhuhu" 😂 Only till after the 13km point I think I'm quite safe in my speed and start listening to music and decipher or agree and disagree with every part of the lyrics to keep myself occupied. Especially the song "Love me like you do", it's been one of my favourite song but today it sounds sad to me. Love me like you do, touch me like you do It's like begging for love and touch and he don't love you and he dosen't wants to touch you 😖
Although I heard about negative reviews of the past AHM runs, like bottlenecks and very squeezy but certainly, this run is good so far to me! I didn't come across any bottlenecks and I have space to run and breathe 😆 Especially at the last few kms at a water point some guys were wearing like Spartans and drew their own 6 pack which is so cute lah 😂