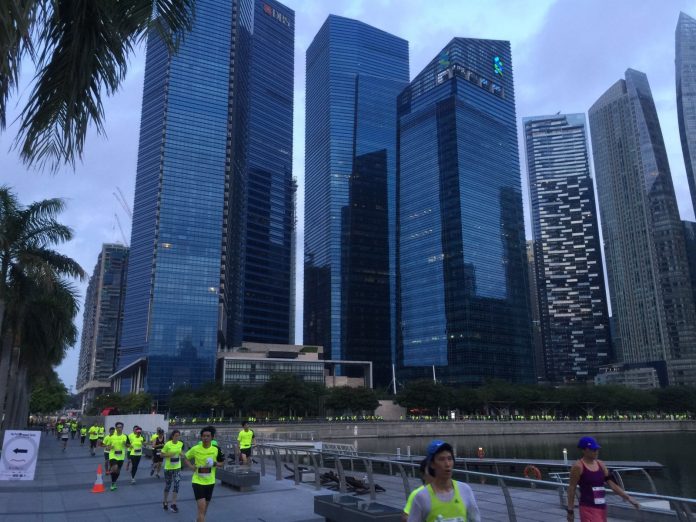 Race #3 of TPS, a series of 5 races which brings runners through varied landscapes of Singapore, took place today, Sunday 7th August.
The theme of Race #3 was 'City', which I was delighted with!  I wimped out of Race #1 at Punggol Waterway / Coney Island having heard horror stories of snakes and monitor lizards lying in wait.  Anyone who knows me will know that anything to do with snakes has me running for the hills.  Shudder.
Anyway, I did pluck up the courage to run Race #2 at Jurong Lake in June, which took us around the stunning Chinese & Japanese Gardens.  Although I was relieved not to have encountered any cobras in my path, I managed to break my ear-phones just before flag-off. This left me with zero tunes and all I had to listen to was the sound of my own laboured breathing and the squelching of my mud-filled trainers.  Not fun.
Sooo… I genuinely fist-pumped the air when Race #3's theme was announced as 'City'. Chances of snakes and mud were pretty slim, right?
Race pack collection at the Sports Hub Library was fairly straightforward – no queues at all when my husband and I went to pick-up.  Unfortunately though, all carparks around Stadium / Kallang Mall were closed off for NDP rehearsals, so we ended up parking at Suntec City and taking the MRT to Stadium.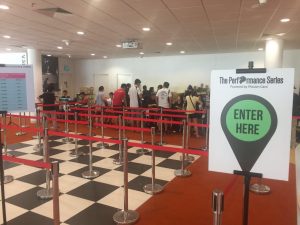 The goodie bag was better than the previous TPS race as it included a Get Active sports bag and a snack pack, as well as the race tee, which I love the colour of!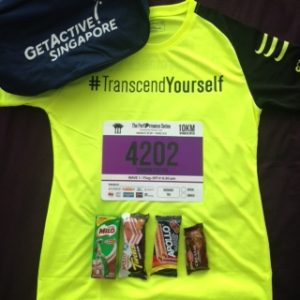 I entered Wave 1 of the 10km category and arrived at the start pen around 6.10am. Now I'm used to 'late' runners arriving and casually sidling past me to get nearer to the Start line and for the most part, this doesn't bother me.  But this morning was something else; I was jostled and rudely pushed out of the way.. runners' etiquette nowhere to be seen!
My feathers slightly ruffled, we were flagged off on time at 6.30am.  It was a gorgeous morning for running – cool weather and spectacular views all the way.
The 10km route took us down Gardens by the Bay (East), over the bridge and through Marina Barrage.  We then continued down along Gardens by the Bay (South), past Marina Bay Sands towards Collyer Quay, where we hit the 5km marker and turned back for the second half of the race.  It was a truly beautiful way to see this iconic landscape at first light.  It makes me feel so grateful to be able to live and run here.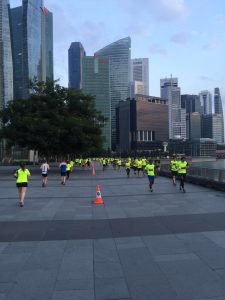 There were 4 hydration points along the way and a brilliant volunteer / crew member at the 9km marker who cheered everyone past on the last leg of the journey home.
No PB for me today but I was happy with my <59 minutes finish as I continue to work on my pacing.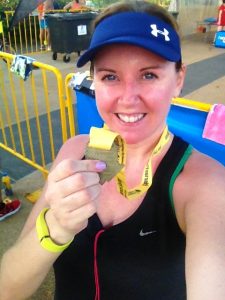 There was a great atmosphere in the race village afterwards, everyone proud of their medals and finishers' tees.  One of the highlights for me was meeting Spiderman and Kudos to him for running in his Spidey-suit!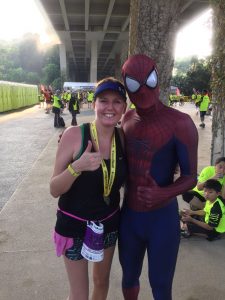 I thoroughly enjoyed running in Race #3 and I look forward to TPS Race #4 in October (snake-free landscape permitting)!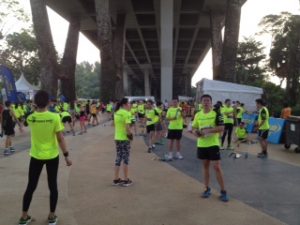 So having successfully "transcended myself" (kinda) in today's race, it's time for me to open that bottle of wine I've been eye-balling all week… Cheers to all!