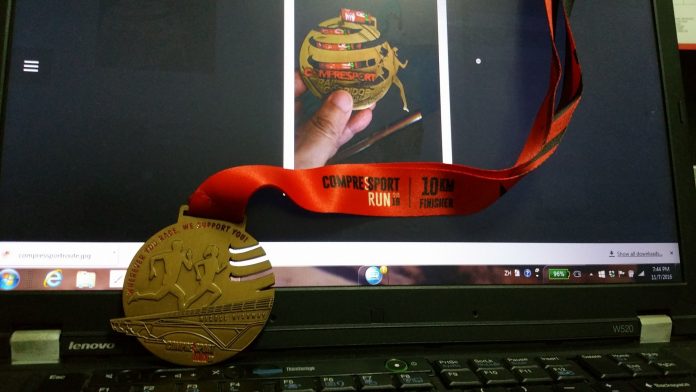 I signed up for the 10 Km race category with Compressport Run 2016 at the early stage. This is Compressport's inaugural road run in Singapore.  Of course, Compressport is not new to most runners, I would think, and they organized the Compressport Rail Corridor Run (corridor run medal inset in featured photo) back in February which I also participated in.
I am fairly impressed by them and thought it is a more practical race pack that they did this round, though some may still complained of it being minimalist, compared to others. But in reality, you get much more value as you get a pair of calf sleeves which cost more than the early bird entry fees.
I was also early for the race pack collection and so I did get to choose the calf sleeves from at least 4 colors.  I took my favorite color blue.  I heard some friends who were there later didn't get as many colors to choose, but to be fair, this limitation was stated clearly.  But since I had gotten a red pair of socks before, I was fine with different colors these days.  I could gift them to my sons or my brothers.  The red singlet was strikingly bright and vibrant in my opinion.
The course was not unique to me though it was still a scenic route.  As my friend put it, if you start running more than 20 races per year, you may have come across most routes available in the city state of Singapore.  Though I was early, I ended up in wave 2 and was flagged off about 5 minutes after wave 1.  Completed the course in 1:09:53, not my best timing.  I guessed I might be suffering from some fatigue somehow.  Had been having a sore throat mid week.   I went right back after collection of the medal and the isotonic drinks and was able to join my family for breakfast even, near my home.  Still have not completely recovered from Plantar Fasciitis as the pain got worse the following day.  I had been following some stretching exercises recommended on youtube.
I'll leave you with a final thought about running.  I find running or running found me two years ago.  Since then, I've run regularly, and signed up for races.  Like life, you can choose to run different races, be it just running races, halfs or marathons, obstacles courses, vertical marathons, aquathons and cycling as what I had done within two years.  But what's more important is to enjoy the whole process – decision to sign up, train, prepare and race, recover, learn and repeat.  Sometimes you get your PB, sometimes you don't.  Rare talents get their podium places but we all know that only it's a handful or at most 10-30 persons who may be vying for podium finishes.   (In this specific race, 10 participants each in open and veteran categories could win prizes.)
But only if you enjoy the process, then you will enjoy running, you will learn to live well, and not merely survive.  On to the next race : The OCC Blueseventy Urban Aquathlon !
(Note : for those who are keen to catch their photos in the race, you could look at https://www.facebook.com/runningshots.sg/ where they have nice photos of races.  At time of release, I saw they have the 5 km race at their website.  More will probably be available over time by other photographers as well.  I've decided to skip the race photos for this round.)