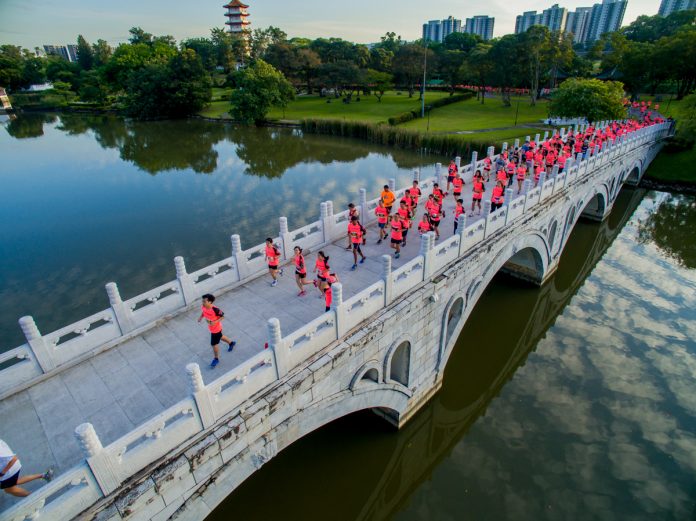 The second run of The Performance Series was held on 26 June 2016 at Jurong Lake. This will be the last run before the area closes for renovation.
Due to the large number of participants in this race, the 10 km race flag off was divided into 3 different slots. I picked the 8 am slot, which is also the latest, for my run (mainly because I live in the East and I wanted more time to sleep).
I reached the race village about 20 mins before my flag off time to give me plenty of time to warm up. Walking around the race village gave me the feels of trying to walk through a 'landmine' (ok, I am exaggerating a bit here) because the fields were rather muddy and this is the first time my running shoes hit mud. The white base was totally coated with mud by the end of the event and I almost slip and fall in the mud puddle. Thank God I managed to stabilise myself before my butt hits the ground.
At the time of my run, the sun is starting to get a bit hot but that didn't dampen the moods of all the runners. We were all eager to start off the race. As for me, I am eager to explore the area as the run brings us through both the Chinese Garden and the Japanese Garden.
Running Route:
The route was very scenic I must say. But running 10 km brings us 2 rounds around Jurong Lake. Not that it is a very bad thing but the thought of having to go for another round after 5 km is a bit sian (or boring)
Hydration:
The organiser really did well in this aspect! There were ample hydration points along the route (4 hydration points). Definitely an improvement from the previous race.
Medal and Finisher Tee:
The medal looks more like gold this time round for the 10 km runners (and I heard they are finally adding the run distance in the medal starting from the 3rd race onwards! YAY!). The design of the finisher tee is the same as the previous race but with a different colour combination. A word of caution for the ladies is to check that the sizing of the shirt is correct because there will be an indication that if it is a women size. I got an S size but for males and hence looks rather big on me.
Overall, the race was really well done, a great improvement from the previous one. Although I had to wash off the mud from my shoes after the race, but all is well now as it looks as good as new. Will definitely look forward to the third race which will be held at Gardens by the Bay on 7 Aug 2016. Come join us!