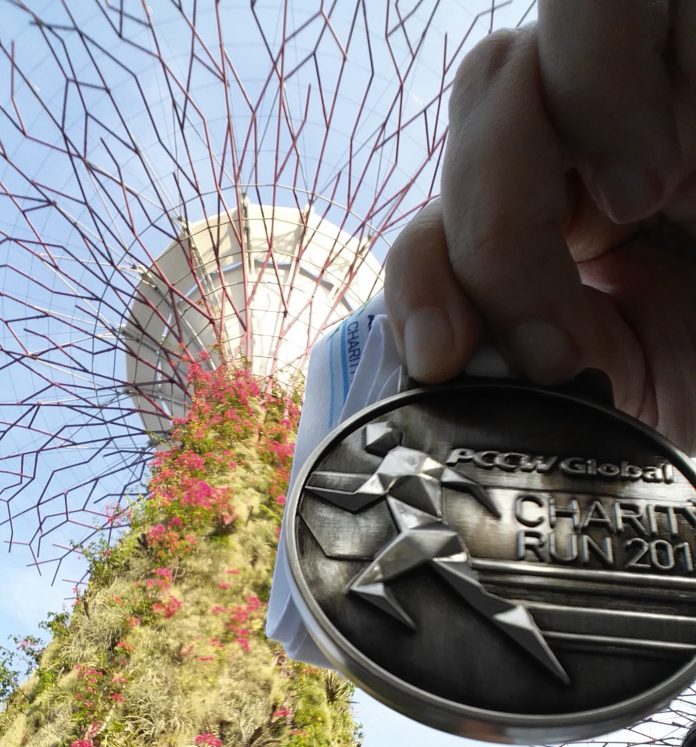 So just 3 days after completing the Full Marathon at OSIM Sundown, I was 'scheduled' to run the PCCW (Pacific Century CyberWorks) Global Charity Run.  This is a 5 km race, a unique one as it is one of those rare few events that are held on a weekday.  I joined last year's as I thought it was a great idea to contribute back to charity through my new found passion.
This year is the third in the series, but my second since I started running seriously.  The venue is at Silver Leaf, Gardens by the Bay, as was last year's.
PCCW Global, the sponsor for this event, is an international operating division of HKT, Hong Kong's premier telecommunications service provider.   $50,000 was raised and the cheque handed over to the Singapore Cancer Society during the start of the race event in a simple ceremony.  The Singapore Cancer Society is a community-based voluntary welfare organization dedicated to minimizing the impact of cancer through public education, screening, patient services, financial assistance, research and advocacy.
With a limp yesterday, I was carrying some cartons for delivery as a medley of jobs that I took on recently, I was wondering if I could actually run on race day.   But a runner's honor must be kept and I got the bib and singlet ready in the evening.  (Race Entry Pack collection had been a breeze held at Keypower Sports Outlet at Velocity.  Though the free gifts were less than the usual, it was after all for charity and very much value for money already.)
In the morning, my son also had to make a small sacrifice to wake up extra early so that I have adequate time to send him before leaving for my race.  I put on a plaster on one of the big fat blister that appeared at the bottom of one of my toes.  I was wondering to prick it so that I could run actually.  Decided not to, also after being advised by friend SY.  And I put on the Injinji socks to try out for the race too.  I didn't dare to try something too different for the marathon itself but after the race, I think I should have worn them for Sundown.  The blisters would have been avoided.
The socks were very comfortable and for some miraculous reasons, or just my prayers answered, I didn't feel any pain for the duration of the race.  I ran in the Newton shoes.  I was able to run and not walk or limp.   It was still, a short course, 5 km.  There was one hydration point but as it was a simple looping route, you could easily just grab a drink again if you need.
I finished in about 33 minutes according to the big timer at the finishing point, even stopping to snap one picture, carrying the phone in my hand.  I had thought I might have to walk and taking pictures would be a better utilization of the extra time.  As it was, I enjoyed the race and then quickly collected the medal and Tee, took some pictures and left for home as some assignments awaited me.  It was also a bonus to run today as it is Global Running Day.  Just too bad to miss my friend SY who also ran with an injury at the race.  I take a much needed rest now and will run my favorite these days, the 10 km towards end of the month.