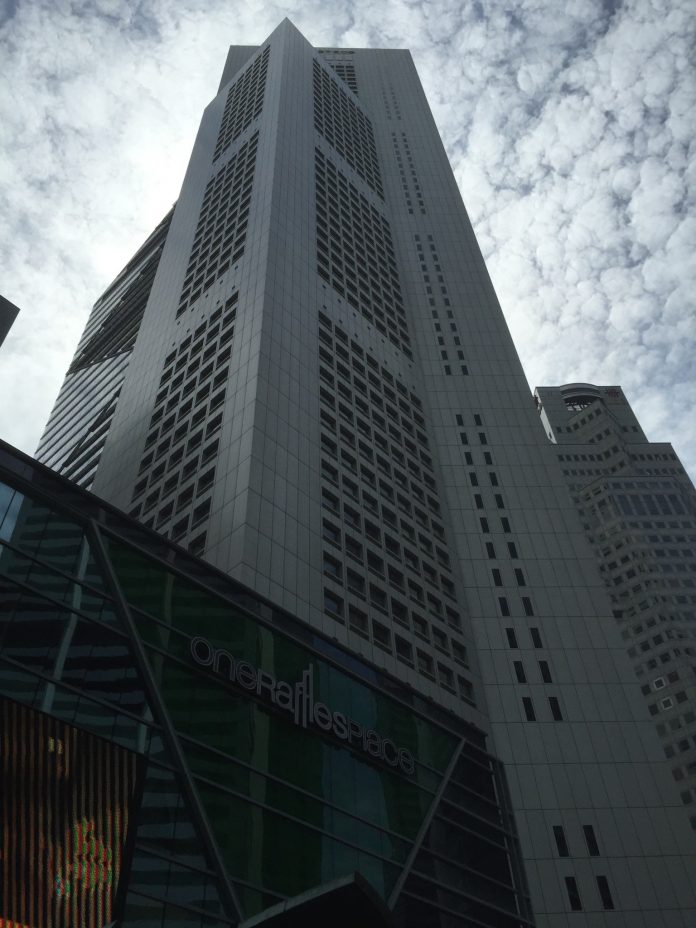 The National Vertical Marathon (NVM) 2016 was held on 22nd May and it was organised by the Nanyang Technological University (NTU) Sports Club. This vertical challenge is 63 storeys high with 1576 steps to conquer up One Raffles Place, one of the three tallest skyscrapers in Singapore.
There are various categories for NVM; individual, team and relay! With such an affordable price and superb organisation from the previous years of participation, there were no second thoughts about joining. As per usual, we signed up for the Lovers Challenge which meant that we would be running up the building together as a couple.
Source: http://nvm.ntusportsclub.sg
Pre-race
There are 2 major differences between NVM and usual running events. Firstly, there is no separate day for the collection of the race pack as you get it on the day itself. Secondly, there is no common flag off time for all participants. Instead, an individual reporting time is sent out to each team/couple/individual a week before the event. Our reporting time this year was at 2.25pm, which was much later than the timings we got for the previous 2 years which was about 10.45am.
Being the kiasu/early birds we always are, we arrived at Raffles Place around 1.45pm for registration, which was conducted under a huge white makeshift tent right next to the MRT station. During registration, we got our bibs and race tees! One thing to note is that you don't need to print out and bring your declaration and personal data protection act form as they will have you to sign it on the spot (lesson learnt!). Another thing to note is that there will be a 45 minutes interval between your given registration time and flag off time.
Since we had about 1hour 15mins to kill, we walked around the mini carnival which comprised of a few games stations, lucky draw, photo booths, free icecream and food! We felt that the atmosphere at the race site did not feel as "hyped up" from what we remember in the past two years…probably because it had been a long day for the volunteers already. Nevertheless, it was still an impressive setup and we enjoyed it 🙂
Our flag off time was at 3.10pm with 2 other couples from the Lovers Challenge. We met at the gathering area located underneath One Raffles Place, which was also where we deposited our bags too.
The Climb
We were flagged off in a group of 3 pairs, with a short interval between each group to prevent overcrowding at the stairs. The organisers did a brilliant job in this as throughout the climb, we did not face any congestions or clashing between other participants 👍.
This year we were aiming to beat our personal best of 18minutes 9seconds from last year's timing… and honestly, it was not easy >< I took the strategy of climbing 2 steps at a time and at the same time pulling myself up using the railings. Probably due to insufficient training, I was already dying on the 20th floor while Kang Jing was still going strong!
There were hydrations points around every 15 stories with water and 100plus but we didn't stop to take the water as we carried our own bottle with us. There were also volunteers stationed at various stories of the stairs and some were giving us encouragement to keep going :). A huge salute to them because it should be quite hot and stuffy to be stationed in the stairs for such a long time!
There were so many times I wanted to stop to take a break and catch my breath but Kang Jing kept pushing me on both figuratively and literally from behind. I am super impressed by his strength and patience, even though I kept scolding him for not letting me stop to rest😅. But seriously, I was super out of breath and my legs were screaming for me to staapppp!!! But I wanted my PB so badly I just had to press on and keep going. And the only way to go was up 🔝
The last four stories felt exceptionally long… but finally, we reached the top in the timing of 17mins 10seconds woohoo!! Personal best YES!! According to the official race results, we came in as the 9th couple in that category yay 🙆 ~
For NVM, finishing the race is always the best part as not only will they personally present you with your medal around your neck, you'll also get rewarded with the most magnificent birds eye view of Singapore from the top! I'll let the pictures do the talking;
We had a post race surprise when we came down from the building and it was totally unexpected. If you want to find out more about the surprise and also what is in the racepack, read more on our blog. Remember to follow us on instagram @runningmypace!