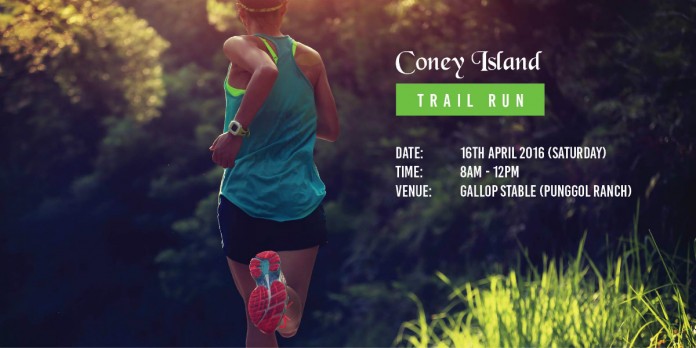 REPC
Race pack collection was done at Novena Square, though the venue given was VeloCity. Yes, both are side by side, but Novena Square is not VeloCity is it. Perhaps a sign of things to come?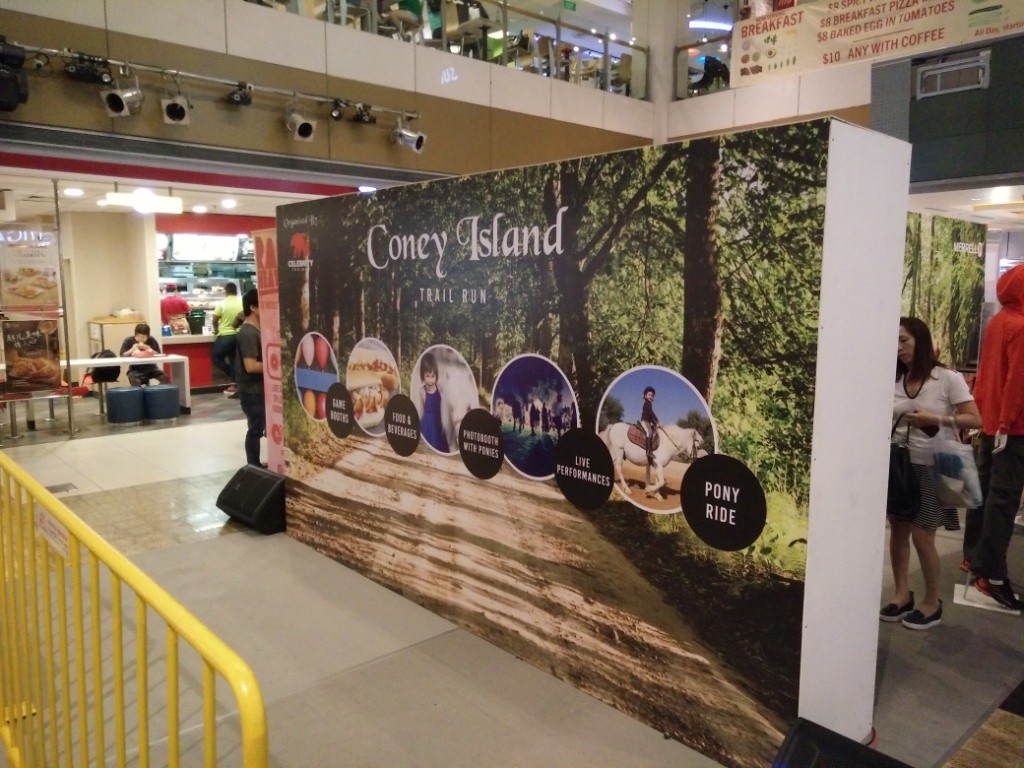 Collection site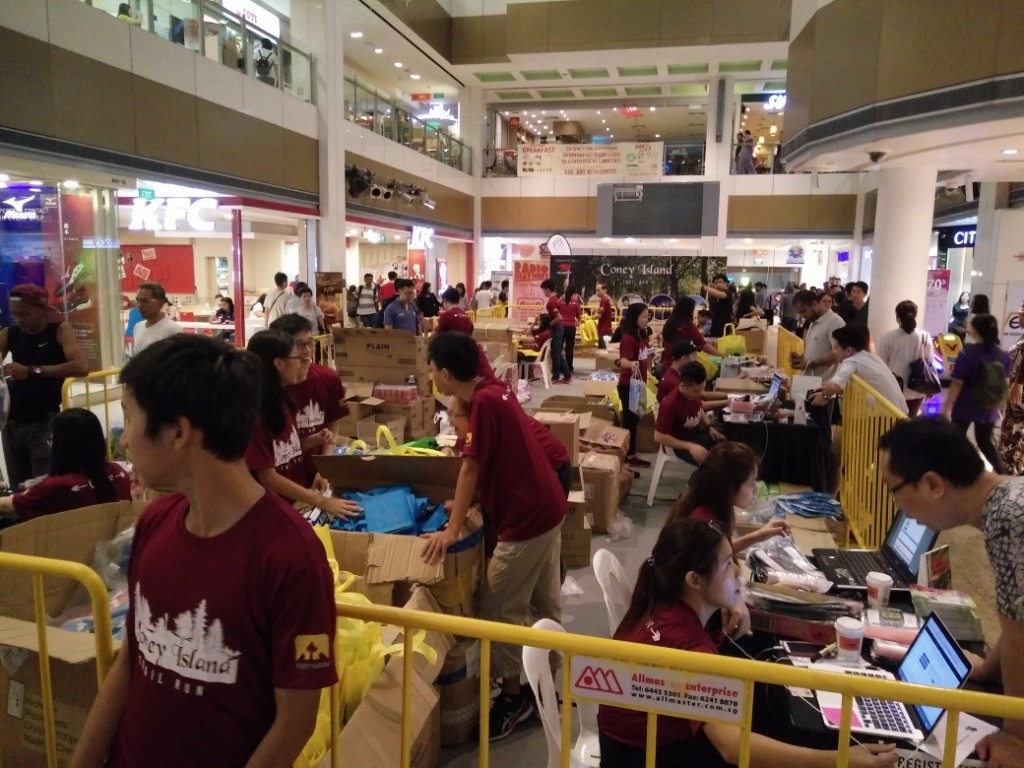 Collection itself was fast and hassle free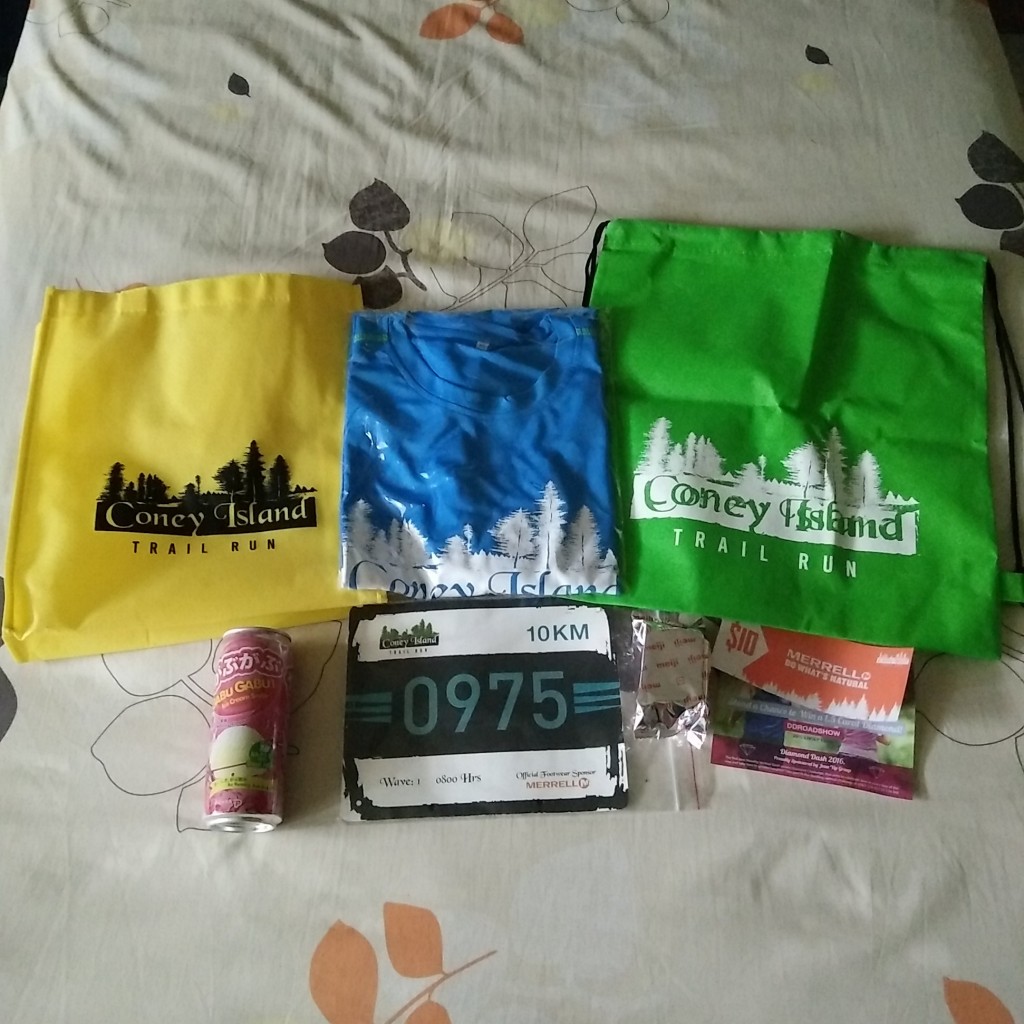 Race Pack. Not much these days.
Race Day
Was there pretty early though the flag off was only at 0800hrs.
Being in Wave 1, I was flagged off promptly at 0800hrs. Run route was pretty straightforward, not much twist and turns. I must say I was pretty impressed that the route ended promptly at 10km, not a metre more not a metre less. After passing the finish line, collected my medal, drinks and went to the carnival site to look around. There was a photo booth by Merrell that lets runners print out photo cards, which is pretty nice.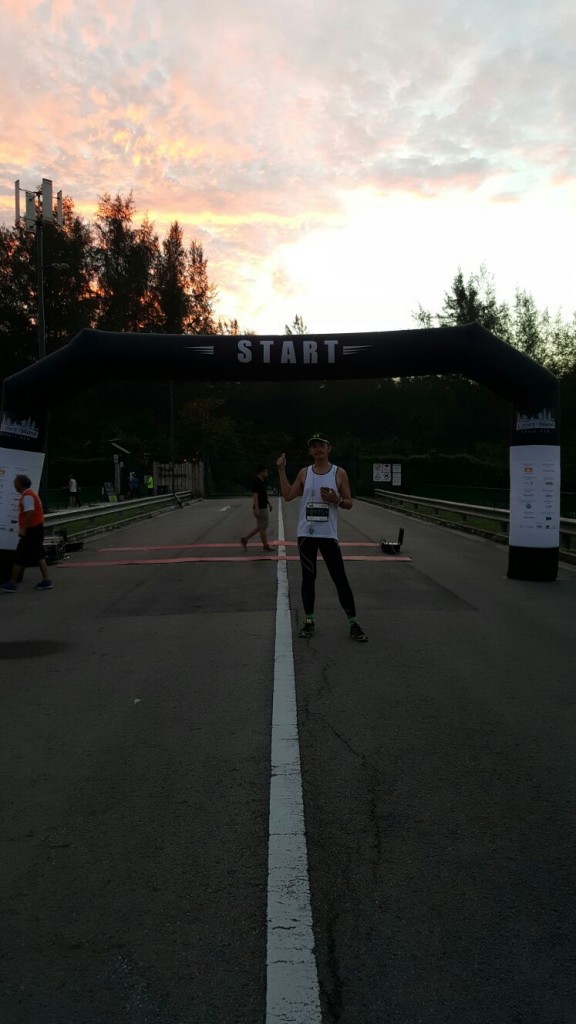 Me when nobody else was there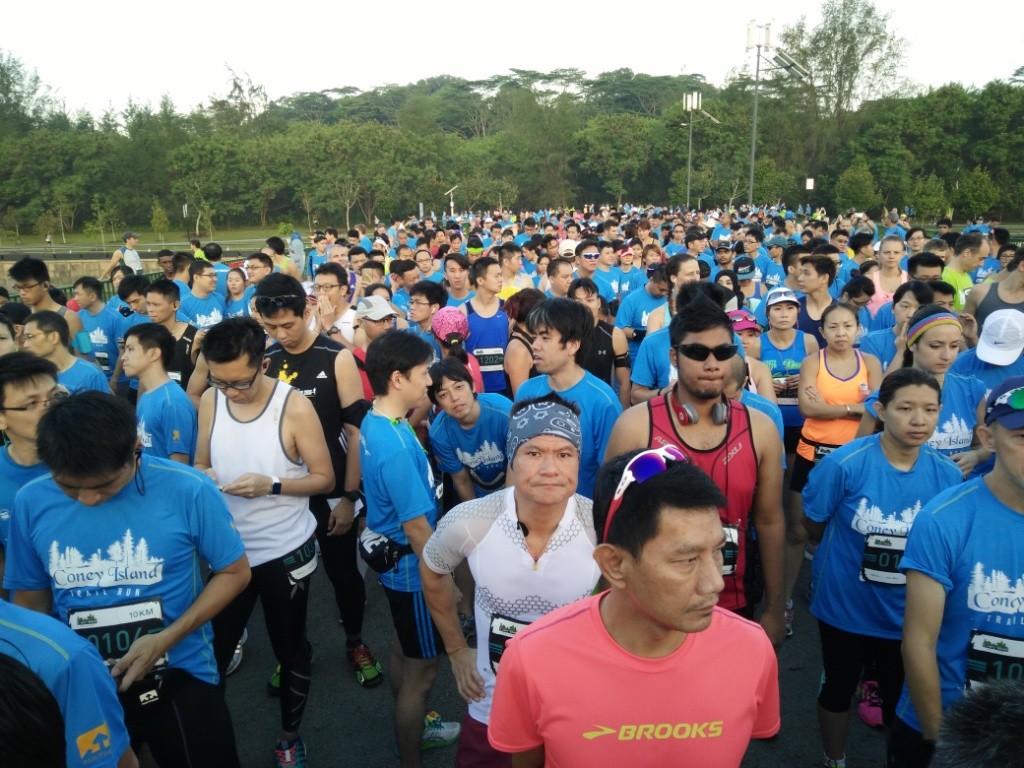 Quite a crowd prior to flag off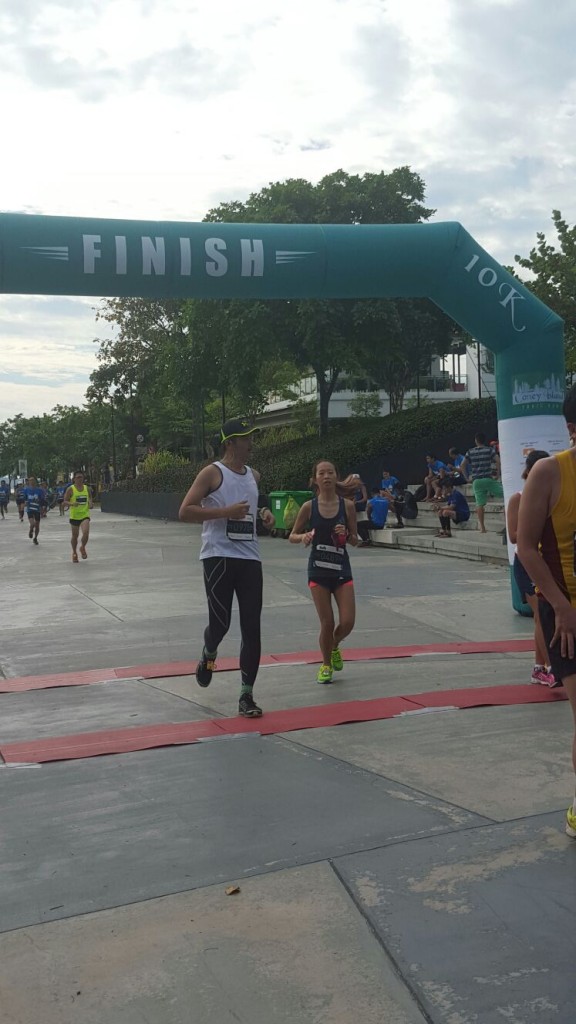 Crossing the finish line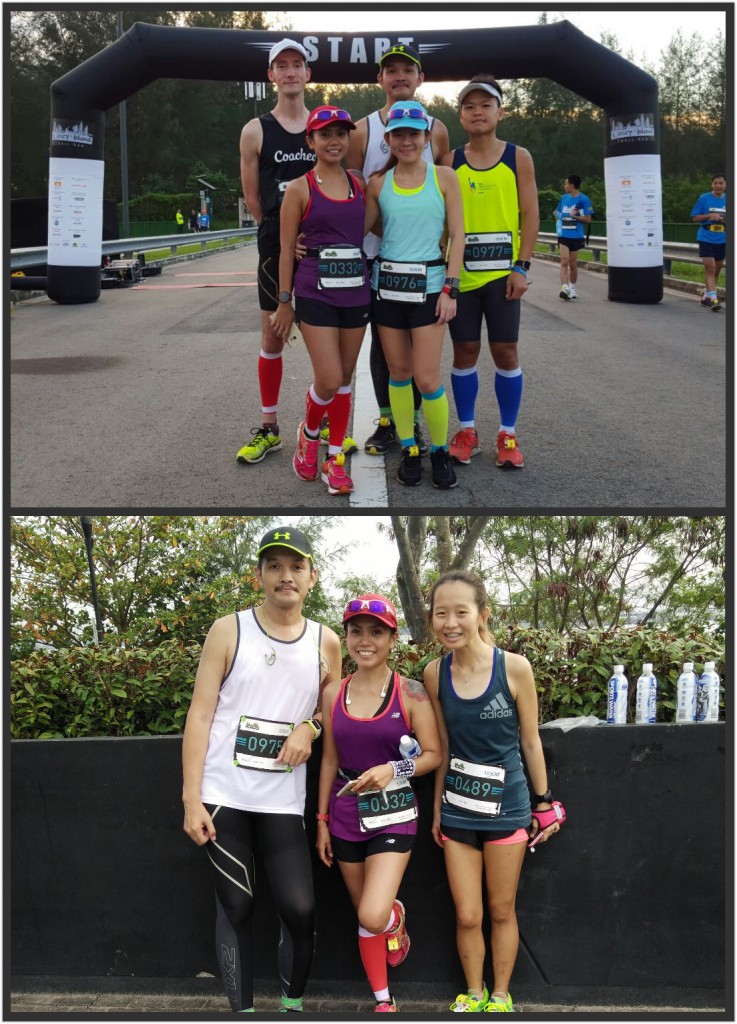 Pre and Post run photos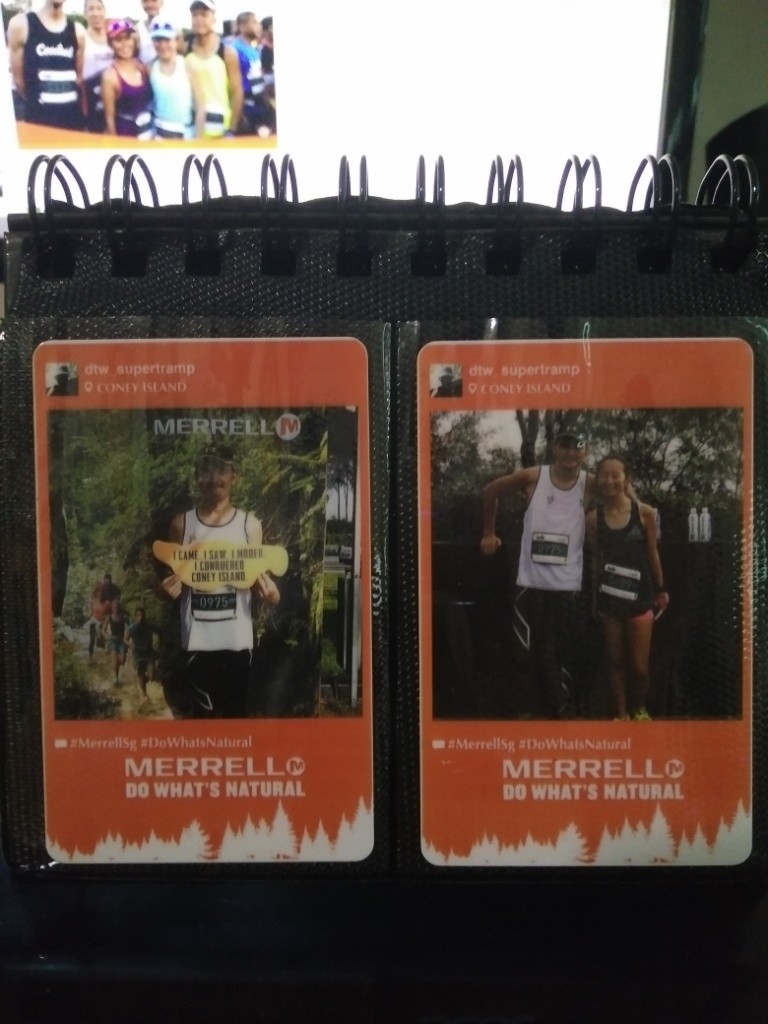 Photo cards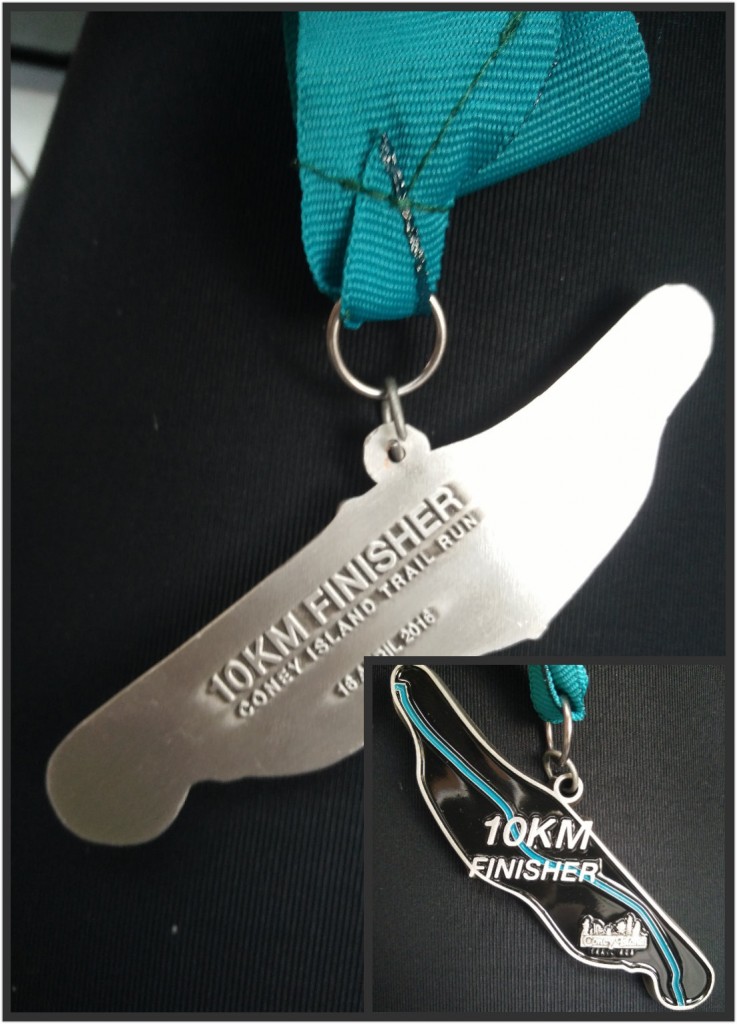 Uniquely shaped medal
After Thoughts
I have to say there are plenty with more negative ones.
On the Race Guide, we were told the event site is at the Gallop Stable and the map given showed the Start and Finish Points are almost side by side. However when we were at the stables, we were told the start point was actually at the Coney West Entrance, which was a good 700m away. We could have been informed of this as many runners were surprised when they realised they have to move to another location to start the run. Technically the race guide did not state the Start Point to be at the stables but most runners would logically assume the event site IS the Start Point wouldn't we?
At the Start Point, there were no water stations or Portaloo, which was kinda weird, especially when the MC made the call to us prior to flag off to drink up if necessary. Drink up from???
Runners were divided into Wave 1 and 2 for 10km with Wave 3 being 5km. However, other than the call from the MC for us to separate ourselves by waves, there was nobody on the ground to actually do the separation unlike a previous trail run. So we cannot help but wonder the purpose of registering in waves if no one is on the ground to enforce.
Flag off was set at 0800hrs for Wave 1. Yes, we do know during registration the flag off would be this late. But with the recent hot weather we sure could do with an earlier flag off before the sun got powerful. Thus all through the 10km run, we were blasted by the sun with scarcely any shelter.
Flag off was prompt for wave 1, though I heard from some friends subsequent waves were flagged off late resulting in even hotter than necessary conditions.
Distance markers were non-existent. I do not recall seeing any at all. Could I have missed 9 of them (1 per km)? I may be wrong but I do not think so.
I also got to know the leading runners were lead on a wild goose chase and they ended up looping the other way. With the top prize being $1000 cash, the implications are great indeed. Marshalls not briefed? Lack of marshalls?
Hydration stations have to be considered a joke and that is to put it mildly. Plenish Sports Water, the isotonic drink from Pokka was served. But, they were all luke warm. How can hydration stations be serving luke warm drinks to runners especially considering the hot weather? I have to pity the volunteers who had to pour the drinks from 500ml bottles. Yes, you did not read wrongly nor did I do a typo, 500ml bottles, not the usual 1.5litre pet bottles. Don't the organiser know this will result in slower refills which was what happened when runners practically had to hold the cups and wait for the drinks to be poured? And the best part, where is the water? Water as in plain water or mineral water. There were none! Not all runners want to take isotonic and shouldn't water be the very basic in the first place? Even at the post run carnival site, no cold drinks were served. And I must say I was pretty pissed that cold drinks were being SOLD there instead. Is this a ploy by organisers to milk even more money from runners who really could do with some cold drinks after a run under such weather? What's even more unforgiving was I understand from friends who ran the later 5km that hydration stations ran out of drinks for them. No drinks for runners, some whom are kids as this was a fun run, for a whopping 5km under the searing sun. 5km runners paid $45, which is not cheap and there wasn't drinks for them. Duh!
Overall, the run was a big disappointment. Right from the wrong venue being given for REPC was already an omen of what was to come. This has to be the most poorly organised run I have ever experienced. My conclusion is the organiser(s) is/are not a runner himself/themselves, thus he/they do not know nor understand runner requirements.
Recommendation to runners: DO NOT return for this run if it is held again next year. Actually, do NOT go for events organised by Celebrity Trainer Pte Ltd. I know this is kinda harsh but every runner I know of agreed the organiser(s) clearly do not know what they are doing.