It is arguably the most special race you're going to make.
A 21k is a perfect stepping stone towards a 42k or ultramarathon. You learn about discipline, self-care and the importance of nutrition. But it's also a huge jump from a 5k or 10k – almost twice the distance! Let's make this one hell of an experience for you.
Nutrition
This race is probably going to take longer than 90 minutes. So proper nutrition before, during and after the race is important. Having a small meal 45 minutes to 1 hour before would fuel the first 60 minutes of your workout. Then, you'd need to take in some mid-race nutrition to charge up your muscles for the next half of the route. There are people who survive on just sports drinks and water at hydration points. That works too! The main difference between sports gels and sports drinks is just the amount of carbs packed in them. Try to find out what works best for you during your training runs.
Race Day
Wake up early. For those who find waking up at 4am painful (which would be perfectly normal),  we've 6 tips to get from bed to park. Spend the first few moments awake just stretching out your toes and arms. Pull yourself across your entire bed and breathe deeply. Then imagine the whole experience of getting from the start point to the finish line.
Once you're up and awake, get about preparing a simple breakfast. It could be overnight oats or wholemeal sandwich. Have a hot drink to perk up your body a little! Then, get to doing some dynamic stretches. Do 10 deep squats and then rest for a few seconds in the squat position. Throw in some lunges and light jogging if you're up for more!
Race Experience
If it's your first time doing a 21k, you might be nervous about a lot of things. It could be about feeling bored, or feeling too tired to continue. Remember that the race experience is so addictive because of the people running alongside you. You might not know their names but seeing the same person fall into the step beside you, at same pace can be very comforting. Along the route, you'd also meet other volunteers or even interesting people all dressed up in costumes. (It has happened before!)
Running distances also come with the joy of discovering more about yourself. What do you tell yourself at the halfway mark? How do you convince yourself it's time for hydration? It's a pretty amazing experience. We just ask you to thoroughly immerse yourself in the experience. Alternatively, you can listen to audiobooks or music. You can sign up for the race with a friend. Or you can make friends with someone there! Looking for race pacers would also be a good idea to keep you motivated and on track throughout the race.
Ready to take on the challenge? Here are the upcoming 5 races! Check out those with JRL logos beside them because there are race discounts available for our readers.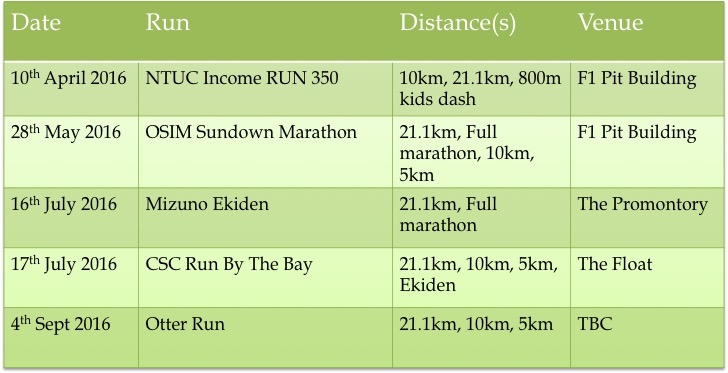 CONGRATULATIONS! Getting started on a race training like that is not easy but you've done the most difficult step of signing up. Commit to this promise to yourself and you'd be so proud of your accomplishment at the end – we guarantee.