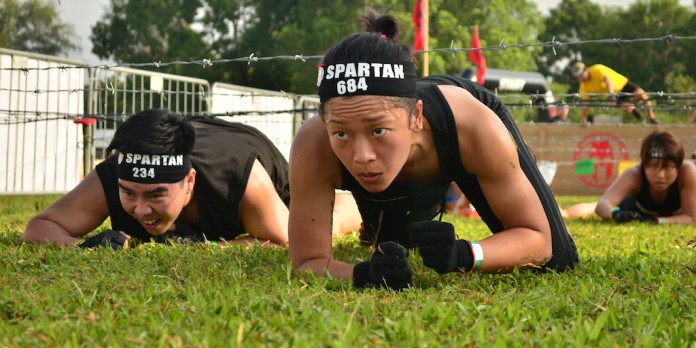 Races with obstacle challenges can be daunting to some of us. But it is also a good way to test your overall physique, and a good reason for you to train yourself to become stronger. Likewise, the Reebok Spartan Race may be tough, but it does not mean you cannot conquer it. Let these two extraordinary stories below show you that anything is possible as long as you set your mind to it:
Loh Chee Khoon
"I don't wish to have regrets in the future. Because in the past 22 years I have wasted alot of opportunities in my life. I don't see my disability as a disadvantage."
Born without his left arm, Loh Chee Khoon was overweight and had practically no interest in sports. However, things changed when a colleague persuaded him to sign up at a gym. He started to lose weight, and become stronger, changing his life for the better. Now, even with only one arm, he makes burpees look like light work. Despite his disability, Chee Koon has a die-hard and never give up attitude. Do look out for him at this year's race!
Suzie & Sherilyn
"The key is to challenge yourself. It's not the age."
This grandmother & granddaughter team is not something you get to see all the time. In fact, 64 year-old Suzie is stronger than many other grandmothers and can even complete a Spartan race. She shows us that being young at heart is an attitude, and it is never too old to challenge yourself. She can even be seen helping other participants with some obstacles at the Reebok Spartan Race. Full of enthusiasm and life, Suzie serves as an inspiration for us to live our life with motivation and to always strive to be better.
Experience The Spartan In Singapore
Reebok Spartan Race is the world's best obstacle course race, designed to push your limits, test your strength, and challenge your endurance. With over 240 races in 25 countries around the world this year, Reebok Spartan Race is returning to Singapore on 7 May 2016!
$20 OFF Spartan Super Singapore 2016
Spartan Super runners, you are not excluded! Enjoy $20.00 OFF – Use promo code: JRLMSP2016 during check-out to enjoy the discount.
$25 OFF Spartan Sprint Singapore 2016
Do you want to do the Spartan Sprint instead? We are happy to provide all JustRunLah! subscribers with a discount of $25.00 (U.P. $108.00 / Discounted: $83.00)! Use promo code: JRLM2016 during check-out to claim the special price.