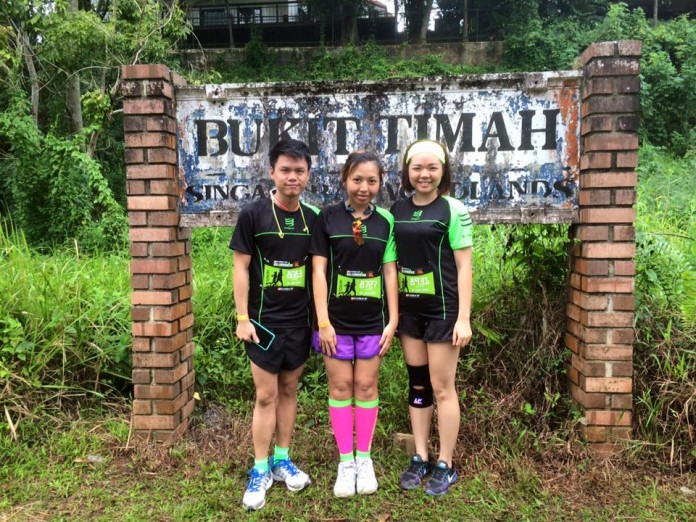 My first running event this year.
Although I have been running regularly, somehow I really have no stamina today. This 10km run is super scary, I'm not afraid of the mud, nor getting my 1 month young New Balance shoes dirty, but I'm afraid to slip and fall, it's really slippery, my whole run I was thinking of every possibility on how I will fall and die. Such as fell and roll down into the drain, fall and a branch pierce through my body and die horribly. Feel as though I'm serving NS although I've never serve NS before. Climbed on all fours, slide down a slope on my butt, stomp through mud and almost fell multiple times but luckily my balancing skills seems like not bad.
Seems like every random people is giving each other encouragement and assistance, one man assist me at a slope, although he just offered a helping hand to pull me up on my feet, at that moment I just feel that this is what makes us human and life is beautiful. This is my worst 10km ever, trail running is super tiring. And I wondered this 10km is already so tiring, should I challenge a full marathon again at the end of the year? Since I already completed a full marathon once, bucket list cleared so once is enough?
Nearing the end of the run, I met another uncle who is very encouraging. Somehow we ran side by side together for the last km. And just when I wanted to stop and start walking at the last 200m to the finished point, he noticed and said: Continue running, it's just in the mind! Every run is really an experience. Good thing is I feel slimmer immediately after the run, and the weighing scale didn't disappoint me.
Race Pack Collection:
The Kiasu Singapore lang spirit, queued for 1 hour to collect my race pack on the first day of collection, heard second day like no queue. Next time collect on race day better, no need specially go down. Or in near future do something like postage, I'm sure some people like me won't mind paying for postage.
Hydration:
Water points only offered mineral water, mineral water is ok. But not cold 🙁
Banana:
Hurhurhur. The banana look not appealing so I never take. Recently I saw a running meme on Instagram from Runnersbe which is quite funny and true, its something like: We paid so much for a race, is a ripe banana too much to ask for?
Route:
Nice, I like greenery and its my first time here, get yourself muddy and dirty is actually quite romantic right! I don't know when will I not be lazy to scrub my shoes.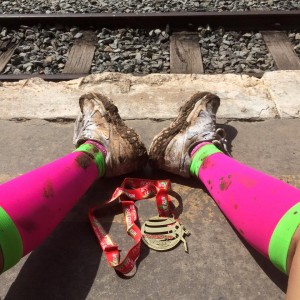 Event Tee:
Sleeveless will be great, help you save cloth and cost somemore leh.
Medal:
It looks chio or not I don't really care actually, its the sweat and calories I sacrifice to get it!
Race Bib:
Can don't strike on my 4D number?