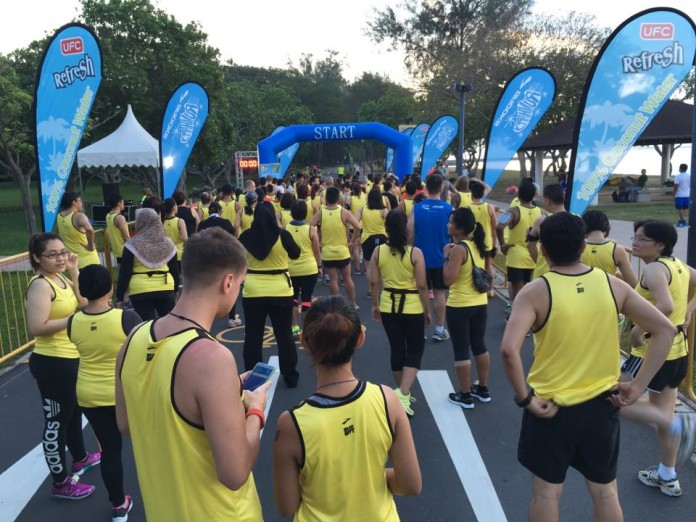 What better way to start the year than with an easy 5km race right in my own backyard.  I was quite happy to save some taxi money by cycling down to Big Splash (all of 5km) for the Brooks Run Happy race.  Managed to arrive seconds before the 10km category flagged-off that could have made my ride a lot trickier to get around the participants.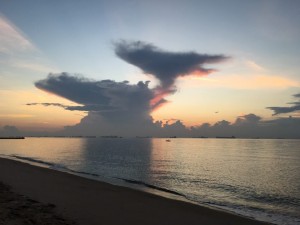 Quite surprisingly there were only a mere 193 participants in this category, whilst the half marathon had 977.  I'm so accustomed to high numbers of runners in the 5km category it was nice to be part of a small race for a change.
I can't say I had a spectacular race timewise.  My ParkRun run was better the day before on the same route. However, I still managed to rank 29 out of the 193 racers.
Whilst I am very familiar with East Coast Park and its running route, I was somewhat disappointed with the turning point beneath the Fort Road footbridge across slippery muddy grass.  Unfortunately, I lost momentum having to walk the section and then finding it difficult to wind myself back up for the last couple of kilometers.  Nor did it help that the category was longer than 5km.  I kept looking for the end and it just didn't seem to come.  The route ended up being 5.4km which I finished in 38:12min.  Not the greatest but then I'm not a particularly fast runner.
Thankful to cross the finish line, I happily collected my finisher medal, coconut water and donut.  Since I was on my own this time (no Team Costa buddies), I soaked up the atmosphere for a time before I hopped back on my bike and cycled home.  By 9.00am I was done and dusted, sitting on my couch with a coffee and waiting for the rest of Sunday
to unfold.
This was a cute race, regardless of the muddy spot.  I enjoyed the smallness of the race, the proximity to my home and as always the East Coast Park location.