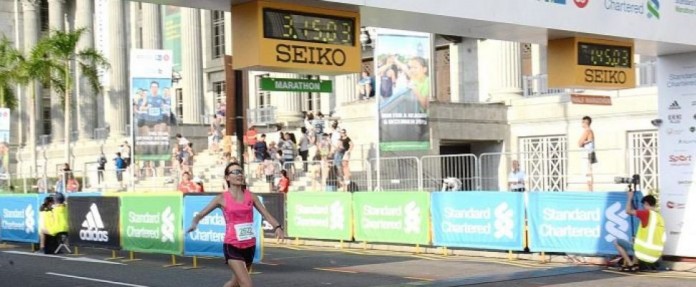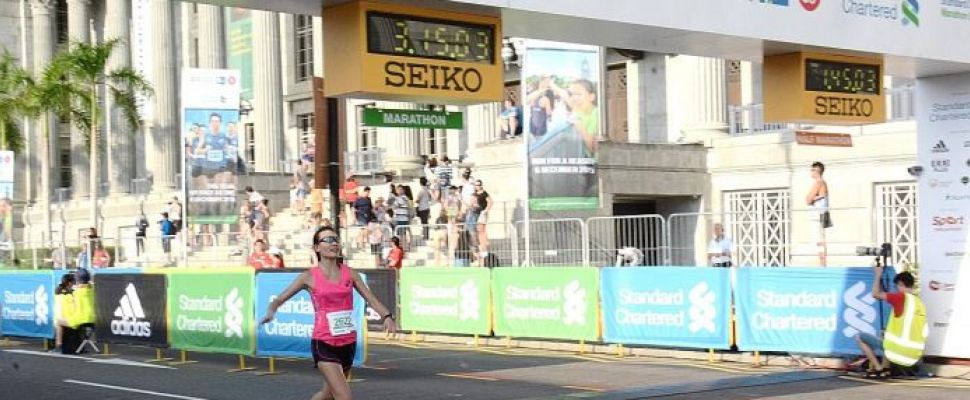 Last month, Neo Jie Shi earned the honour of qualifying for the Olympics. The 30-year-old surprised the running community and herself, with a great timing at the Standard Chartered Marathon Singapore (SCMS).
Her time of 3hr 15min 6s placed her 1st in the women's local category but 10th in the women's open category at SCMS, a IAAF Gold Label race. According to IAAF rules, the top 10 places in a Gold Label race in 2015 and 2016 will automatically qualify for the Olympic Games, subjected to 3 athletes per country.
With that, Jie Shi has become our very first Singapore-born athlete to qualify for the 2016 Olympics athletics and the marathon at a world event.
And Neo, who clocked a personal best of 3hr 9min 57s at last year's Standard Chartered Hong Kong Marathon, is relishing the opportunity to compete against the world's best in the 2016 Summer Olympics in Rio de Janeiro in seven months' time. She had finished eighth in the women's marathon at last year's SEA Games.
"It will be a great honour to represent Singapore at the Olympics, joining the ranks of previous greats who have flown the flag proudly before me,"

"Running a marathon itself is intimidating. More so to run alongside, and compete with, world-class marathoners. It will probably be a high-pressure and intimidating experience. I hope to take this opportunity to meet and learn as much as I can from these inspiring athletes and also enjoy every moment of the racing experience."
While Neo's Olympics spot is pending confirmation by the Olympics organising committee, she is considering training full-time to prepare for the games. The Singapore Athletics association will also assist Neo with training and funding support in the build-up to the Games.
"We are very happy that Jie Shi has a chance at the Olympics so we will help her," Singapore Athletics vice-president C Kunalan said. "We cannot underrate her qualification and, if she is going, we'll help with her training to get a personal best.
It seems like we have been receiving great news for our Singapore's athletics community lately. We are all thrilled and excited to support Neo Jie Shi at the upcoming Games at Rio de Janeiro!
Cover photo credits: Ghana Segaran