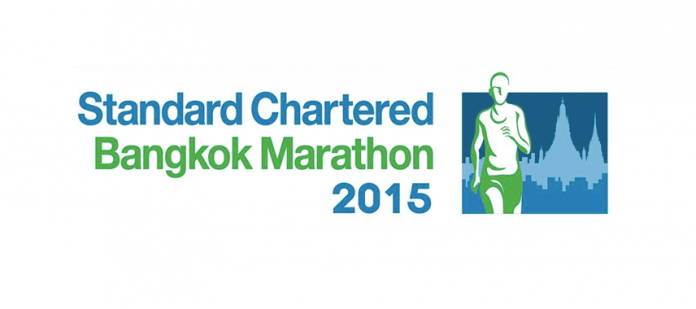 After much contemplation and a hard time deciding over running in Indonesia (Jakarta Marathon), Thailand (SCMBKK) and Vietnam (Halong Bay HM), I decided to register for this year's Standard Chartered Bangkok Marathon (HM category) which took place on 15 NOV 2015.
(I finally managed to set aside time to blog this down. Pardon for delay)
Registration
Online registration was pretty straight forward. Foreigners could only register via www.gotorace.com. However, double-pricing policy was implemented – This means foreigners paid almost doubled as to what the Thais would have to pay. Entry fee is in USD (foreigners).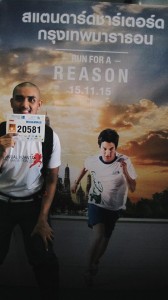 Touchdown and REPC
My departure flight was a day before the run (14 Nov) which departs SG @ 0710H via Tiger Airways and arriving at BKK (Suvarnabhumi) @ 0835H (BKK time). Immediately after touchdown, I took the Airport Link Sky Train to the Race expo which was conveniently located at Makkasan station (This is the station where you can inter-change to the BKK underground MRT as well.)
The race expo may be of a slight disappointment as much of the booth that were set up wasn't any much related to running. But for someone like me who dislikes wearing fanciful gears while running, I wasn't in anyway bothered by this. Met a few runners from Singapore and Malaysia as well.
Collection of the bibs and the entry went smoothly with the help of a friendly volunteer. Soon, I found myself wandering around the expo; visiting booths that were promoting other (interesting) races taking place throughout Thailand in 2016 ( which you can register on-the-spot too!). Yes, my running bucket-lists keeps getting longer.
Race pack wasn't fantastic but I'm glad it was free of useless coupons. What it contains:
Event shirt (they called technical shirt over here)
A tube of muscle rub
Run Magazine (in Thai)
A small snicker bar.
Finisher medal. (Yes, you read that right! Medals were given out before you even finished it! Mood-spoiler)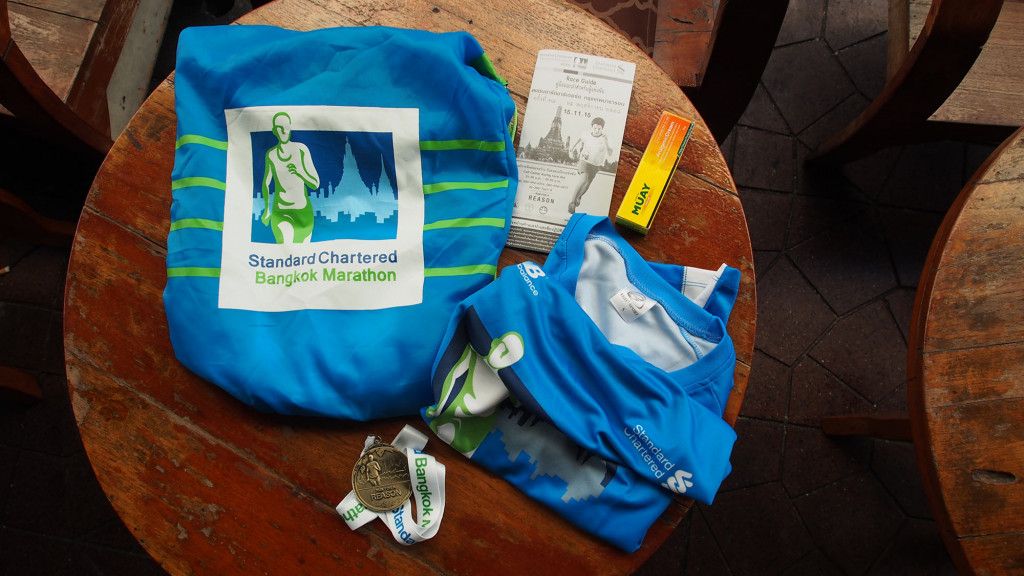 Race day
I got up at 0250 to prepare myself and made my way to the race site which is located outside the The Royal Grand Palace (Sanam Chai Road). It is just a 10 minute walk away from my inn (nestled less-than-a-minute away from the legendary backpacker-haven Khao San road.)
It wasn't really hard to find the race site. Despite the lack of English signs, navigating around wasn't tough. There were water stations, toilets, more photo booths and free warm-up balms.
The World's Longest Half-Marathon / Ultra Half-Marathon.
Flagged off at 0400. No delays. Started off at the main tourist point (just at the side of the Grand Palace) and after about 2.5km of running (with first elevation at Phra Pinklao Bridge), we were brought into an elevated highway leading us away from the city. Humidity starts taking its toll despite an early flag-off. I had to stop at the first water station to re-hydrate myself.  The scenery along the highway wasn't remarkable – boring in fact (but I'm glad it wasn't the same old GBTB or ECP).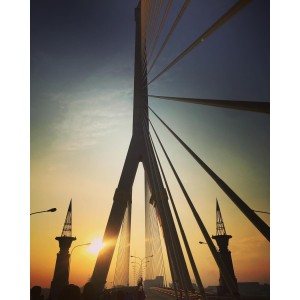 Somehow wishing that the U-turn point for HM would come soon. Even though I didn't not really analysed the race-route beforehand but I wasn't expecting that we would be running further and deeper onto the highway. Unfortunately, we did.
It keeps dragging on and on. I felt something was amiss but kept running (and stealing a few glances at the bibs of other participants to convince myself that I'm running in the correct category). Eventually we did a U-turn after what it seems like 8km and back on our way towards the city; merging with the FM runners. All I could think of was finishing this race; stopping at every water station to combat the humidity.
Soon at the 29km mark for FM ( I did not wear or had any tracking device on me so clearly I had NO idea that we just had ran the unintentional additional miles) we crossed the Rama 8 Bridge.
Back into Bangkok city districts we ran past places like the Dusit zoo, Vimamek mansion and Ananta Samakhom Trone hall. At this point, it seems like the race is never-ending. Morning Sun rises and heavy traffic resumes. With no idea of the mileage that I've ran and that heat is wearing me out, I broke into a power-walk. So did everyone else. Clearly from their expressions, they just wanted to finish this.
And to confirm my suspicion that we ran longer than we should, I had to ask a fellow participant (equipped with GPS).
"23.06km" he said.
I trudged on a few kilometres, cursing myself under my breathe, until the sight of the Grand Palace greeted me. No longer aiming for a PB or whatsoever. I summoned into a slow jog as we ran around the Grand Palace and finally to the finish line.
Again, I asked another participant. She showed her tracker which reads 28++km.
Indeed, I just finished the World's Longest Half-Marathon or Ultra-Half-Marathon.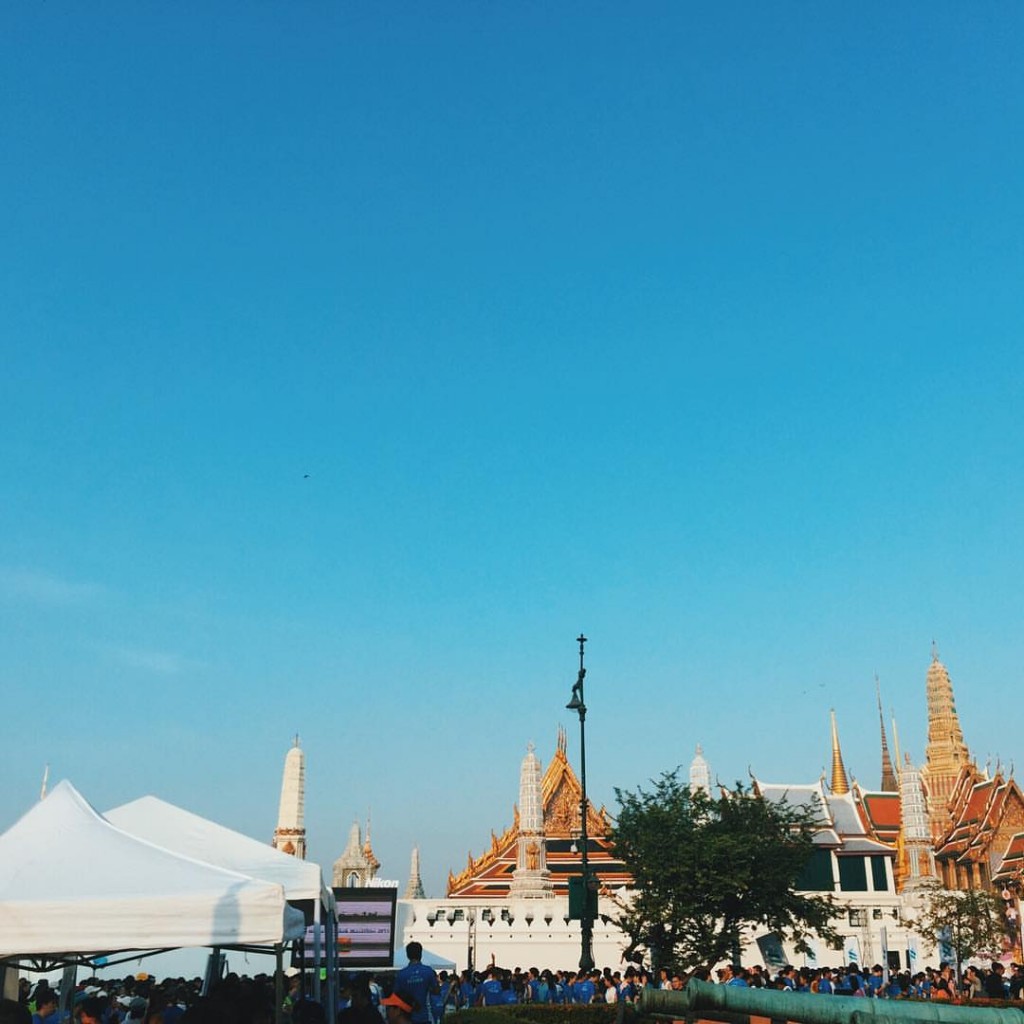 (**The next day, The National Jogging Association of Thailand released an official statement about the distance error. Finisher shirts were given out in forms of compensation but the chances of us overseas runners receiving it remains bleak (or none).**)
Post-race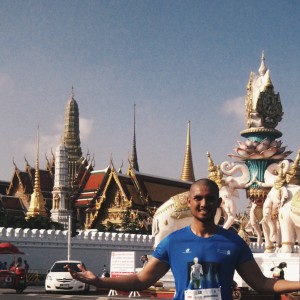 Sneaking my way through the massive crowd I quickly collected my post-run breakfast and baggage and walked back to my inn for a short rest before heading out exploring the city of Bangkok.
Post-run breakfast:
An Apple
Packaged Coffee Latte
Bun with fillings (I got yam)
Verdict
Pros:
Convenient REPC venue
Convenient flag-off times
Water stations spread out evenly and despite undermanned at certain stations – sufficient hydration + Banana + Watermelons.
Start point location was great. Plenty of amenities. Nearby Khao San road (cheap guesthouse and dorms)
Post-race Breakfast
Medal Lanyard design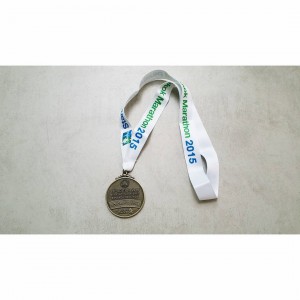 Cons
'Finisher' or more like a commemorative medals given out during REPC. No finisher distance engravings.
Delayed baggage. (But this was due to lack of volunteers and the influx of participants)
Not much support/encouragement from locals.
Boring route. Hardly memorable.
Double-pricing policy. They should just charged us overseas runner in Thai Baht.
Overcrowded (especially at finish area)
Despite the major hiccups of the race, it wasn't a badly organised race but it's definitely isn't worth coming back to. I would only recommend this if you happened to plan your race-cation to BKK in November. Else, there are better running events in Bangkok or somewhere else in Thailand that's worth running.
The experience of running an ultra half-marathon? Priceless.
Conquest to run SouthEast Asia.
Singapore, Brunei, Malaysia and now Thailand down (colored).
Where to next? Stay tune. #runASEAN