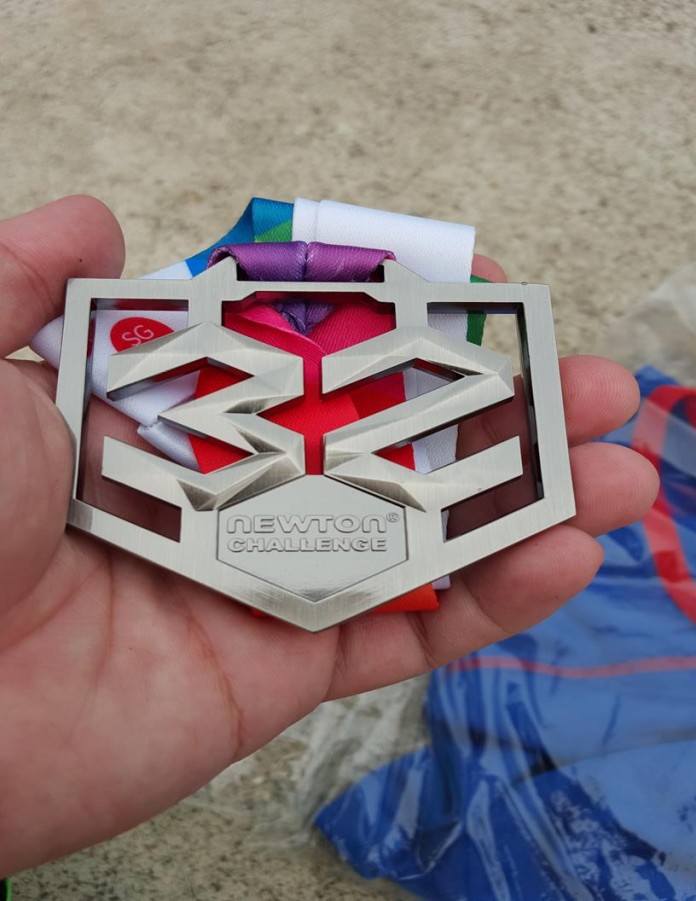 The Preparation
There was no preparation for the 32km race whatsoever.  Thanks to the haze, I only managed to squeeze in only 3 runs for the entire Sep 2015! A grand total of 18km!!  This was why I was contemplating not to turn up for the race.  But after collecting the race pack, I decided that I should give it a try to see if really can mind over body and complete the whole race in one piece.
The Day Itself
The race was scheduled to start at 5am.  So I woke up at an unearthly hour of 3am, grab a quick light breakfast, before heading off for Big Splash.  I was surprised to see a rather empty car park at Big Splash when I reached around 3.50am.  Found a good spot and parked my car. As usual, made my way to the mobile toilet and did the usual warm up and stretching exercise.  The sea breeze was a welcome and the haze seemed to have disappeared.
Soon it was 5am, with the usual fanfare, we were flagged off for the race.  Yipee…..so I ran at my usual pace for the first 8 km. The sea breeze was great and boosted my pace. I consumed my energy gel and down a couple cups of Pocari Sweat at the hydration point, and continued with my next 8km.  The lack of training began to take effect at around 16km.  I started to slow down to a crawl.  I consumed my 2nd energy gel, washed down again with some Pocari Sweat, and started to walk for quite a distance before regaining sufficient breath and stamina to run.  But after about 1 – 2 km, my stamina fizzled out again.  So I ended up jogging at a snail pace and reached 24km, huffing and puffing.  Took another shot of energy gel and lots of isotonic drinks.  This time round, my legs refused to even jog.  The warning signs of muscle cramps also started to manifest itself around my tired legs at this point of time.  Not wanting to end up writhing on the ground like some of the runners with muscle cramps, I decided to play it safe and strolled all the way to the 32km.
The Aftermath
I was elated when I collected my medal and finisher tee at the finishing point as it was indeed quite a feat that I could complete the entire 32km, with so little training.  New runners should not try this as prior to this I had been racing half marathons for the past 6 months and had built up some foundation. The food supplied at the finishing point was fantastic.  There were quite a selection such as nasi lemak, yougurt, biscuits, bananas and ice cream.   I spent a considerable time eating those and listened to the luck draw session.  Although I did not win anything, it was a memorable race, with great weather (thanks to the haze?) and fantastic food.
Next race?  I dare not even think of it.  The Standard Chartered Full Marathon. Faintz……