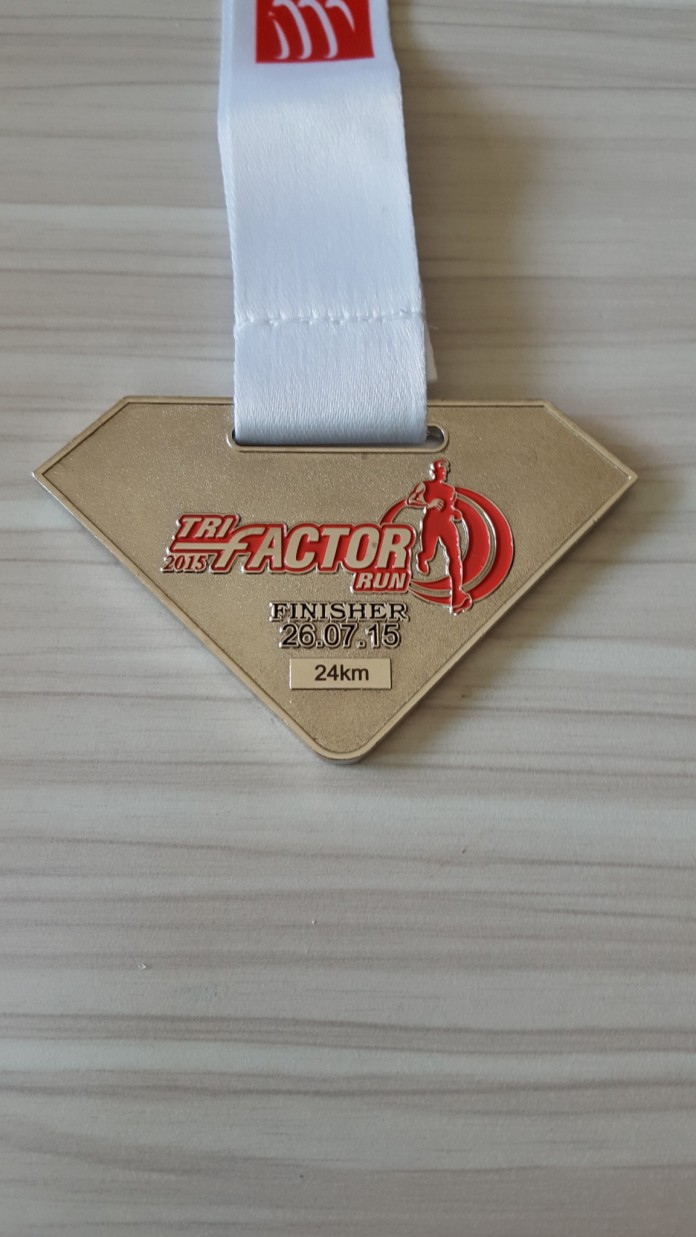 The Tri-factor Run 2015 was held on 26 July 2015 and I had registered for the 24km category.  But as the days drew nearer, I was having second thoughts as I had not been training consistently and the longest run I had was 15 km.  But upon collecting the race pack, I made up my mind to just go for it and enjoy the run, also to take it as a practice run for the 2XU Run on 2 August 2015. And yes, it is another half marathon.  It was not planned to be this way, having two long distance runs back to back within two consecutive weeks, but never mind.
The day came, and I jumped out of bed at 3am.  Took a quick breakfast, put on my running gear and off I went in my car to the venue.  I had wanted to park at the Indoor Stadium car park, but unfortunately, when I reached the vicinity, I realized the usual entrances to Sports Hub were blocked as there was another concurrent Shape Run on the same day! I had to take a huge detour and ended up parking near Kallang MRT, and took almost 30 minutes on foot to make my way to the starting point at Gardens by the Bay East, reaching at 5.15am.  Phew….
Took a quick toilet break and there was the announcement to start the race.  We were flagged off at about 5.40am.  The first couple of kilometers, the paths were pretty narrow, but as the crowd thinned out, it was not an issue.  It was rather a humid day and I was sweating profusely. The race was uneventful and eventually I crossed the Marina Barrage Bridge.  From there, I increased my pace as it was breezy and conducive to run.  But the thought of looping twice here was bugging me. Hah….So all the way I ran to Marina Bay Sands, did a U-turn and made my way to the Marina Barrage Bridge again to get back to Gardens by the Bay East for another U-turn.  As I crossed the Marina Barrage Bridge for the 2nd time, I saw the front runners (damn fast, my goodness!) that had already completed the U-turn at Gardens By the Bay East, and now racing on the Marina Barrage Bridge for the 3rd time (opposite direction to me).  I think my pace slowed down significantly at the thought of coming by the bridge again.  Ha ha.  I think doing U-turns in a long distance run really test one's mental resilience.  I shall not bore you with the loop back to Gardens by The Bay East.
By the time I completed the U-turn there and was back at the Marina Barrage Bridge for the 3rd time, the sun was already up and getting warmer by every minute (or is it me only?).  By the time I did the 2nd U-turn at Marina Bay Sands, I had slowed down to a trot after the water point station there.  The sun's heat was getting to me.  My mind was wavering.  Started to walk for a couple of hundred of metres and felt lonely as there were not many runners around me.  Aiyah…dragged myself and starting a slow jog and eventually reached the Marina Barrage Bridge for the 4th time. Thank goodness, it's the last time as this was the last loop. Phew!  After crossing the bridge, probably after a couple kilometers, I was distracted by a family of otters that made a sudden dash from the vegetation to the waters.  A number of runners stopped by to take photographs as well.  And yes, I stopped as well and could only walk after that.
When I looked at my watch, made a mental calculation and realized that I could possibly make it less than 3 hours (it was my target anyway) if I sprint for the final kilometer, I psyched myself, took a few deep breaths and started to run.  My legs felt numb but I just went on and very soon the finishing point appeared on my right.  Made a final dash though the gantry when I saw the timing board ticking at 2:59:11.  This was like driving past an ERP gantry quickly when you realized that 7.30am is a few seconds away and you will get charged a dollar if the lights came on… ha ha ha….. And yes I made it!  Collected my medal, but there was no more cold cans of isotonic drinks.  Look around to collect my finisher tee, but there were no one handing out and I was too tired to look around for any booths that could be doing so.  So I went over to the water station and gulped down almost 10 cups of cold isotonic drinks.  Saw a fellow runner standing by, so asked him to help take a post-race photo for me.  As I was too tired to hang around and the sun was burning hot and bright, I took a slow painful walk to my car which was half an hour away by foot.  When I reached my car, then I realised that I had forgotten to collect my finisher tee.  Wah……..I am so not going to walk back again.  Too bad for me!   What a waste…..
Overall, the race path was relatively flat and the water stations were well spaced out and well stocked with enough water.  The only thing was the number of u-turns that I had to make. It was a test on mental strength. Anyway, need to rest well as next week's 2XU Run is beckoning.