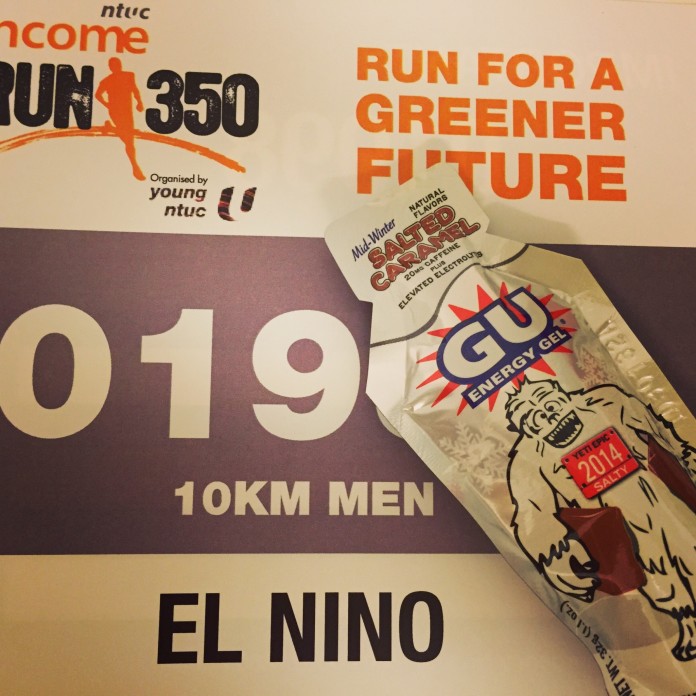 4th time lucky
When you sign up for a race 3 times and don't get to run it – you probably don't have much luck with it. In 2012 and 2013, it was due to being overseas because of work while in 2014 it was due to the inclement weather. Hence for a 'change of luck', I decided to go for the 10km run instead of the half marathon. And I guess you can say it worked.
Race Pack Collection
Collection was at Orchard Central and it was relatively smooth. Although there was a queue, I waited for about 5 minutes before it was my turn. When I was shown my bib, I tried my best not to laugh as I saw the name on the bib – 'El Nino'. What was I thinking?! But as I recall it might have to do with the fact that this run was a run to raise awareness of the climate and so I guess I was 'playing' my part as well. It took another couple of minutes or so and I was done. With some time to spare, I decided to take a look at some of the products on offer and bought a couple of of 'rare' Gu-Gel flavors – Expresso as well as Salted Caramel.
Race Day
Woke up at 0430hrs to slowly prepare and as I opted for the 10km, I made my own way to the F1 Pit Building. Slowly made my way to start point at about 0615hrs but still managed to make it for the first wave. 10km run flagged off at 0630hrs and ran off along Republic Boulevard towards Crawford Street. The first water point was at around the 1.3km, just before going under Nicholl Highway, which was rather early and probably the reason why most runners gave it a miss. After a u-turn, runners headed back along Republic Avenue before turning out on Nicholl Highway at the ERP gantry opposite the Concourse. Up to the 2nd u-turn point, along Nicholl Highway near to Suntec City, I managed to keep up with the 1h 10mins pacers – as in I could still see their balloons! 😛  But due to my poor discipline in not sleeping early and getting enough sleep, I started to lose sight of them at around the 5km mark. As I always comfort myself with 'Run Your Own Race', I pushed on along Nicholl Highway towards the Sports Hub.
I stopped to fill up my bottle at the next hydration point and true to their call to runners to bring their own bottles, there were big bottles of water for refilling and even funnels to aid the refilling. This is commendable as not many races do that and sometimes runners have to stop volunteers who are trying to restock the drinks to top up their bottles which tends to lead to more confusion.
From here it was a left turn to Sims Way before making another left turn to Kallang Airport Way and then a right onto Old Terminal Lane. This was probably a smart route to craft out as it also caused minimal disruption to traffic as both Kallang Airport Way and Old Terminal Lane are not frequently used. Apart from a short stretch which went back on Republic Avenue, the rest of the route was mainly along the jogging path along Kallang River before heading back to the F1 Pit Building.
After crossing the finishing line, was directed into the pit building where medals,bananas as well as 100+ were given out to all runners. So on the fourth try I finally got a Run350 medal!
Overall this was a pleasant run with a manageable run. The cause behind the run should be supported as well and organizers might consider what some other runners have proposed – no medal/no t-shirt option to not only support the cause but to continue to keep the race fee manageable.  🙂
---
Click here for over 400 photos of NTUC Income Run 350 2015.