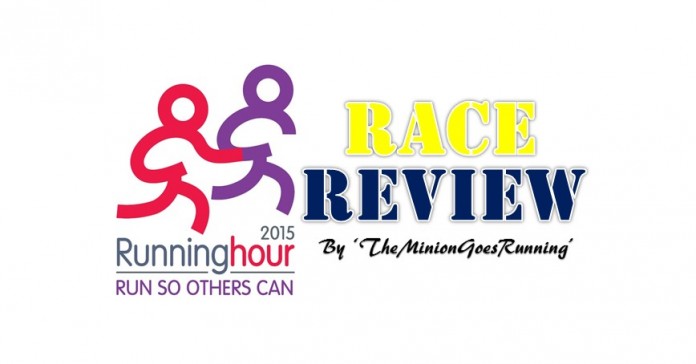 Runninghour2015: Run So Others Can is Singapore's first and only race where runners run with over 200 visually, intellectually and physically-challenged runners. It aims to increase awareness and allow runners to experience life with a visual impairment.
Woke up around 4am that morning! After the necessary preparations, I took the first bus down to The Promontory @ Marina Bay. Managed to reach the place at around 6.30am, considered quite early as the 10km competitive run only starts at 7am. Starting the race at this time is pretty good as there is no need to cab down. There were not much queue at the baggage deposit area, hence the process proceeded quite quickly. At the same time, runners that signed up for the blind-run are required to collect their masks from the booth.
After warming up, many runners began to make their way to the starting line. It is heartening to see quite a number of visually-challenged runners, as well as on wheelchairs participating in the run. Despite their disabilities, they are able to challenge themselves and do something of their comfort zone. Some of these special runners were part the pacing team too, which includes 50, 60 and 70 minutes.
Excitement filled the air when the 10km Competitive Run was flagged off at 7am sharp. The run started off with runners passing the Marina Bay Sands area, followed by the domes of Gardens by the Bay. Upon reaching the Barrage, we were directed to run along the pathway leading to the rooftop before heading down again. The run proceeded on to Bay East before reaching the 5km mark and returning on the same route back to the starting line.
On the whole, the terrain was rather flat, with the exception of the stretch at Marina Barrage. I would say it is actually a good route to clock one's PB. At the same time, runners were seen cheering on the special runners, encouraging them to push on and stay strong.
After crossing the finishing line, water and the medal were given to the runners. I would say that the medal is rather unique, as it is Singapore's first medal crafted with Braille.
On the whole, I would say the event is very well organised- from the registration process to race pack collection, pre-race, actual race and post-race activities. Volunteers were friendly and took initiative in handing out drinks to the runners at the water points. Route was smooth and I managed to clock my PB of 48 minutes. 🙂   Last but not least, kudos to all runners that took part in the event, especially the special runners. Your "never say die" spirit is encouraged, and it is what makes us runners unique.