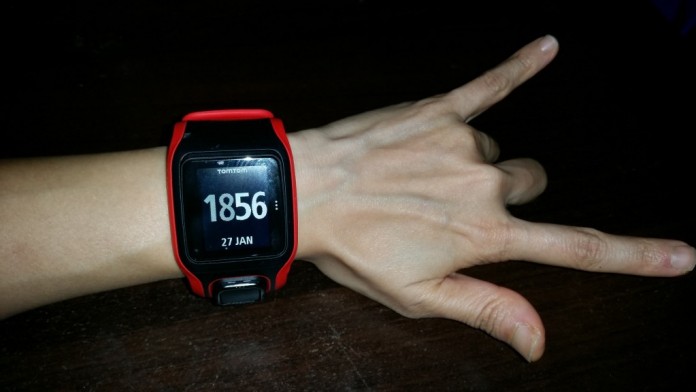 TomTom has made great strides forward, moving out of your car and onto your wrist as one of the latest training devices to hit the market. But how exactly does it compare? Presented with a TomTom Runner Cardio, I took it on several test runs and this was what I found.
GPS and HRM
The TomTom Runner Cardio pre-loads satellite locations onto the watch before each run, which helps it pick up a GPS signal reasonably quickly. I waited less than a minute on my test run, which was comparable to my previous method of RunKeeper on my mobile phone.
The unit also features an optical heart rate monitor; instead of using an electromagnetic chest strap, the light sensors at the back of the watch emits light to read your heart rate from the capillaries on your wrist. To ensure accuracy, the watch has to be worn with a snug fit.
Stylish Simplicity
The TomTom Runner Cardio offers the best of both worlds – boasting a large display screen for easy reading, with a slim profile that is neither bulky nor heavy. You'll notice it mid-run, for only the right reasons. Its red and black rubber strap is easy to put on, and is far more comfortable than my previous sports watch's plastic strap.
The one large console beneath the screen with up-down-left-right buttons makes it easy to operate, with the right button mainly to start an activity, and the left to pause and stop. The up and down buttons toggle through different metrics while you run, and touching the little three dots on the screen turns on the back light.
Run Outdoors and Indoors
TomTom uses an internal accelerometer to measure treadmill workouts. I was very sceptical of its accuracy, and took it for a one-mile test run. Needless to say, I was astonished when the numbers matched those on the treadmill post-workout. However, TomTom has taken into account the possibility of a discrepancy, so when you pause your workout, it asks if you would like to adjust the distance before you stop and save the activity.
Training Options
The TomTom Runner Cardio offers five training options including Goals, Intervals, Laps, Zones and Race.
Set a target, and reach it! A Goal training run can be set based on Distance, Time or Calories. At 50% of my pre-set distance, the watch gave me an encouraging buzz, and another one at 90%, the boost to help me cross the finish line.
To work on your speed, Interval training lets you programme your Work and Rest according to time or distance, the number of Sets you wish to perform and includes Warm-Up and Cool Down built in to the workout. Likewise, Laps can be programmed to time or distance. In both these training options, the watch beeps and vibrates at the end of each Interval/Lap. I am henceforth free to run anywhere I want, and still be able to measure 400m.
Training within Zones gives you three options: Pace, Speed or Heart Rate. Use this to work on your endurance.
Feeling competitive? You can also choose to Race a pre-programmed distance and time, or beat one of your previous performances.
Training Zones
Based on the age provided, the TomTom Runner Cardio automatically programmes your heart rate zones but this information can be adjusted on TomTom MySports. If you've selected Heart Rate Zones as your Training Option, you can choose from one of the five following options:
Sprint – Used as part of interval training for short explosive bursts of speed
Speed – High tempo training for improving on your speed and fitness
Endure – Moderate to high tempo training, designed to improve lung and heart capacity
Fat Burn – Moderate tempo training for fat loss
Easy – Primarily used for warm-up and cool down
To help you stay on track during the workout, the watch will buzz and alert you if you are training outside of your pre-selected zone. For all other training options, the heart rate is displayed as a number. Accessing the cardio data screens is as simple as pushing the right button repeatedly, which will take you through the lot.
Data Analysis
Plugging the TomTom Runner Cardio to my computer brings up all my running data on TomTom MySports. Users can also select during set-up for the data to be transferred automatically onto other online running community platforms, such as RunKeeper, MapMyFitness, Runtastic, etc.
While I am a loyal fan and user of RunKeeper, the TomTom MySports analysis appeals to the data geek in me. On top of the usual distance, time, elevation, average heart rate and calories per workout, MySports offers 3 more exciting information:
Stride rate – measured as strides per minute averaged over the workout.
Splits table – your per kilometre/mile pace, speed and heart rate laid out side-by-side, for easy comparison
Graphical charts that let you compare any two of the three following metrics: Speed/Pace, Elevation and Heart Rate, for an analysis of correlation.
Overall Impression
The TomTom Runner Cardio is an easy-to-use runner's GPS heart rate monitor watch that ticks all the boxes for getting the job done.
What I Loved
The watch itself is a stylish timepiece; I wear it even when I'm not running.
Quick charging and decent battery life.
Doesn't take long to pick up a GPS signal.
Not having to wear a heart rate monitor chest strap is so liberating.
Comprehensive data analysis on the MySports, especially the strides per minute.
Functions that include a variety of training options.
What I Didn't Like
I'm used to wearing my wristbands loose, so the tight fit for accurate heart rate measuring took some getting used to.
The TomTom MySports analysis fixes the splits to kilometres or miles, so while the watch set-up for Intervals training was comprehensive, there was no option for me to analyse my 800m-intervals performance post-run, which made the training almost meaningless.
Although the TomTom Runner Cardio has an integrated heart rate monitor, which can be used to accurately determine calories burnt based on age, weight and heart rate during workout, for some reason it uses METS tables to estimate energy expenditure.
Product sponsored by TomTom.