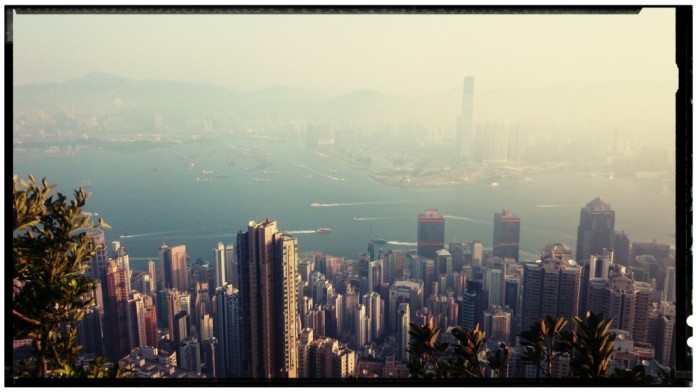 As some of you know, I am dipping my toe into the world of ultra trail running in March, at the Translantau 50k, on Lantau Island in Hong Kong. Since the new year I have been trying to focus my training on hills, longer runs and higher overall mileage. I love a good speed session so frankly, it's killing me! but its necessary…
Singapore obviously isn't the best place to train for an event which involved 2700m of climbing, so I was very happy to get a business trip this week to Hong Kong, giving me an opportunity to get out on the spectacular trails that are so convenient when you stay on HK Island.
This post is a summary of the two trail runs I did, once close to my hotel at Fortress Hill and the other at the much more famous Victoria Peak. Overall I did some hard work, managed 1400m of climbs across the two runs, road tested my new Nathan pack, saw some amazing views and I didn't get too lost!
Po Luen Trail – starting point Fortress Hill MTR
I constructed this route using the 'My Routes' function in Strava, which I find very useful and always use to assess distance and terrain when planning a new route ('cos I'm a geek like that).
The first kilometer (as with most runs in HK that start at sea level) was very steep, on road, involving lots of staircases and steep climbs. Once the initial shock of the gradient was overcome, I tried to settle into an uphill rhythm, past Braemar Hill Park and onto the trail.
I stopped to take a quick shot back over the city, then carried on to the peak where there is a disused building of some sort and some great views over the other side of the Island.
The trail from here gets pretty hardcore for 1-2kms, steep downhill, technical and obviously not used too much. As it's the second time I've run it I am a little more comfortable than before and I know it will get back to normal soon enough. At this point I pass a totally random exercise station in the middle of the forest, with a couple of 90 year old hong kongers doing their morning Tai Chi, we exchange greetings and I head down to the last section of the trail.
Here there is an extra loop which I must try one day, which is wonderfully named 'Sir Cecil's Ride' apparently after some Victorian dude who used to like to ride his horse up here. I can see why, it's very beautiful and incredibly peaceful.
The last section of the trail takes me back down the other side of the peak and down to Tin Hau Temple Road and then back down to Kings Road and the hustle and bustle of Hong Kong.
Honestly I don't think there is anywhere else in the world where you can get by foot from complete silence and remote forest to the heart of a busy city in such a short time. It's an amazing place.
So that was trail one, medium difficulty, 45 minutes, a good workout to start the day.
I'm back in the hotel before 8, shower and breakfast And in the office by 9.
Central to the Peak, Hong Kong Trail Stage 1 – starting point Admiralty MTR
Another day another trail, the Po Luen route has whet my appetite and today I want to take on a slightly bigger challenge. So I map out a route from Admiralty MTR station, up through the mid levels to the Peak, then picking up the first stage of the Hong Kong Trail and looping back to the peak.
I'll stop the run there, get a coffee and then get a bus back down to the MTR and head back to the hotel and office for 0930.
Exit Admiralty MTR just before 0700 and it's pretty quiet. Work my way up past the HK Zoo and into the mid levels, up Old Peak Road, which is seriously steep. Working very hard, I hit the Treguter Path and end up alternating walk/run because it's just so steep up there, and it goes on, and on, and on……
This demanding section takes around 10-15 minutes until you exit at the Peak itself.
I took a brief pause here then started the second section of the run, along Lugard Road, which is actually more a footpath than a road, this runs around the peak itself, affording stunning views at every turn – this I can see is one of the issues I am going to have when trail running, the views are so great I keep stopping every five minutes!
After around 10 minutes I take the path to Po Luen Resevoir and hit a long downhill stair section. Quite technical through here,so it's a slower pace, but really enjoyable to be running in such scenery.
Since leaving the peak I have run for about 25 minutes and have seen about three people, its amazing to think I am 2-3kms from one of the busiest city centres on the planet.
The stairs end and another relatively flat section arrives, which is a welcome reprive from the up and down. Final section is the Po Luen Reservoir Road back up to the peak, which is another tough tough ascent, similar vert to the Tregunter Path. Finally I see the peak buildings and a few more walkers so I know I am back atthe top.
An hour and twenty minutes of running, probably about 1hr 40 altogether with the photo stops. This one is much easier to navigate than the other route, with more spectacular views, but also much tougher.
I treat myself to a well deserved Starbucks coffee and breakfast then take a no15 bus back down through the mid levels to Wan Chain, pick up the MTR and head back for a warm shower.
Hong Kong really is an amazing place, a runners paradise. Next time you are there, why not check these (or other) routes out – you'll regret it if you don't.
For me a great trip, good business and 2 1/4 hours of quality trail running, 19k and 1400m of climbing. Love it!
Finally, here is a useful link for more info on the Hong Kong Trail.