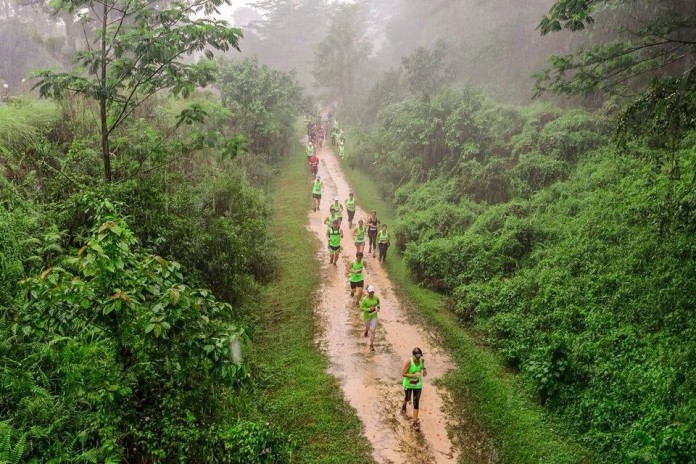 Last year was the first year I started to run races, prior to that I had no idea what races were out there.  I signed up for my first race, I liked their FB page to keep up with their updates and somehow came across some local running FB pages and started following them too.  Many of these give details on upcoming races and that's how I now stay informed.
If I see a race mentioned that looks interesting I try to find out more.  As I mentioned in my previous blog, I choose races based on the routes/scenery.  I like to look at the previous race photos; first, to give me a feel of the race itself, secondly, to read what people say about the races.  But it wasn't until I found "Just Run Lah" that I realised a place you could go to read race reviews from previous years.
Anyway, I thought I'd share my experience of  last year's Green Corridor Run as this year's edition is coming up soon!
I signed up because it's not at the usual Marina Bay area.  It looked "green".  I like green! 🙂
I didn't really like the flag off time which was at 9am. I was in wave two, so my flag off time would be even later at 9:20am, that's bright and warm already 🙁   I read somewhere that it was at 9am because they had received complaints on past races from residences nearby due to the noise, which is understandable as it's on a Sunday morning.
I checked out the route the week before the race.  I thought it was nice and green, but the path is a bit narrow and it's a mix of trail, grass, clay and gravel.  So not all smooth and even. Secondly even though it's very green along the way, it's not shaded.  I found it quite hot and it was only 8am.
I live around the race finish line area and the morning of the race I woke up to heavy, typical Singapore, rain.  However I hoped it might not be raining, or at least not as heavily, at the starting line.  Anyhow I prepared myself for the worse.  I  put on my older running shoes, ready to throw them away if they became soaked and muddy.  Driving down to Tanjong Pagar Station the rain was sometimes lighter, sometimes heavier, it didn't look too good.  Even if the rain stopped, the trail would still be muddy…Oh well, I thought, I'm ready!!!
Finally, when I arrived at the start area, the rain had almost stopped, just a light drizzle.  I walked in following the crowd and joined the queue for Wave 2. It started to rain again, lightly.  Then off we went.  After the first kilometer the sky just decided to break open.  It poured!!  I kept on running, thinking at least it made it cool, and hoping it won't be like that all the way X_X
It rained.  Non-stop.  I didn't even notice if it was lighter or heavier.  I just focused on maintaining my pace, keeping my eyes on the ground ahead and getting through to the finish line.  As long as it was safe to keep going, no thunder or lightning, I should keep going.  "Those people would tell us if it wasn't safe, I thought, and nobody did, so…keep going!!!" my mind talked to itself.
Puddle? What puddle??  The whole trail was one long mud bath.  You just needed to be careful where to step as you couldn't know for sure how deep each puddle would be.  The narrow trail was soon filled with runners, some braver than others, some nervously looking where to put their next step.  I zig-zagged through runners as best I could, choosing which puddles to step in and which looked best avoided!
I kept my head down to cover my face from getting wet, not wanting to lose my contact lenses, otherwise that'd be a real disaster!!  My iphone was under my armpit, prevented it from getting wet.  I was still listening to my music, at least I was trying to, in between listening to my mind saying "What did I do wrong to deserve this!!??" I felt like I was being punished in the military! (from movies I've seen 🙂 )
After a while the mind quit being miserable and started to think "This is kind of fun!!" "At least it's not hot!!!" "Just dance dance dance in the rain".  My mind tried to think like those kids who are pictured to be playing happily in the rain.
Eventually there was the finish line..PHEW! I saw my worried husband and grumpy daughter in the puddles by the finish line with a pointlessly huge umbrella. 😀