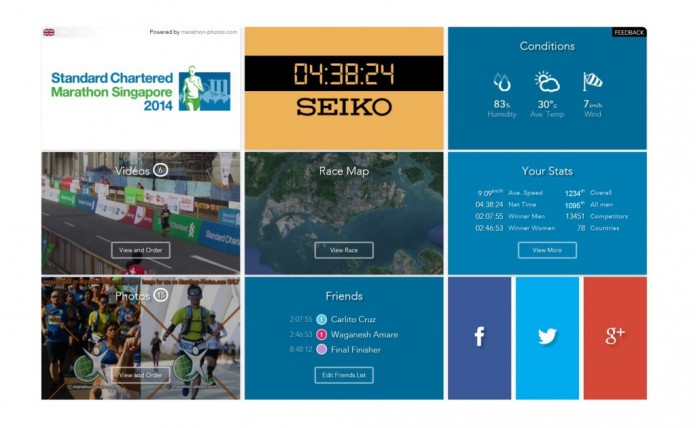 SCMS 2014 Objectives :
no cramping
no over drinking –> bloatedness
pace control – not to go fast from the start
The Master & The Disciple
As a boy, I grew up watching a lot of  Hong Kong Martial Arts movies. A common theme would typically portray a Master-Protege situation. The master always imparts knowledge, but never experiences.
2012 : My comeback (main) event : SCMS 2012. My target was to at least equal my previous Marathon timing from '91 – 4:41 ! I trained hard after signing up on the last day of the early bird promo, and did 2x  40KM DIY runs, and on the final week … stupidly got myself injured by trying out a new routine in my training. I was down with ITB ! I went into the event heavily taped and finished in 5:40 ! Lesson 1 : DO NOT OVER TRAIN !!!
2013 : I was quietly confident I could come close to or break the 4-hour barrier, but I did not have a race plan! I started too fast and cramped up after just 15KM in (I never cramped on training runs of up to 30KM). Lesson 2 : PACE PACE PACE !!!
2014 – Pre-SCMS events : Objectives 1 & 3 … met during SAFRA Bay Run, Craze Ultra, TNF100 !
So the protege heads to SCMS 2014 feeling as ready as he's ever been … and to lay the ghost of 2013 to bed. Flag-off pace control was good. But then the race decided to throw me a big baddie ! Stomachache ! Something I've never experienced before during races! A worrying and alarming first for me! After putting this baddie away at the 13th KM, I recovered and was confident I could yet make up for it in the last 12KM! My master had something else up his sleeves : Zzzzz Monsters! Wow totally underestimated this little villains! I've met these fellas before during Sundown 2013, and emerged victorious against them then. With daylight breaking, I was confident I would be able to repeat that feat by the next few KMs. Boy, I was in for a surprise! This time around, there was a lot more lackies & Big Boss hasn't even showed himself yet! In the end, I failed to totally defeat the Big Boss, but instead  it ended in a stalemate. My Master's final Lesson (3) : NEVER UNDERESTIMATE THE POWER OF REST !!!
He told me : No 2 individuals are the same. Some can go on without sleep and (yet) perform, some like me … cannot. Why? Because of experience. I am still a rookie when it comes to race events flagging off at unearthly hours. I do not do enough waking-up-at-2/3AM-runs-which-starts-at-5AM! My body is not conditioned, nor battle hardened!
I thanked my Sifu, and will remember his final lesson and come back ready in 2015. To be continued in 2015 ………….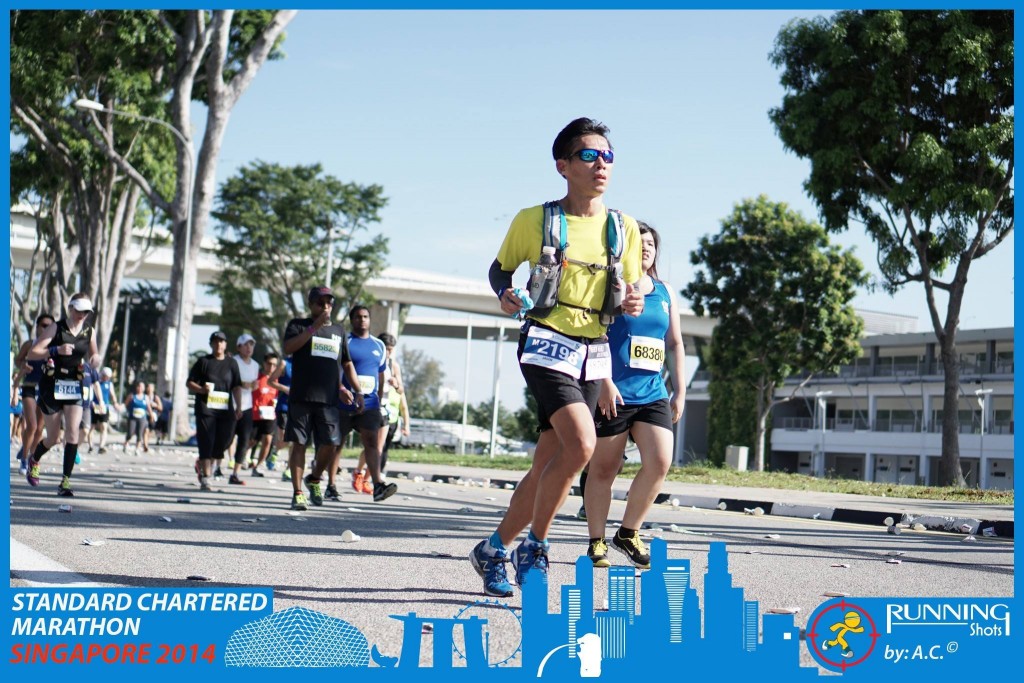 SCMS 2014 – 42.195 KM : A Personal Race Review / Journal
Race Entry Pack Collection (REPC)
Singapore Expo Hall 5
collected on Day 1, 4th Dec noon.
possibly the worst SCMS Goody Bag
bumped into a few friends; William, Pris, Mervyn, Dorcas, Teck Hoo
 Gei Gei Running Club
Gei Gei Running Club  [Facebook Page Here] : For all runners who like to geh geh (pretend). Can run but pretend cannot run. Got run but pretend never run. … is formed!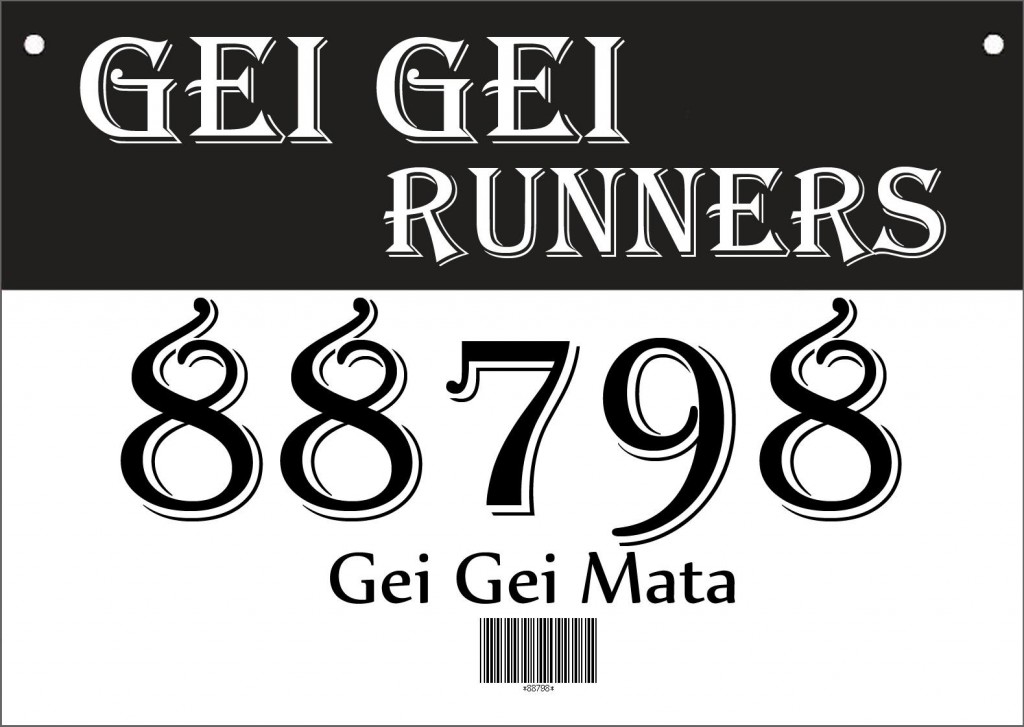 Pre-Race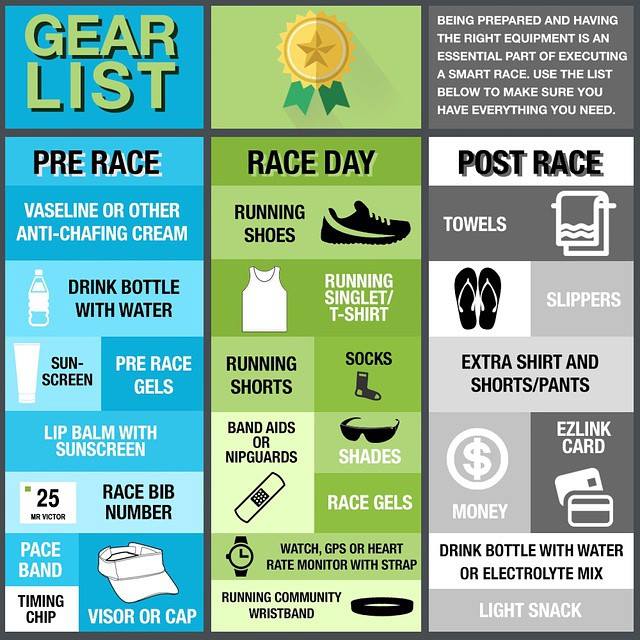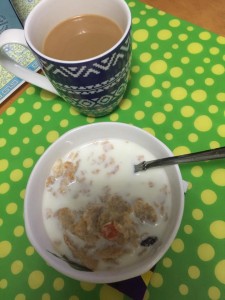 Saturday, 6th Dec … up since 0730AM … afternoon siesta from 1630-1800PM … dinner at 2100PM – McDonald's Quarter Pounder meal … trouble sleeping … soon it was 0145AM … toilet/bathe … breakfast … geared up … left home 0230AM in time for first train. Train operates at 15 mins interval. missing one as I did last year, time crunch! Train arrived at Yew Tee approximately 0250AM !
At Orchard station, bumped into Ethan and later Angelina Then. William soon arrived and we decided to make our way to our Starting Pen. Where previously I entered via the Red bib entrance (Patterson Rd) … this time I got in thru the rightful Blue one (Orchard Rd). I soon spotted Alex Ang with his fanciful Xmas cap. The 3 of us made our way closer to the front after Alex got back from his short stint of being interviewed by a media coverage group. The strangest thing isn't it … time always seemed to just go by ever so quickly when you are waiting in the Race Pen. I soon caught sight of my fellow JustRunLah blogger John aka sinaistrider (aka Without Limits). It was great meeting John for the very first time! He soon made his way ever closer to possibly try to rub shoulders with The Kenyans! I rid myself of the empty 500ml (mineral) bottle of my Nuun drink just prior to flag-off. As always, I failed to find space to go thru my short warming up routine. I just feel so much more mentally prepared going thru my ritual. Oh well !
Start : Orchard to F1 Track Drink Station [8KM Mark] – So Far So Good
Wave 1, 3mins after Elites' flag off. Alex immediately took off like a man possessed, not without first wishing all the best, zigzagging his way to chase the 03:45 pacers! I ran with William at a sustainable pace (still able to chat somewhat comfortably) until somewhere between 4 to 5 km when I asked him to go on ahead as I felt I was holding him back.  Right, I was on my own now! Continued with my strategy of keeping pace between 5.30-6.00 mins/km …. and refraining from stopping at any drink stations where possible.
F1 Track to ECP U-Turn [22.5KM Mark] : SNAFU (Big Baddie)
9KM in, towards the end of the Nichol Highway stretch I felt the first uneasy feeling in my abdomen. The temptation to head for the amenities of The Sports Hub when I was at the junction of Stadium Walk – Stadium Boulevard was strong, but I decided against it as it seemed a hassle and a tad too far to be heading to and back (on course). The on again – off again struggle was somewhat getting to me! I've never been in this situation and the last thing I needed was an embarrassing moment of getting the runs on the move! I decided to try to run it (the urge) off, but at the same time keeping a lookout for porta-loo (last ones I saw was at the 8KM Drink Station) or public toilets. Darn it, none to be had!
12KM in … my personal battle was still ongoing! The route was now into the Tanjong Rhu Road stretch. I contemplated begging the guards of the properties I was running by for permission to use their facilities; Singapore Swimming Club, Dunman High School … even The Waterside condo construction site! I was getting desperate! I even considered getting into the canals, but decided the risks of getting bit by snakes and rats was simply not worthwhile. Katong Park came and went … can't help but think if I'd blown my chance.
13KM in … I knew my fight was up! Though now within striking distance of the toilets along ECP … I also knew that they might have been occupied by the guys ahead of me. Time for an evasive action. Desperate moments calls for drastic decisions! I spotted the Heavy Vehicle Park to my right. Nice, Perfect! Out of mind, and out of sight! I broke off course and headed for it. The marshal stationed there looked at me bewilderedly as I came ever closer to him. Sounded him out briefly as I hastily went in search for an emergency landing site ! Found my ideal open spot, obscured from view by the mini buses parked there (the drivers were sleeping whilst waiting for their shift to start). I PARKED my payload. Bushes and grass were out of the question for me. Last thing I needed was to be swarmed by ants !!! Thank goodness my decision to run with my pack paid off big time! I had toilet paper !!!! I deduced it's gotta be the butter bun I consumed whilst waiting at Orchard MRT Station.
I made my way out, notified the marshal out of courtesy (lest he tot I'd MIA and am attempting a shortcut … OUCH ! this was where the diversion took place later in the race ya ? lolz) and resumed with my race. FREE … DOM !!!! I was 'flying' once again! And just in time too to catch a glimpse of the Elites Pace Car, followed by the speedy Kenyans ! Further back, I also spotted Dr Mok and applauded him. Nice chap! still acknowledging with a lift of his right wrist, and a smile.
At the 16KM Drink Station, I finally relented and stopped for some water (drinking wasn't the first priority 😉 ) lolz (better be safe ya) LOLz.
Continuing on, I soon spotted my friends from Craze Ultra setting up shop on the other side of the track. My calls of "Habib ! Habib!" were in vain. I soon chanced upon Wolfie (Zac Chen) and Adam Onearmrunner whom I teased by first addressing him as Mr Subaru (and quickly making it known to him that I was pulling his leg) !
After ECP U-Turn to Marina Bay Golf Course [33KM Mark] : "Hi's" & Lows
1) Of Monsters & Men
25KM in … a new adversary! One that I had made the acquaintance of back when I was doing Sundown Marathon back in 2013. I whipped out a 2-piece Kit Kat to try to counter it's effect. He soon called upon his allies. My nemesis from earlier on in the race was also starting to stir (pun) trouble yet again, such that as I was considering regrouping at the East Coast Lagoon Food Village facility. I decided against wasting more time, and knew I had backup further down this stretch of ECP should I need to head into the pit stop! More worryingly, the little villains were getting bolder. I was having trouble staying awake. I was starting to reach a compromise by dosing off on the run at 10-20 metres intervals, a strategy that I had employed successfully back during my maiden Sundown Marathon. I felt confident. I also headed into drink stations pouring water down my face. That wasn't enough, I was also starting to slap myself silly on the cheeks ever so increasingly. As the KMs past, I was slowly but clearly starting to sink into despair …. this was daylight breaking and I found it more and more difficult to keep my eyes opened for any prolonged amount of time. I was soon reduced to a run-walk strategy against my wishes. I knew I had to head into CP4 for any hopes of salvation from these vicious monsters! My thoughts also turned to how I was gonna defeat sleep if and when I do take up Craze Ultra 100 Miles challenge in 2015.
CP4 was supposed to be a stone's throw away from me (supposedly at the 28KM mark) … but yet every KM on, I was nowhere nearer to it. Run-walk run-walk, and I soon heard someone shouting out my name as he was passing : "Jason! walk some more … my grandfather can run faster than you!" …. my friend Michael, whom I had about 1.5KM lead on after the U-turn. I told myself I would be taking a 2-mins nap at CP4 to recharge. And I knew I had to keep on pushing on just in case I do emerged victorious against this beasty.
Just before CP4, I recognized the cycling jersey of my Craze Ultra buddy BC Seah ! I caught up to him just as we arrived at CP4. Unlike me, he just carried on without even stopping however briefly.
2) CP4 … and the Good Samaritans Alley
A most relieved sight to see Habib & Yeo Kim Song!
Habib immediately handed me a chilled face towel, whilst a crew member handed me a cup of Coke! I asked Habib to allow me a 2-min nap in his makeshift bungalow, but he was having none of it. He was going off on his mic "no no no! You're so close …. another 13KM left. You don't know what you're doing! Go go go!!!"
Reluctantly and with a heavy heart and heavier eyelids … I thanked my friends at CP4 … and headed out of there after topping off 3/4 of my 500ml bottle with Coke.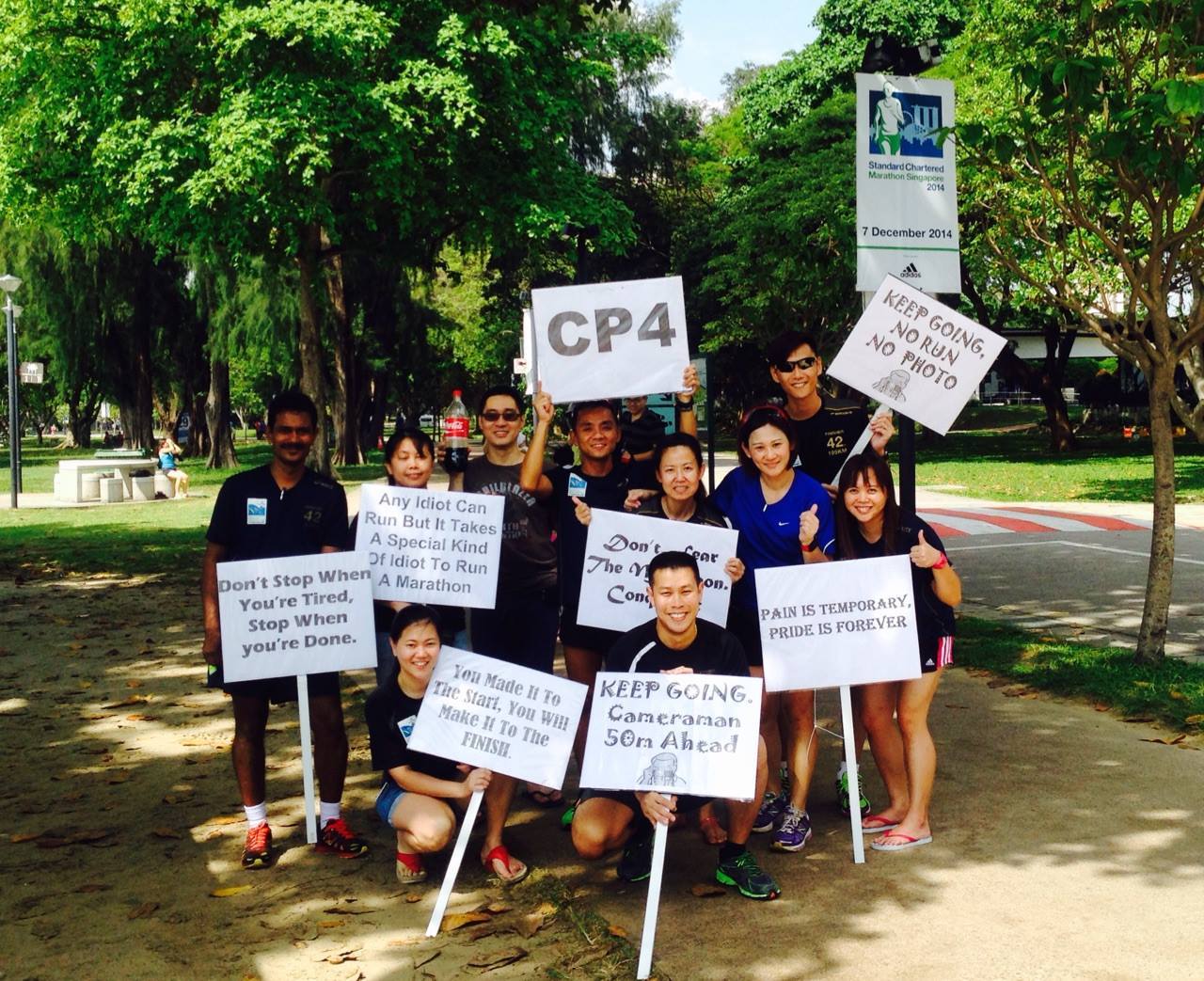 And imagined to my horror to find out that my TNF secret weapon (Coke) was of not much use against the Zzzz Monsters. I was half regretting letting them talk me out of my 2-min shuteye. I was also not sure at this point if I was even able to maintain a straight path walking/running. I'm pretty sure I was staggering along, but somehow still had my wits about me to keep to the left when I was walking / running.
I was now in Volunteer Support alley ! Volunteer Support Crews were setup on the left and right of the path. It had a feel of a Race Expo sans photographers!
I spotted Sandy Heng with her customary box of grapes. The runner just ahead of me grabbed a whole handful of them, leaving me with only 2! I took one, and left the other for the next person. Thanked her, and sidewinder myself over to the left side for a small slice of watermelon before asking a couple of ladies who were busying themselves cutting oranges if I could help myself to the already cut ones. Took one (didn't dare risk taking too many lest it triggered the other monster again. To court Master Bowels aka Mr Runs now was less than an ideal time as I was approaching the end of the ECP = no toilets ! Besides, I would have no concealment, coupled with the fact that  it's bright and sunny now as well!), bit down really hard on it on the run … praying and hoping it was super sour. Wasn't sour enough but it helped perked me up for like the next 200m before I got reeled back in again to LaLa land. Man, how I wished there were sliced lemons to be found.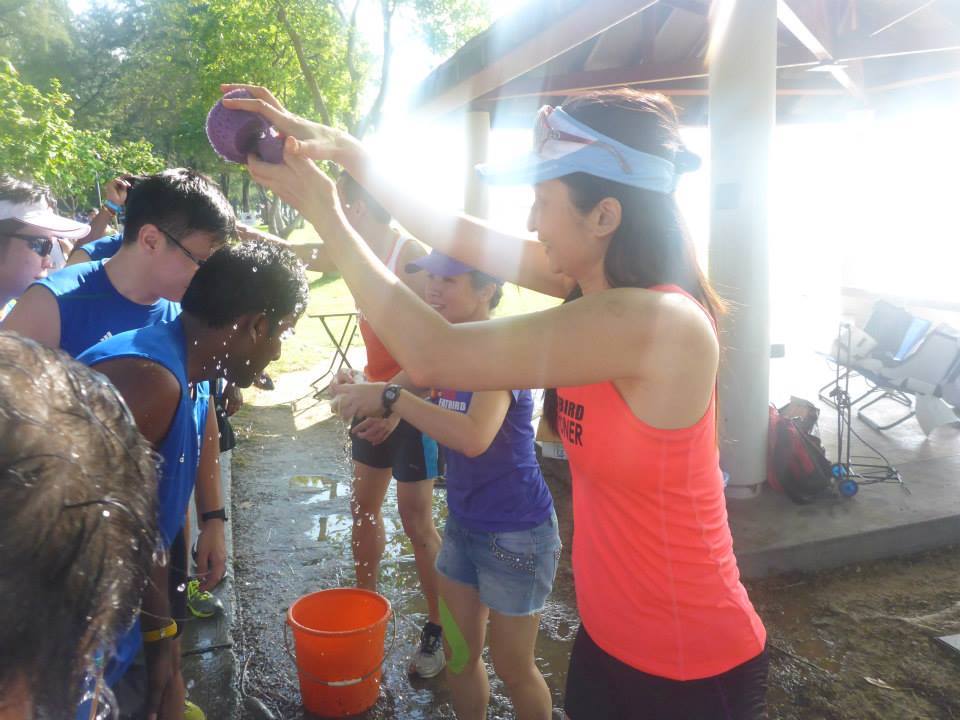 My situation was getting dire. I was still resorting to pouring water down my face at every drink station (and getting my top drenched in doing so, on hindsight not such a good idea …. it's only getting heavier as a result) and damping the face towel from CP4. I was lumbering on, with fatigue now slowly starting to be a factor too. I also decided against consuming one of the 2 packets GU Energy Gel that I had brought along in my pack … (1) I don't really rely on gels (2) brought as emergency backup (3) didn't wanna risk another round of upset tummy! And to compound my predicament further, I was beginning to get that same sensations I had during my recent DIY modern-day version of the '95 Mobil Marathon – tightness on the calf (I can't even remember which one !). And it is only after the race that I wondered if it would've made any difference to my state of alertness had I taken out my Bluetooth Creative WP-250 earphones from my pack as well. That possibility didn't even cross my mind then …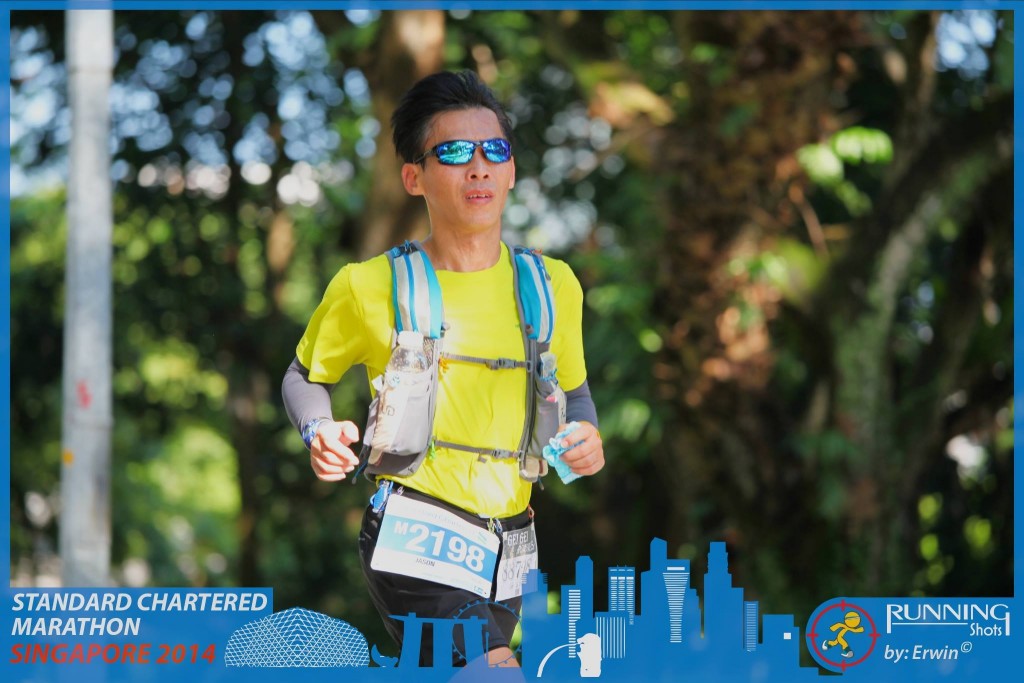 Out of the ECP and onto the service road enroute to GBTB East, I can't help but lament how nice it'd be if CP4 was a mobile unit!
I was still on that slapping-face-wake-up-call routine for who knows how long, when I spotted a single female (official) volunteer doing her best to motivate the runners passing her. I went up to her : "Excuse me, could you do me a favour?" … and before she could answer, I asked if she could blow the whistle (she'd been using) as loudly as possible into my (left) ear! Wow! that startled me into action …. for some 200m yet again … before the same old same old feeling sunk in (yet) again.
Marina Bay Golf Course to Republic Boulevard [40KM Mark] : My Saviors
1) Jakob [33KM Mark]
I knew Jakob on FB after Craze Ultra 2014. He was the night 43KM Craze champ. He had ran past me at the Woodlands PCN (near The Sports School) when I was heading back towards MR to complete my 101KM event. We bumped into each other again later on during our TNF100 50KM event.
33KM into SCMS 2014, I spotted the towering figure of a man dressed in red t-shirt, his trademark color. As I got closer, I decided to call out to him : "Ulrich … Ulrich (calling out the "h" as a "k") !" Hmmm he does not respond, and I'm thinking perhaps I am mispronouncing it. I called out with 2 other variations : "Alrick … Erik" and still nothing. I was dead certain this is him. I gently tapped him on his back … and he immediately recognized me and called me "Jason"! So as it turns out, I'd failed to (ever?) notice his first name is Jakob ! (that's what it says on his bib as he showed me). I laughed at my folly, and asked how come he wasn't running. He was carrying an injury. This man has a PB of 3:26 at the Boston Marathon! We walked and chatted and I shared my disappointment at not being able to achieve anywhere near my target goal of 4:00! Glancing down on my Pebble, I soon realized that I am bordering on my PB. I'd be lucky if I could match it. About 10KM to go, and with that much dreaded Benjamin Sheares Bridge segment coming up, it's daunting enough if I had my game face on …. but terribly and utterly deflating given the state I find myself in now. Jakob did his best to encourage me to be off … but the combination of sleepiness and weariness are starting to take it's toll. Twice I tried but the afterburner could not be fired up.
Just up ahead at the bend that would take us back to The Barrage, a Coca Cola stand ! My Coke refilled at CP4 had all but finished now, and out of courtesy I thought I would take no more than 2 cups; one for refilling, and other for immediate consumption. But the SG Freedom Freaks crew without hesitation automatically refilled my bottle to the brim! I was taken aback by this kind act of generosity! (they didn't look like they had a lot of 2L pet bottles with them).  I thanked them profusely and carried on to catch up with Jakob, who then tells me to start using fellow runners as pacers! Aha ! something which I've employed successfully on previous occasions but guessed I was just too stoned to even thought of myself. I thanked Jakob, wished him all the best and was off on my way.
 2) Shaofei [Just Before 35KM Mark]
Shaofei is a recent addition to my FB friends list of no more than 2 days (ago). He is one of the runners from Braddell Heights Running Club, of which I am friends with a few of its members, the first 2 being Boon Heng and Michael whom I had the pleasure of meeting at the end of the most recent Craze Ultra when I went to retrieve my baggage at MR. Shaofei is also a fellow member of the phantom Gei Gei Running Club, but for some reason he opted not to don the bogus bib during this race. As a result, I was not able to confirm his identity when I first noticed him from the back. I'd ran ahead thereafter, glanced back at his bib … but was not able to make out the details on it. I soldiered on from there … and as I was walking some metres later, he pulled up alongside and smiled at me. He wasn't running freely too, as he was suffering from ITB!
Shortly after running across The Marina Bridge to get over to The Barrage (36KM Mark), I went ahead just after taking some fluid from the drink station. There were several other support groups set up over on this side as well. I went about to hunt down for ice-cream and sng bao. The one group that had the latter apologized and said they were meant for the Official Pacers. I understood that, and thanked them all the same as I was heading off.
I carried on with my run, and then did a u-turn as I remembered I had forgotten to dampen my face towel.
3) Eugene Lim [38.4KM Mark]
Eugene Lim was a fellow participant of the TNF100 50KM race. He'd been in and around SatayRunner & myself thruout most parts of that event. He also suffered the same problems concerning faulty timing chips – non-recording functionality.
Eugene was a heaven sent. I was soon walking after the final drink station before embarking on Sheares Ave, a rather long unshaded stretch of road that would eventually link with The Sheares Bridge! The sun was ruthlessly hot this particular morning. It would not be too much of an understatement to say that it was baking hot! He called out to me from behind. For a brief moment, I addressed him as Kenneth. And soon realized my mistake and called him by his rightful name.
As sadistic as this may sound, it was good to see him just as tired as I was, but he showed great determination (as opposed to seeing someone looking really fresh and tearing up the tracks which would usually be demoralizing more so than is inspirational). We both agreed to start running. The ascend was now proving to be a tad difficult and taxing. We both agreed we were going to power walk our way up as fast as we can. We also took the opportunity to take deep breaths to get ourselves recharged. That helped significantly. As we got closer to the top, I glanced at my Pebble and suddenly realized that I still had a fighting chance of not finishing too far off my PB of 4:40 !
I wished my 3rd savior, Eugene all the best and sped off down the other side. I immediately noticed 2 other FMers; a man & a lady. They weren't together. I targeted them as my pacers as they were some distance ahead of me. The man was the closer to me. We did not run shoulder to shoulder, but he was resilient for every time i overtook him, he returned the favour. I soon caught up to the woman too. She too proved a tough nut to beat. I eventually lost both of them at the Republic Boulevard drink station.
A greater challenge was in stored for me up just up ahead!
10KM participants, notably the walkers! So intent to make the road their own, the whole road was practically blocked by participants not only intent on leisurely strolling along but holding hands too. They were in Phalanx battle formation! I found myself increasingly frustrated trying to navigate thru. At times I wondered why I even bothered with the "Excuse me, Make way, Passing thru, Coming thru" …  only 2 out of 10 times a path was cleared for me to go thru. The rest of the time, I had no choice but to gently budge my way. It was horrible. The race organizers definitely made a real mess of this, this time around. I don't recall it being this bad last year. It's made it that bit much more stressful that I had a timing to beat!
Republic Boulevard to The Padang : Finishing Line
Less than 2KM was all that separated me from finally ending my misery. I believe I was still occasionally slapping myself on the cheeks.
My calf (can't remember which one) cramped for a split second after I was asked to get back onto the tarmac. I had been using the sidewalk to avoid the walkers. I stomped the affected foot on the ground, felt no pain and carried on!
I somehow wasn't feeling at my optimum too. I could not summon up my (usual) reserves to go charging in and finishing strongly. I was just too fatigued. I began to wonder and stole glances on my Pebble more than I'd ever done  this close to the Finishing Line. I was resigned to missing it by the thin of my teeth.
The home stretch … and I could finally, yes finally … relaxed a little and looked to my right at all the spectators to try and spot my wife  and son who had made their way here to support me!
Alas, I crossed the Finish Line … Pebble : 4:38 !!! By golly, a new PB by a mere 2 mins ! I Can't believe it !!! and lo and behold, over to my left … Michael "Grandfather can run faster than you!" I called "Michael!" I can't remember for the life of me what happened next! Not sure if we'd even congratulated each other! Strangest thing it is …. sleepy as I was thruout the race, I could still register the accounts of events …. but these few seconds upon crossing the line remains a mystery! A blank!  This is why I have this blog. It's my running journal. I do not wish to have a repeat of not being able to recall what transpired during and after my maiden Marathon all those years ago!
I headed down the proper channeled metal barriers for the Marathon Finishers. I was immediately given a Medal & a bottle of mineral water. I next had to head for the correct sizing Finisher Tee counter. Here, I was further issued my tee, and a can of 100Plus. The boys were nice. Gave me an ice cold one after I mentioned the initial one wasn't cold enough. I asked the 2 boys if I could spend some time by the empty table ahead of theirs. I proceeded to do a shortened version of my regular cooling down routine, and yes … I was still feeling a tad sleepy! I bowed down my head to try to facilitate blood flow to the brain. The boys looking on, asked if I was okay. I gave them a brief account of my day's proceedings. One said he was attempting a HM possibly next year. I commended him! I thanked the boys and headed out of the tent.
It was super duper hot outside! Little to no shade as far as the eye could see. I headed for the closest one, the First Aid tent. Took out my mobile to try to locate my wife, but at the same time feeling a little lightheaded. I went further into the tent, and situated myself in front of the fan. No sooner had I sat down, one of the personnel informed me that I was not permitted in there. Duh ! didn't even first asked if I was alright! Informed her of my situation, and she arranged for 2 teenage volunteer girls to have me wheeled (yes, wheelchaired) to the main Medical Tent adjacent to the Finishing Line area. The girls were struggling to get me past those humps down on the ground, and I insisted that I was fine to walk … and it would have been faster. Nope, gotta follow protocol lest I should fall and resulted in a bigger headache for all concerned. I relented and enjoyed my rare moment of being treated somewhat like a VIP, but all the while looking out and hoping none of my friends would jump out in front of me to 'stomped' me!
Wow, seemed like more runners in the main Medical Tent than there were last year! YES! I was in here last year too, but for a different reason. My hands were swollen by the time after the race. I was worried it was a symptom of hyponatremia cos I had been guilty of downing fluid at every single station. Hence why this year, one of my objectives for this race was to avoid over drinking! Well, it wasn't … and I refused the antihistamine jab as per the Dr's suggestion. Glad i didn't too cos my wife spotted the UV Arm Sleeving that I had rolled up to my biceps. They had been up there all the while thruout the race cos it was a cloudy day last year. It kinda acted like a tourniquet! So guys and gals … PLEASE TAKE HEED. ROLL DOWN UV ARM SLEEVINGS TO YOUR WRIST WHEN NOT IN USE!
Back to this year's … so there I was and I could not be entirely sure if I was sleepy or that I was blacking out due to fatigue. I knew from past experiences that one should not close their eyes no matter how tired after a race, more so if you have the urge to lay down. The Dr brought me a cooling pad and positioned it and the back of my neck after he had taken my temperature (38 deg Celsius). I soon felt a lot better, thanked the very patient Dr who then offered me the coldest drink I've had had the whole day, 100Plus …. walked back to The Padang from whence I came from ie going thru the collection areas, where they wanted to give me my 2nd set of momento, which I pointed out the tick on my bib when declining.
Spent the rest of the time catching up with friends …………
Left The Padang just before 12 noon. Headed to my secret location to clean up and change … and as did last year, took a bus down with my family to Alexandra Village FC for duck rice!
Personal Observations :
Failure to get a good rest a whole week ahead of the race. Been keeping late nights.
Inexperience with regards to such early flag-off events. having to stay up for hours before 0500AM start time
Use towel as opposed to pouring water down the face, thereby getting running tops soaking wet and heavy
Oughta given earphones a try when fighting Zzzzz Monsters
Absence of Runner's High and Second Wind for the first time I think
Took the shortest amount of time to clear Sheares Ave & Benjamin Sheares Bridge as compared to previous 2 years
Did not cramp … a first for SCMS (Nuun is the key?)
Did not over drink
The Gei Gei Runners bib has potential … hoping to see more in future events
Personal Lessons :
Rest is of paramount importance
Pack toilet papers whenever possible
Sliced lemons for future esp if knowing not getting adequate rest coming into the event. A must for Ultras!
No oily food / buttery products few hours before
Bring Ziploc bags to store food (ala doggie bag)
Pace control to keep cramps striking early and ruining the event
Expect the unexpected, and dealing with it
Personal Conclusions :
A good personal race on the whole. Could have been a lot worst. Should have been a lost worst had it not been the support of not just the 3 saviors; Jakob, Shaofei, Eugene but also the voluntary Support Groups setup along ECP, GBTB East, The Barrage!
Sure I lost a few battles, but I won the war (against myself) in the end ! new PB : 4:38 !
Hits & Misses Of SCMS 2014 :
Hits :
Results and Timings ! Most efficient system employed to date.
SCMS Tracking App … works !
Reroute to Sports Hub a welcome change
This new diversion also removes past incidences of runners tripping over MBS area, and having to run thru poor lit areas in that stretch
Making the effort to honor Uncle Chan upon completing his SCMS Marathon, his 100th Marathon to date … and a ripe old age of 84 ! Fantastic !
Muscle Rub abundantly available, just as last year
Misses :
Diverting of slower Marathon participants without first clearly stating in B/W. Not making known the cut-off of individual CPs that might affect these runners, thus leading to confusion and a lot of unpleasantness amongst the runners
Giving out Medals & Finisher Tee in the name of Appreciation of Participation does not go down well with those who slog so hard for the same coveted items
No Bananas (complete disaster)
Severe lack of Energy Gels … some suspected no gels even
No Sweeper bus ???
Running Community Wristbands – didn't see too many fellow Marathon participants wearing theirs
10KM participants making Republic Boulevard Road their own … thus blocking Marathon runners … should have segregated them early on. Don't need to be negotiating this when one is battling fatigue and possibly personal milestones on the line
My Stats :