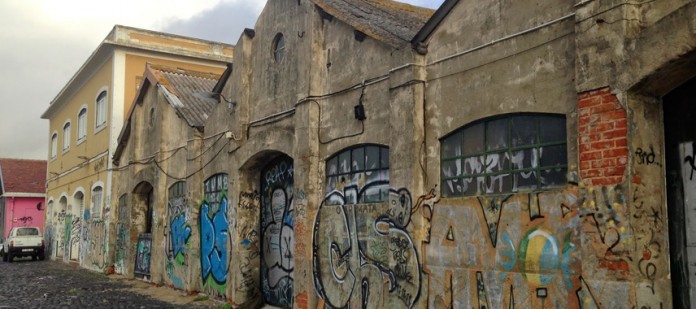 Run Date 10th Sept 2014
Bull fights, Ronaldo, Booze, Red Meat and a total lack of motivation to run at Madrid made the unfit runners, totally not prepared to take on the hilly slopes of Lisbon. Lisbon is the capital of Portugal and is one of the oldest cities in the world. Another nick name for Lisbon is "City of 7 Hills".
We had a sense of forbidding when we had to challenge the steep stairwells of Lisbon, along with our 10KG luggage (pretty light by any standards!) to our apartment in the old district of Alfama . Our arms were dead tired by the time we collapsed at our apartment and we decided to take a few hours nap in order to recover from our hill-climbing-with-luggage ordeal.
The steep stairways are almost everywhere
We totally ruled out running around the hills of Lisbon.
Lucky for us, Lisbon is also well known as a famous seaport with a long stretch of coastal land, which is definitely the ideal type of terrain for the unfit runners.
We started our run from the winding alleys of Alfama, down the hills towards Rossio Square (most important square and meeting point for the city dwellers), along the straight avenues of the modern shopping and commercial district of Baixa, under the Rua Augusta Arch , past the Praça do Comércio before we reached the coastline of Lisbon. From there, the coastal route gave us a magnificent view of the Atlantic Ocean. Using my iPhone 5, I took so many pictures on that beautiful morning and I could have written lengthy compositions of the significance of the landmarks which I ran pass. I will pass all those prose and selected only a few of the numerous pictures that I have taken. Meanwhile, if you are interested to find out what all those landmark means, you can click on the Wikipedia links to find out more about the landmarks yourself.
The alleys of Alfama
Roadside cafe at Alfama
Rossio Square. One of the most important Sq in Lisbon
Hobo and his dog camping out at Rossio Square
The wide commercial avenue of Rua Augusta leading towards Rua Augusta Arch
Rua Augusta Arch is built to commemorate the city's reconstruction after the 1755 earthquake
I have mixed feelings when it comes to the running route along the coast of Lisbon. The western route from Praça do Comércio will take you all the way to Belem Tower, one of Lisbon's most famous landmark, a UNSECO World Heritage Site. The entire route is around 7.5 km and sad to say, I only covered around 2 km of this coastal route as I need to take into consideration back to my apartment and up the hilly steps of Alfama. There is a nice pavement along the coast but along the way, the pavement will be blocked by harbors and buildings, forcing a runner to detour and run around the building. There are also old abandoned warehouses and stretches whereby there is a strong fishy smell. It is unlike Australia Gold Coast whereby it's just one long stretch of beautiful beach and waves, the Lisbon coastline has a wide variety of interesting and uninteresting things to see, which makes the run, well, interesting….
Sunrise over the Atlantic Ocean
Fishing while enjoying the coastal sight
Old abandoned warehouses with colorful graffiti art
Cais do Sodre Ferry Terminal. Thousands of people take the ferry to get to the other side to work
Beautiful micro brewery
Lots of interesting artwork by local graffiti artists along the way
The pavement can change from stones to tarmac to cobblestone
Woot! Pacman!
With my injured knee still acting up every now and than if I try to push it, I am in no condition to actually run more than 4km. I was actually pushing my luck when I decided to turn back at 3km along this beautiful and varied coastal route. Well, health and knee is more important. No point suffering another Dusseldorf when I pushed myself so hard that I had to sit out and not run for the rest of the European trip, which included Berlin and Paris the year before.
It's a slow jog back to apartment and I took a slightly different route to try to explore the more modern part of Lisbon.
Portugal is in deep recession. Property a bargain there
Pastries in Lisbon is probably on par, if not superior to French patisseries (Ducks a flying Baguette)
The famous Lisbon tram at Praça da Figueira
The run at Lisbon is a pleasant one. The whole city is a juxtaposition of old and new with very different terrain to suit different runners with different needs. Want a vertical marathon? No problem, challenge the hills of Lisbon and you will get a beautiful view of the city when you reach the top. You want a one way trip along the coastline? No problem, there are trams and buses that will take you back to the starting point. Want to enjoy sightseeing while doing a run? Lisbon has tons of cultural sites all within walking/running distance. I will recommend Lisbon as one of the top possible destination to run in Europe, thanks to the wide variety of terrain, interesting sights and very very good food and booze.. I mean drinks…
I ended by run at Rossio Square. My knee is indeed starting to throb. Selfie time!
GPS went nuts along the way..