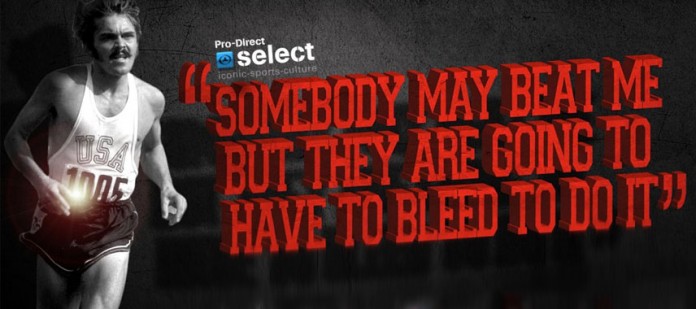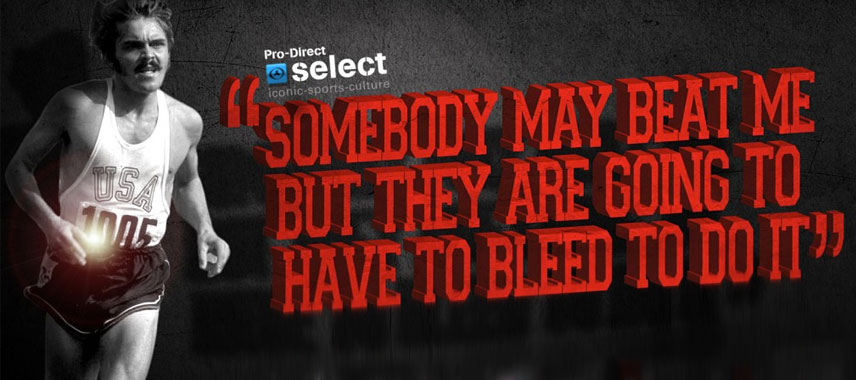 I thought I would do a short series of blog posts about my running heroes.
You will have heard of all these people I am sure, some of them you will know the story well, some you might not know quite so well.
Hopefully they are a good read. I'll give you a bit of background on the person and a bunch of links to find out more.
Each of these people has had an impact on me and my running – I'll share what that is in the post.
First up is my all time favorite running legend: Steve Prefontaine.
His story is about as close to a hollywood film script as it gets within Athletics, he's the rock star of distance running – and sadly, like many other fragile talents, he died young, way too young.
Steve Prefontaine was born in 1951, in Coos Bay, Oregon on the North West Coast of the USA. Son of Carpenter and German mother, he took up running in the 8th grade after being left out of various school sports team for being too short! Quickly his talent became noticed and by the time he left high school he was National Cross Country Champion and won the schools 3k in 8.41 a time which still standards as US record. (he later set 7.42 as a US record – compare that to your time for 2.4k IPPT !)
He was in high demand from Universities across the country, but after a long process chose to study at University of Oregon. Track Coach at the time at U of O was Bill Bowerman, who co-founded Nike with Phil Knight  after creating the famous NIKE 'waffle' patterned soles for running shoes with his wife's waffle iron in their kitchen (true story).
U of O  is still considered one of the great places to study as a competitive distance runner, recently Galen Rupp (Olympic Silver Medalist and USA 10k record holder) and local Singaporen talent Soh Rui Yong have chosen U of O for its pedigree in distance running. This heritage is mostly due to Pre and Bowerman.
Google Steve Prefontaine and you will quickly see that he had some strong opinions on running and racing strategy who came up with a good many great quotes which are used to this day by Nike in various advertising campaigns.
Pre's racing style was to go out hard and keep going hard until he couldn't go hard any longer. He didn't do tactics, famously said that holding back and then picking runners off with a final sprint was 'chicken shit' and felt that he would always do his best as a front runner.
This I relate to a lot as my personal preference when racing is to be ahead of a group or on my own, I dont like running in big groups, and I don't like to play the waiting game, mostly because I don't have a great sprint finish, but it's also a personal preference and I can understand Pre's point of view on this. I love this approach – for me, the best races are the ones where you finish in a heap on the floor, knowing you couldn't have gone any faster.
In four years at college, Pre never lost a race at 3k, 5k or 10k.
1972, Olympic year – Munich.
Pre qualifies for the USA team and is one of the main medal hopes in the 5000m. The day before the 5000m heats, the Munich Massacre (Terrorist attack on the Israeli team apartments) happens and the heats are disrupted. Pre qualifies for the final. It's a race featuring the other main middle distance legend of the time, Finn Lasse Viren.
Watch the race unfold here.
Pre runs one of the gutsiest races of all time. but fades in the last 20 metres and is out of the medals. Crashed and Burned. It's his first Olympics, he's 21, just come fourth in the world, but he's devastated.
After this he goes off the rails a little, heads home, manages to finish college, turns professional, continues to race in the USA winning races and setting records, but loses a little edge until 1974. Then he gets his act together and starts to train for the 1976 Olympics in Montreal, stronger, wiser he's ready to slay the demons and win a medal.
On May 29th, 1975, around midnight, whilst driving home after a party with a visiting group of Finnish athletes including Viren, Pre's car hit a rock on a remote mountain road near the University, flipped and he was killed. He is 23 years old.
This is the rock, in 2012 – it's now a semi-permanent shrine to PRE.
Since his death, Pre has remained a running icon, like many who die before their time, his icon stature is probably even greater in death than it was in life.
For me, Pre is everything that is great about running, you do it your way, you run until it hurts, you race to win, you work hard, you play hard.
He is my all time number 1 running hero.
At the time of his death in May 1975, Prefontaine held every American outdoor track record between 2,000 and 10,000 meters. at only 23 years of age, you have to believe he would have improved on all these times.
For me, one of the most amazing aspects of his story is just how much global sports history it contains. Here's a guy, who never won an olympic or world championship medal – dies at 23, but gets coached by the founder of NIKE, is present at the Munich Olympics where was one of the most terrible events in Olympic history happened and is credited as one of the inspirations for the 'running boom' in the USA in the 1980's.
Forty years on and his image is still being used by NIKE !
Surface
Event
Time
Date
Location
Notes
 Outdoor
track
1,500 m
3:38.1
June 28, 1973
Helsinki
11th place finish [32]
Mile
3:54.6
June 20, 1973
Eugene
runner-up to Dave Wottle [33]
2,000 m
5:01.4
May 9, 1975
Coos Bay
American record [34][35]
3,000 m
7:42.6
July 2, 1974
Milan
American record, broken by Rudy Chapa, May 10, 1979 [36][35]
Two miles
8:18.3
July 18, 1974
Stockholm
American record, broken by Marty Liquori, July 17, 1976 [36][35]
Three miles
12:51.4
June 8, 1974
Eugene
American record [35]
5,000 m
13:21.9
  June 26, 1974
Helsinki
American record, broken by Duncan Macdonald, August 10, 1976 [36][35]
Six miles
26:51.4
April 27, 1974
Eugene
American record, set in the first six miles of his 10,000 m record run (below) [37][35]
10,000 m
 27:43.6
April 27, 1974
Eugene
American record, broken by Craig Virgin, June 17, 1979 [36][35]
Want to find out more?
Watch this film if you can find it online or on DVD, staring Donald Sutherland as Bill Bowerman, it's very accurate.
There are also a few good books on Pre, which you can find on Amazon
Plus loads of his races and montages are on YouTube.
Hope you found that interesting – next up will be Steve Ovett…