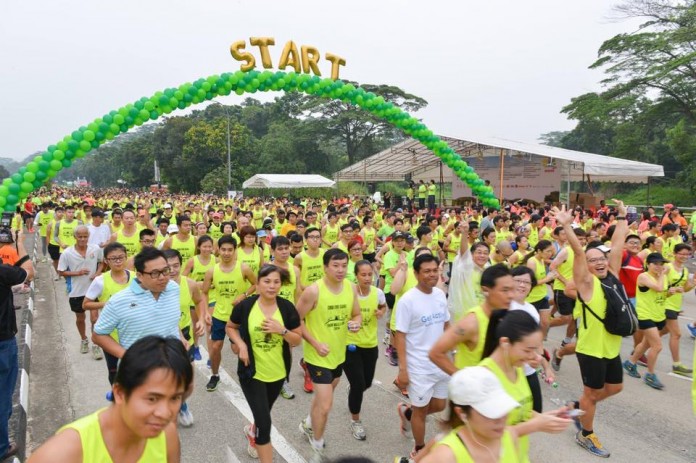 It was around October again.
I remember last year on the same month after running 8km at Chua Chu Kang Farm Run 2013 (CCK) event that I'm going to join again next year.
CCK was one of the many running events I anticipated this year. This event is annually held around Brickland road. I'm staying in east area, so this running event route is unique and fresh scenery for me. I was delighted when the organizers announced on their facebook page that this year's run will be 10Km, longer than last year's 8Km route.  So far this is the cheapest running event I know. I only paid $10 ($12 for non-Passion member) for 10Km with singlet and finisher medal included, shuttle bus service from ChoaChuKang MRT to Brickland road and back, as well as freebies from sponsors. This is a fun run that promotes health in the community through running, with walking and kids dash included as wholesome family event, so there is really no need for race bib and timing chip. I was able to register and pay online as well, which is a big improvement from last year's registration whereby you can only register and pay through community centre.
Chua Chu Kang BIG Farm Walk & Run 2014
October 12 came. I started heading off from home (Bedok) at around 6 am taking bus/MRT and arrived at ChoaChuKang MRT around 7.15am. I went to queue up for shuttle bus, and noticed that the flow of the queue is good. Volunteer smiled at us telling us not to worry as they will wait for all runners to come.
The flag-off for 10Km run is 7:30 am. I arrived late, went to baggage deposit area to give my bag and went to one of the portable toilet stations before heading to the starting point. There are lots of people waiting 3Km Walk 8am flag-off, and so I started running at around 7:50am. I supposed I can still start to run even at 8:30 am (for those staying farther than me).
Besides liking the route and scenery, I'm also excited to have my PB (I'm using running apps to track my distance/speed), so I ran my best. I can say that the road preparation and logistic by road marshals are good and safe. I was late, so I hurry up and this is a good way to beat my PB. But somehow along the way, I experienced congestion. Some of the participants (and I can say not few), are not running but taking a walk leisurely and taking some pictures. Anyway, what can I expect … this is a fun run and not a competitive run, besides the value for money I paid for. So I squeezed in for several hundred meters doing some zigzag occasionally. On halfway part, I think I passed through the leisure runners and catch up with the serious runners so the road was smooth again. I passed through several drink stations and I think only stop on 1 drink station. I can remember there is no isotonic drink (if my recall is correct), but I don't think I really need an isotonic drink for 10Km run, water will suffice.
Moving past the half way, I saw the 3Km walkers and they are all happy and smiling. I can see the sense of community in this event. This is really an event that promotes health as they give walk option for the oldies and kids, and kids dash.
At around 8Km mark, I saw that volunteers are giving the finisher medal. I didn't know that it was 8Km as I think I didn't saw a sign or mark. I took the medal, thinking that I completed the race and stopped my Runkeeper apps. Looking at it, I saw only 8Km and also seeing other runners continue their run, while I started walking. I guess this confusion is the only part I didn't like during the run. Anyway I want to complete my 10Km, so I started running again (although my mood wants me to rest already). I persevere and finish the 10Km mark.
At the finish line
The volunteers are waiting and smiling to give finisher medals (which I already took on 8Km mark, so I didn't take again). They also gave the goodie bags. This event is truly generous as they provide big bananas (I'm seeing some runners took 2 or 3) and waters. After taking my goodie bags (I also bought ticket for my kids since it's only S4 with shirt and goodie bags included), I queued up for Milo drinks and took 2 cups.
I took a selfie as usual and took a picture of my new souveneir medal. Wow, the medal is much better than last year, it's thicker and bigger. I looked at my Runkeeper apps and indeed have my PB (less than an hour finishing 10Km).
I collected my bag and took a public bus to nearest MRT. There is a free shuttle bus going back to CCK MRT station, but it only started at 11am.
Few days after the run, I can see some of my running pics by Kiko Aguelo and Running Shots. Again I have my souveneir of pictures and medals that I can see later when I grow older and bring back my euphoric running memories.
My overall recollection of the event
There was much improvement from last year, from the registration, to the longer running route, to the finisher medal. For a fun run I think I would give CCK Run 2014 event a 10/10.
This event has good logistics. Even before the pre-registration, their facebook page is always updated and transport is provided as well. I think there was enough water stations (although I can see comments from others requesting to add more water stations next time) and the road is not congested. What more can I ask for a $10?
What I can see an improvement is the 8Km giving of finisher medals. I'm not sure what is the purpose of giving medals at 8Km, maybe for those who wants an option to stop running after 8Km as this is just a fun run, but at least they should mention this option in the FAQ or updates.
CCK is not for serious runners as it's non-competitive and you can expect a walker or leisure selfie taker that can block your way unnecessarily. I really think this event is for a health promotion run, that is affordable and wholesome that everyone can participate in the community including oldies and kids. I truly enjoyed CCK 2014 fun run event and will join again next year.
PS. This is of my own opinion and experience, and I'm no way affiliated with the event's organizers.