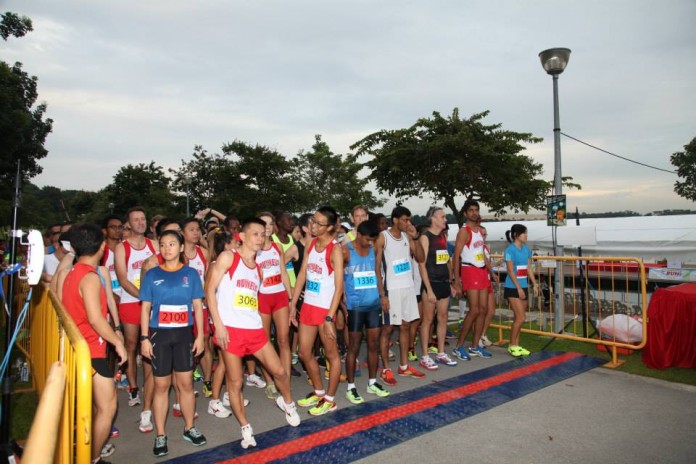 Another early alarm call, for another Sunday Race. This time I'm off to Bedok, for the Tampines Run 10k.
I live west and work in the CBD, so I don't often run in the East, but I know of Bedok Reservoir from taking my daughter to a birthday party at the climbing/zip wire place there – based on what I saw that time, I was pretty sure it would be a good place to race. It reminds me a lot of a lake run I used to do back in the UK, similar sized piece of water.
Generally I like running alongside water and this course didn't disappoint. I think maybe the organisers could highlight somewhere on the race website that the first few km's is on a dirt track, but otherwise I have no complaints about the organisation or pre race arrangements.
So after a quick trek down the PIE (through some light rain) I arrived at Bedok around 0630. I met up with the F1 Runners team for the usual warm up routine and a quick catch up on Army Half Marathon stories with a few people that I didn't see after the race last weekend.
Another big turn out of F1 runners, must have been about 40 in all.
Met Ben and discussed a basic strategy in the starting pen, which went something like this:
Ben : What time are you aiming for?
Me: I'd be delighted with sub 40 today.
Ben : Me too – ok, done.
Then we spotted Tony, who is usually ultra steady with his pace and normally runs around 38-39 mins. So, tag along behind him, then hold on as best we can.
Only today, Tony heads out quick ! I hit 2k in 7mins 30 – oops. That's a bit rapid for me, so I know I am going to pay the price later on.
I went through 5k in around 19:30, mostly a result of the first two quick clicks.
From this point onwards I was just trying my best to dig in and not loose too much time. As each kilometre passed I was slowing, but not blowing up, so I pushed on. Into the last kilometre with 36 mins and a few seconds on the clock, means I have to run a sub 4 min kilometre to hit my target time. Despite a sprint finish, I didn't quite make it, finishing in 40mins 16 seconds.
Lesson Learnt – Don't rely too heavily on one pacing guide. In this case, my pacing guide was Tony, and Tony decided to race faster than I thought he would. Normally I would have my GPS watch so I could have checked the pace a little earlier, but it ran out of batteries this morning, hence I only had a normal stopwatch and didnt check my pace until 2k, when it was a bit too late.
So I moved through the finish areas a bit deflated and annoyed with myself, BUT then someone reminded me that there were cash prizes for the Top Ten in each category and I remember this race has a Veteran Cat. Quick walk over to the organiser and I find out I'm 8th Male Veteran. Yay $50 for me.
Waited around for the awards ceremony, there were three kenyans in the race ( I guess they were still here after AHM last weekend). The winner ran 31mins – so we were in the presence of some real quality out there.
I collected my $50, bought some chocolate milk from FairPrice (recovery drink of champions) and headed home.
Overall this was a hit for me – similar vibe and level as the Mizuno Passion Run – I am enjoying these races that are organised by the local CSC's. Enthusiastic volunteers, nice venues, good prizes and competitive fields.
This is the end of a busy racing period, Orange Ribbon, NUS 10k, AHM, Tampines 10k in successive weekends –
If I'm honest I am a bit 'raced out' and I need a break (from racing, not running). I am also looking forwards to not having to spend some of my precious family weekend time collecting race packs, which I have also done every weekend for the last month 🙂
My next outing will be the ST Run 21k, looking forward to my lap of the track finish at the national stadium.
Now the serious distance training for Stan Chart 42k begins……