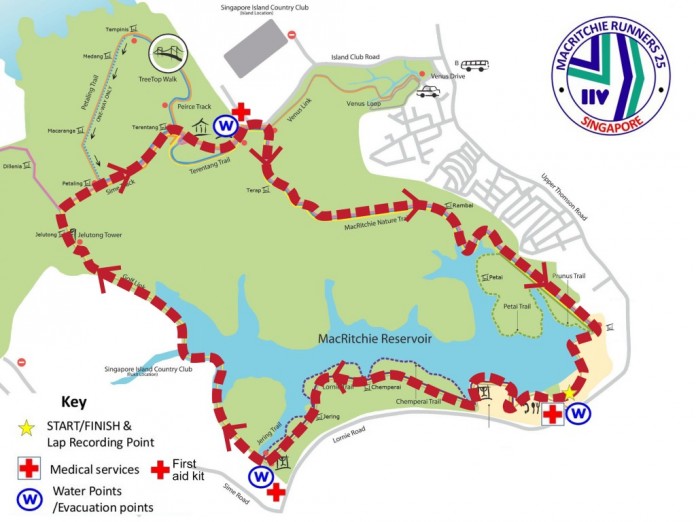 Actually it's more of a 'first half of the x-country marathon' race review, since I was the 1st member of a relay team with a colleague from work.
This was a great event. Very small in comparison to other Singapore's road race, there were maybe 500-800 runners in total.
I've recently started training with the F1 Runners club, so I met the team at the amenity centre around 0630 for a quick warm up.
The route was to be an anticlockwise loop of the reservoir, 2 laps each for the relay teams, 4 laps for the full marathoners.
I don't know about you, but I always run Macritchie clockwise!
Just as Jacek was giving his Race Director's speech, a thunderstorm began – which lasted my entire first lap! The trail was flooded in many parts – but having been brought up running cross country in Wales, I am used to a bit of rain – actually I prefer to run in the rain even now.
All dried out by my second lap – it's amazing how well the trail drains. The last 5k was a good old fashioned bit of racing with another F1 runner – I was able to hold him off with my goat like down hill running skills.
I handed over to Inge, my relay team mate and headed home for a shower. Returned at 1130 to see her come through the finish and collect our medals and very bright finisher T's!.
Another awesome Singapore Trail race, can't wait for The North Face 100 in October.
Happy Running guys….