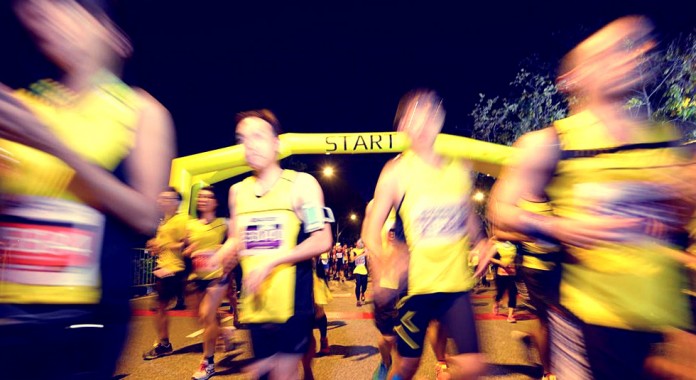 The sky was still dark though a glimmer of dawn was evident. Yet, the excited faces of the 10km runners shone brightly as they started to proceed to the starting point of the race that was opened at 645am. Before the race started, some of them were taking photos as evidences that they are participants of one of the world's most popular race ever, some of them were doing warm-ups to get ready to ace the run (just like me) whilst others were pumping themselves up with music.
The horn sounded and here we go! Having participated in other races before, I am glad that the path for the starting point of 10km was wide enough for one to manoeuvre his/her way out instead of getting blocked by other runners. The first 5km was a breeze with water stations at every 2km. Restrooms were conveniently located within close distances too. Not to forget, road marshals and signages of the distance we have completed were clearly located. In fact, despite having to share the road with the 21km and 42km runners after 8km of our race route, there was no experience of overcrowding or a lack of space to run freely. Bravo to the careful planning of the race routes.
The scenery we ran past was breathtaking too. The beautiful architecture of the upcoming Singapore Sports Hub, the one and only Singapore flyer and the glistening Kallang River in the morning as it reflected off the sunlight of the morning sun. This is in fact one of the most relaxing and satisfied races I have ever had.
Picturesque scenery, comfortable race routes, clear signages. Perfect combination for a good race.
The cold towels provided at the end of the race was a total bonus to add on the my good impression of this race. Massage corners were available for full marathon runners too. The Yellow Fellows had a booth to themselves to encourage runners to contribute a little to aid the cancer victims and their friends/family whilst the stage was packed with post-race activities.
I will definitely join 2XU again.