Singapore Race Reviews
- by Sharon C
My best time? I haven't run it yet.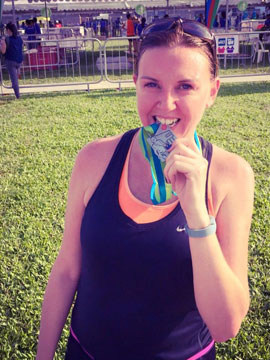 Blogger's bio
Number of posts: 5 / Blogging since: July 2016

Sharon C
I started running just over a year ago at the (almost) veteran-esque age of 40 and I've never looked back. So when a friend of mine suggested I join her in a 5km race (Venus Run 2015), I nervously jumped at the chance! I now love, love, love running - nothing beats that race-day buzz. Since completing that first 5km, I've staggered through a half-marathon (Great Eastern Women's Run 2015) and several 10km races, my most recent being TPS Race 2 at Jurong Lake last Sunday. My goal is to run my first marathon in Singapore next year. I feel privileged to have the opportunity to train and run here. There is an awesome running community and an endless amount of races to choose from. I don't currently have a blog, but I've always been a keen writer, having taught English for several years in the UK.
Number of posts:
5
Blogging since:
July 2016
First race:
Venus Run 2015
Favorite race:
Great Eastern Women's Run (2015)
Favorite training place:
West Coast Park
Blog entries: