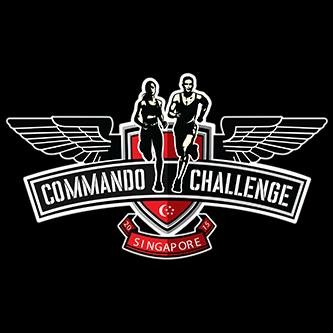 Commando! For Honour & Glory! Hoorah!
This was my first time participating in the Commando Challenge and being a fan of obstacles race lately, I was glad that I didn't give this race a miss. There were 2 race categories available and I chose the normal commando course as I was not really sure what to expect since it's my first time. Over a total distance of 6km, 13 obstacles were present to make sure that your race medal collected was worth the sweat! And I had fun!
REPC: 031015
Race Pack collection was at Suntec City Mall East Atrium and it was located at the "old" Suntec City Tower. It was quite a distance to walk from the MRT and with the combination of newly-renovated and old towers of Suntec City, one might simply lost his/her way. It's kind of confusing but if you follow the directional signs carefully, you will never get lost in Singapore. Literally.
I arrived quite early at around 12pm when the collection only started 1 hour ago at 11am and there was already a queue! So many early birds too! While in the queue, we have to get ready the QR code that was sent to our e-mail address after registration was successful. At the counter, the staff used a PDA and scan the QR code to retrieve our race pack information. This was so high-tech! 
After collecting the race pack, there was a large area showcasing the sponsors' products that was on discount and offers. I was really tempted to get some of the items but in the end, I managed to restrain myself from unnecessary spending. 
RACE DAY: 171015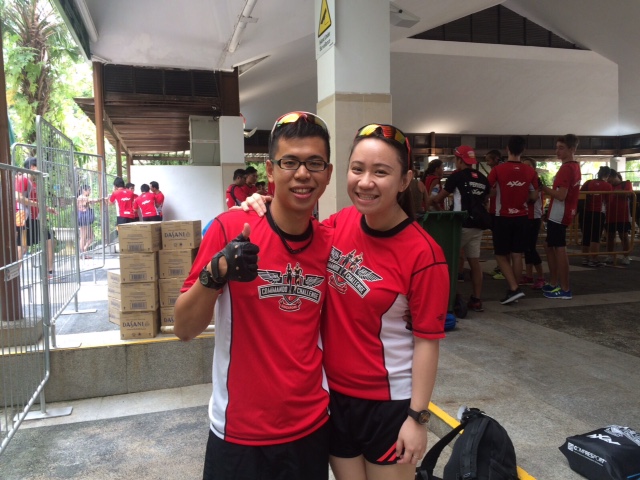 The race venue is at Sentosa Siloso Beach and with the race number tag, we were given free access to Sentosa Island via Sentosa Express Monorail. However it was really crowded and I had to miss a train before getting onto the next one. Luckily, the ride was smooth and fast!
I chose to compete at 4pm because the sun would not be that hot as compared to the early afternoon or late morning. Also, the crowd was lesser and I could take my time to complete the obstacles and walk the course.
I believe everyone's memorable obstacles would be the Ice Plunge and Electric Shock.
Ice Plunge – Actually I did not think too much before I went down the Ice Plunge. One of the officials told me to "don't think, just go" and I did what he advised. I was in the same container with my girlfriend and the moment she was submerged in the ice water, she was screaming her lungs out. I had to drag her forward so that she won't get stood rooted in the same spot and let the torture prolonged. 
The moment when I stepped out, my whole body was numb and I could not feel my feet. I was not kidding, it was that cold! I made my way down the steps carefully and walked quickly to the water point nearby. I remedied by pouring a bottle of Dasani water over my legs and I glad it worked!
To be honest, I quite liked the feeling of being icy cold as my muscles felt an instant relief. However, the coldness will be too much for some to handle as they have never expose themselves to ice bath or ice pack remedy during injury.
Would I go it over again? Yes, of course!
Electric Shock – This is another devastating  and sadistic obstacle, in my opinion. We paid to feel electric current running through our body, not once but five to seven times depending on how fast you run through this obstacle.
The official advised that when we held hands and run together, we would feel better and less electric shock. So I believed him, held my girlfriend's hand and ran across this obstacles. Did it really help? I don't know. 
Would I go it over again? NEVER!
While I was enjoying my 2nd cup of Monster Energy Drink after I had collected my finisher medal, I was a plump man in his 40s crossing this obstacle. During the halfway mark, he stood there and gave up. He could not bring himself further to finish this obstacle as the electric shock was probably too much for him to handle. The crowd cheered him on but still, he really could not carry on with this obstacle. I glad he listened to his body and did not gave in to pride or ego issue. Later on, I found out from him that he was not feeling well but still chose to show up and complete this Commando Challenge. 
I know most probably he would not get to see this, but hey pal, I really admire your courage to sign up, show up at the starting line and finish this 6km challenging obstacle course as a brave and courageous man! Your spirit really inspired me! Good job and keep it up! 🙂
Conclusion
All in all, I really had fun and sweat it out on a Saturday afternoon! This was my 3rd obstacle race thus far and I really enjoy going through all these obstacles.
Having said that, safety must always be the no. 1 concern when attempting obstacles races. Stay hydrated and listen to your body. Work within your means and overcome your fears. Limits are often set by ourselves!
Lastly, kudos to all the finishers and see you all next year!
Maybe next year, I might consider taking up the Extreme Commando! Go Hard or Go Home!
"You are only as strong as you allow yourself to be; never get discouraged, never give up because consistency and dedication is the key to success. Great works are performed, not by strength, but by perseverance."