RACE FOR A CAUSE. RACE TO SAVE LIVES.
With the PSI readings hovering in the UNHEALTHY range over the past long weekend and haze expecting to reside in our sunny island till the end of this month as reported in the news,  it is recommended that we stay indoors and minimise prolonged or strenuous outdoor physical exertion.
On a hazy Sunday morning yesterday,  a total of 4 road races and 1 vertical marathon were scheduled to be held across Singapore. However, the respective race organisers were forced to made various decisions and adjustments in response to the haze issue. One of the races was Singtel Race Against Cancer (RAC) 2015 which the organiser, Singapore Cancer Society (SCS), had no choice but to call off the race on Saturday 9.25pm, after taking into serious consideration of the safety, health, and well-being of their runners, partners, volunteers and staff.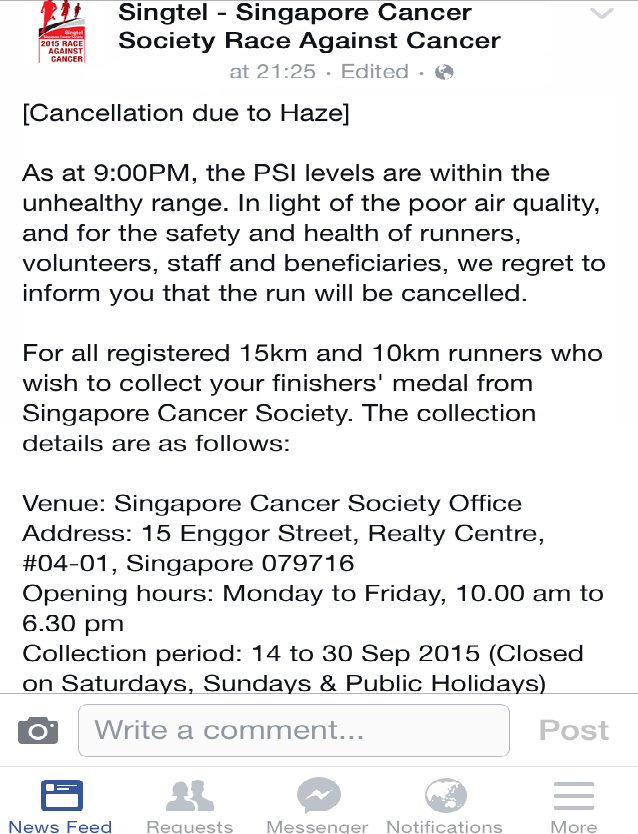 Although it was a pity that the race was cancelled as a lot of runners were looking forward to it, especially myself because supposedly I'm pacing 10km in 1hour 20minutes (my 1st pacing experience), we have to respect the decision made by the organiser and not forget the meaningful cause behind this charity race.
Towards the end of this post, do allow me to share a little on what I have learnt from this whole saga. (Yeah, there's still learning opportunities!)
So stay tuned while I do away with my typical race review! 😀
REPC: 290815
I went down to the Race Expo in the early afternoon before heading to Orange Ribbon Run 2015. Similar to other Race Expo that I have been to recently, rack pack collection was a breeze. The volunteers were organised and knew their roles well. Thumbs-up for their efficiency!
There were booths featuring hand-made handicrafts, and the volunteers were promoting and selling them enthusiastically. I was really touched by their friendliness and enthusiasm! I think they can consider pursuing a career in sales and marketing! 😀
I was approached by a volunteer who was holding some purple ribbons with him. He urged me to take one purple ribbon and stick it on the ribbon board to pledge my support for the cancer patients and survivors. I took one from him and went to contribute a small effort of mine.
In the photo above, I took a photo with my race bib and race tee in front of the ribbon board after pasting the purple ribbon!
There were not much items in the race pack but I feel quality matters more than quantity. The photo below shows the items that were useful for me!
A 7-day unlimited visit to Pure Yoga! Since the start of the year, one of my new year resolution is to learn Yoga. I believe this entitlement pass came at the right moment to kick-start my yoga journey and allow me to take a step nearer in completing my goal!
Tiger Balm Active Muslce Gel. I can apply it after a good and solid run! Sounds like a good treat for my aching legs!
Julie's Oat 25 Biscuits! I never tried oat biscuits before but I never regret opening these small packets because I really

love

the oat biscuits!!! I personally like the one with strawberry as compared to the other one with ten grains. It was delicious and I matched it with a cup of Old Town white coffee, oh heavenly~ I intend to try this meal before my morning runs and hopefully it works! Give these oat biscuits a try and you can purchase them conveniently at all our local super-marts!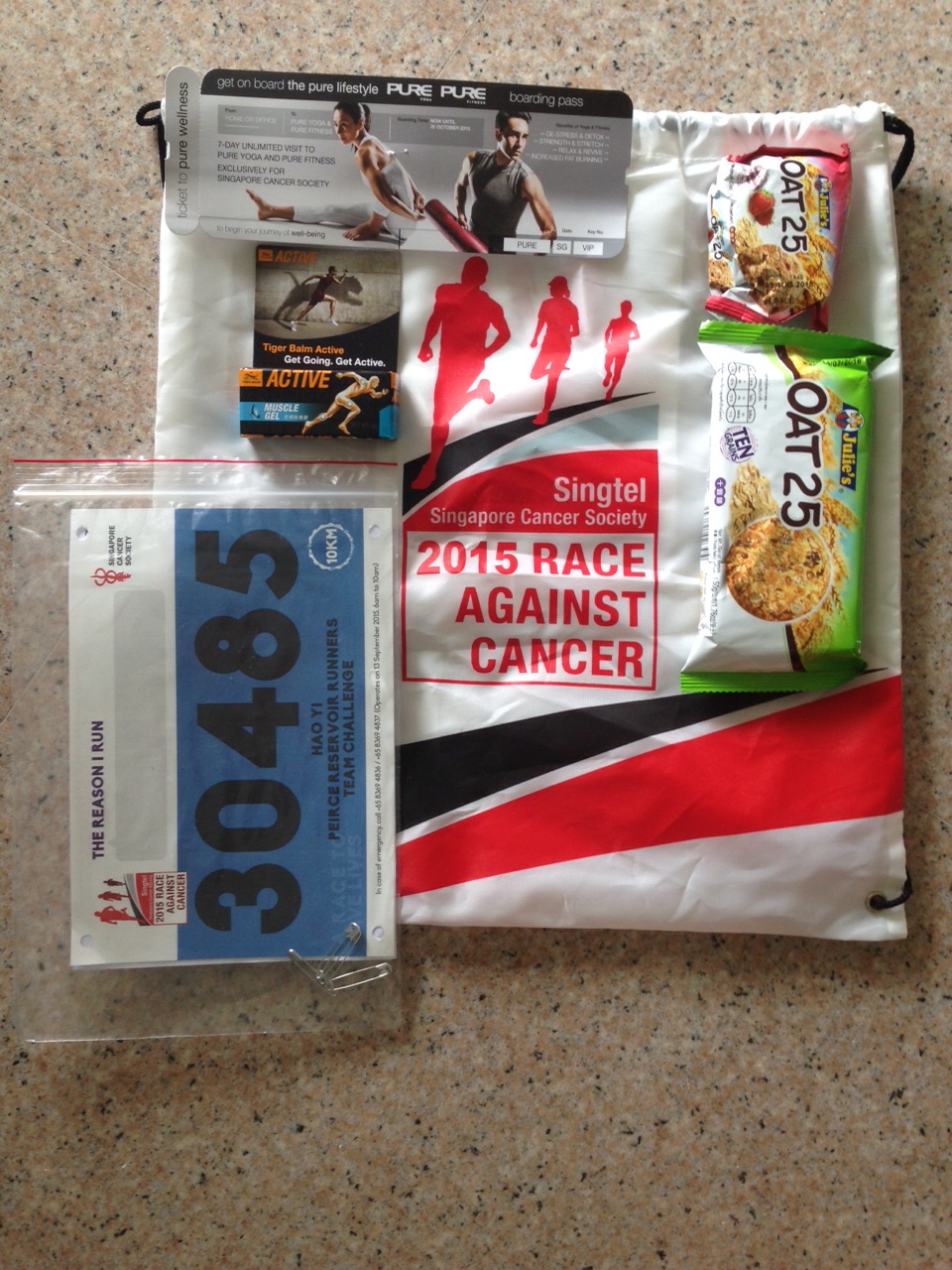 Race Pack Items
RACE DAY: 130915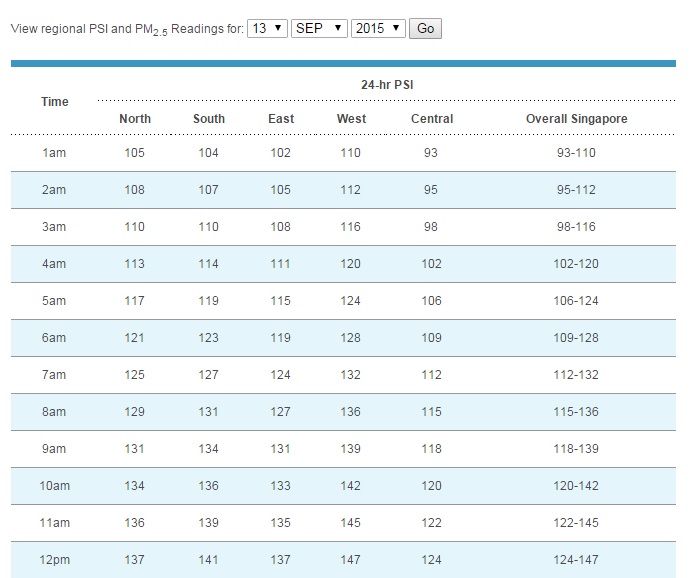 Race was cancelled by organiser due to unhealthy PSI readings.
CONCLUSION
Honestly speaking, I started drafting this post yesterday (Sunday) at 10:33am but only decided to publish it today because I hope I could talk to someone from the organising committee when I collect my Finisher Medal. I wanted to hear what the organiser felt towards making such a hard decision to cancel the race. And I glad I did.
I managed to spoke to one of the staff and form the short conversation, I could feel how sad and sorry they truly were to call off the race. At the same time, I felt sorry and pity them because concurrently, they had to manage difficult people whom called themselves runners. Well, in my context, paid customers.
Like many of you out there who were very concerned whether the race would still carry on, I started camping and re-visiting RAC FaceBook Page since it was 5.30pm on Saturday evening because RAC issued a statement on last Wednesday stating that they will make a decision by 6pm on whether to proceed with the race should the PSI readings exceed 100. When the clock striked 6pm, I could see comments flooding that particular FB post, demanding an immediate reply from the organiser and hoping that the race would not be cancelled or at most be postponed to a later date.
16 minutes past 6pm, another FB post was posted stating that the organising committee would make a final decision at 9.00pm on whether to proceed with the event and a SMS would be sent to all affected. Negative and unpleasant comments started to flood.
9pm came. More complaints and whining were flooding that particular FB post; a familiar scene that I had witnessed not long ago. At 9.25pm, a new FB post was finally uploaded on its page indicating that the RAC2015 would to be cancelled as the PSI reading was still in the unhealthy range as of 9pm. Mixture of understanding and complaints comments were made very quickly in the next few minutes and in just a while, amounting to a total of 129 comments.
PERSONAL THOUGHTS & VIEW
I understand that many participants (me too) were disappointed that the race, unfortunately, had to be cancelled due to the haze issue. However, I chose to keep silent and respect the decision that the organiser had made because they have had the best interest at heart for everyone involved in the race. The staff that I spoke to just now was concerned and worried of the well-being of the participants from other races who went ahead with walks instead of runs.
I felt that the organiser did an excellent PR job in managing the public. A note was posted at 10:30pm that night in FB to answer the common questions that RAC participants had raised up regarding the cancellation of the event. Also, during noon time just now, another note was posted in appreciation to all participants. Throughout the weekend, the FB administrators did not went MIA. They replied to all the comments that were made on their FB posts and if you PM them, they would get back to you too!
I personally had deal with some charity organisations or people previously, and I must say I really applaud the spirit and effort of the RAC organising committee from SCS! Keep up the awesome work! *two thumbs-up*
FINALE
To those who had paid, please look at the registration fees from another point of view. It's for charity and the money will definitely be used for a good cause. Yes, you didn't get to run, or have your photographs taken by official photographers, or get to drink some isotonic drinks at hydration points, but one thing for sure, you accumulated some good karma from the donation of your registration fees. So just look at things positively and you will feel a lot more better! 🙂
To those who had trained very hard for your debut race or a new PB record at RAC2015, please don't feel discouraged! There is always another race, another day! There is always another Race Against Cancer! Continue the good effort you had put in for your trainings and run faster for your next race! Stop whining and train harder! 🙂
Forget what's gone. Appreciate what still remains and look forward to what's coming next.
Would I go for RAC2016?
Yes I will. 
And you will, too.
"The first step towards getting somewhere is to decide that you are not going to stay where you are." Author Unknown