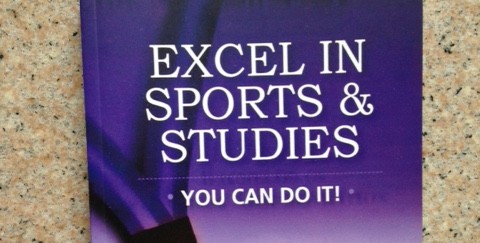 Excel in Sports & Studies – You Can Do It! (3rd Edition, 2014)
Author: Steven Quek C H
Coach Steven Quek, you'll probably have heard of this name if you know our local national marathoners, Soh Rui Yong and Mok Ying Ren, and follow their stories closely. Both credit their great discipline in running to Coach Steven during their early training days in Raffles Junior College.
I myself have the honour of meeting Coach Steven at NUS track and sat down with him for a quick chat. In the short 30 minutes talk, he had taught me a valuable lesson and shared with me lots of pointers on running. I had some questions regarding my self-training regime and seek his view on it. In the end, he verbally drafted and advised me a weekly training programme that I could adopt. WOW! What more could I ask for? I was elated! It was indeed an engaging session with him and his selflessness in sharing really moved me. I guess now I could understand why so many athlete excel under his coaching and training!
I first came across the existence of this book when I wanted to find out more about this wonderful coach that Soh and Mok were talking about. The objective of this book aims to equip student-athletes with tools that enable them to not only manage, but succeed, in both their sports and studies.
Although I'm currently not in the academic field and most probably wouldn't be studying again any time soon, I thought this book would be of a great help, maybe to some extent, for me to manage my time between work and running. Indeed, after reading the book thrice, I gained a lot of insights as to not only on how to manage my time well, but also managing my life well. I can assure you this is the first time I'm reading a same book thrice. Nonetheless, the impact of a book varies from person to person. What works for me might not works you and vice versa.
About the book
Written over a total of 143 pages and 16 chapters, this book touches on the topics of goal setting, proper planning of time, setting your priorities, nutrition, rest and etc.
Every chapters start off with a quote to motivate you (I really like this idea because I love reading inspirational quotes) and end with a chapter checklist to ensure that you know what are the pointers to learn from that chapter.
From time to time, there are some questions for personal reflection to allow readers to think about what they have done correctly or wrong in their time management or training programme. I find these questions useful as it allows me to check on myself immediately regarding the topic of the chapter and this helps to register the idea of the topic more on me.
There is also a column for student athlete's diary on the reflection of Renuka. Looking at the words and thoughts from a national athlete who represented Singapore at 2011 SEA Games, I was able to learn better from a live example and putting the pointers learnt into my life.
Graphs and pictures are also used for clearer illustration of the pointers that Coach Steven is trying to say.
Thoughts & Self-Reflection
I am really glad I could meet Coach Steven in-person, chatted with him and also bought his book to read. It was a fairly thin book but the knowledge I gained from it is immerse.
Every one has 24 hours a day and how you use your time is really up to you. We can make full use of our time by planning it wisely and reducing unnecessary wastage of time such as by reading a book while waiting for a bus or someone that you're meeting.
I must say this is a simple and straight-forward book but it's usually the simple things that we humans tend to overlook and neglect. This book acts as a checklist for me to make sure I am doing those small and simple things in life correctly.
I wished I had read this book when I was young so that I could understand the importance of proper time management and who knows I might excel in both my studies and sports too! But I guess now it's still not too late to start making my life becomes better.
Conclusion
If you like running and reading, stay tuned for more of my books reflections! Like I'd mentioned previously, the feel and lessons derived from reading each book varies from different persons. I hope through my blog I can share with you my joy of reading, and hopefully it will sparks some interest in you to read the same book too!
Running, to me, isn't all about roads, tracks and trails. Reading books about running is also another form of running!
Cheers! 🙂
"The journey of a lifetime starts with turning of a page." – Rachel Anders