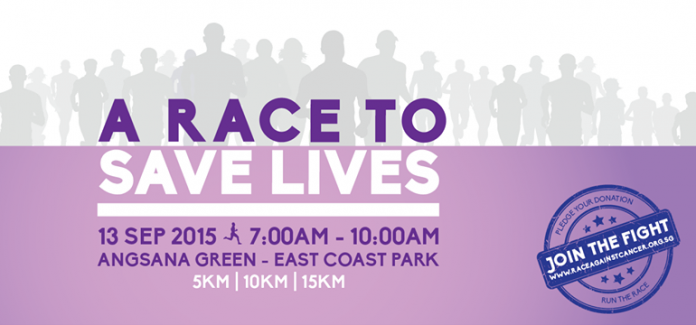 With 4 local races happening on September 13, it seems to me that it is an auspicious day for anyone to get off the crouch, lace up their running shoes and just run lah! Maybe clock a new Personal Best timing too?
Since 2009, this year would be the 7th time Race Against Cancer (RAC) 2015 is taking place in our sunny island.
You will probably be able to guess the meaningful cause behind this race merely by deriving from its name, but what you might not know is that there are actually more interesting facts you should know about running RAC 2015!
Hence, if you have made the decision and commitment to run RAC this year, I hope the list below will give you a little boost in your knowledge about this great race.
Here we go!
1. For Cancer, By Cancer
RAC 2015 is a charity run organized by Singapore Cancer Society (SCS) with the aim to raise fund for its various services such as cancer treatment subsidies, welfare assistance, cancer rehabilitation, hospice care, free cancer screenings, research and public education initiatives.
Other programmes which SCS is hoping to drive include the Cancer Care Fund, Cancer Rehabilitation Centre, SCS Cancer Treatment Fund, SCS Help the Children and Youth Programme and SCS Welfare Aid.
Want to find out more information? Check out SCS official website and FaceBook page!
2. Inspiring Stories By Cancer Survivors 
The RAC website featured 8 highly-inspiring stories and after reading them, I was really moved by the strong will and never-give-up attitude that they possess during such difficult times, and it made me reflect a lot about myself as a healthy person at such a young age.
Life is precious.
I believe a lot of cancer survivors and their loved ones will be running this race on the actual day. Say 'Hi' to the runners around you, make friends with them, know their names and their stories. I assure you that if you are willing to open your heart and ears to them, life will reward you with much more valuable things that you didn't expect.
Who knows? You might be stranger with someone else at the starting line but become running buddies at the next race!
Life is full of surprises!
3. One-of-a-kind Sponsors
The Title Sponsor for RAC 2015 is Singtel! Wow! If I remember correctly, there should be no other race being sponsored by the Singapore's biggest telecommunication company!
The list of sponsors is pretty extensive and there are a lot of sponsors which I have never heard before that contributes to making this event comes alive.
Hopefully there would be booths set up by the various sponsors showcasing their products. I would love to get myself a bottle of chilled Yakult after my 10km run.
What says you?
4. Exhilarating View of Singapore's East Coast
Held at the Angsana Green in East Coast Park (ECP) on a Sunday morning, the race route will be within ECP compound.
It is a common sight on normal days and nights to see a lot of avid runners running in ECP and hence, the RAC race route should be of no stranger to those that runs in ECP often.
With the coast-line besides you, you will get to enjoy the sea breeze that brushes off your face lightly as you speed off! Oh, and not forgetting the magnificent sea view too!
5. Fun & Bubbly Official Pacers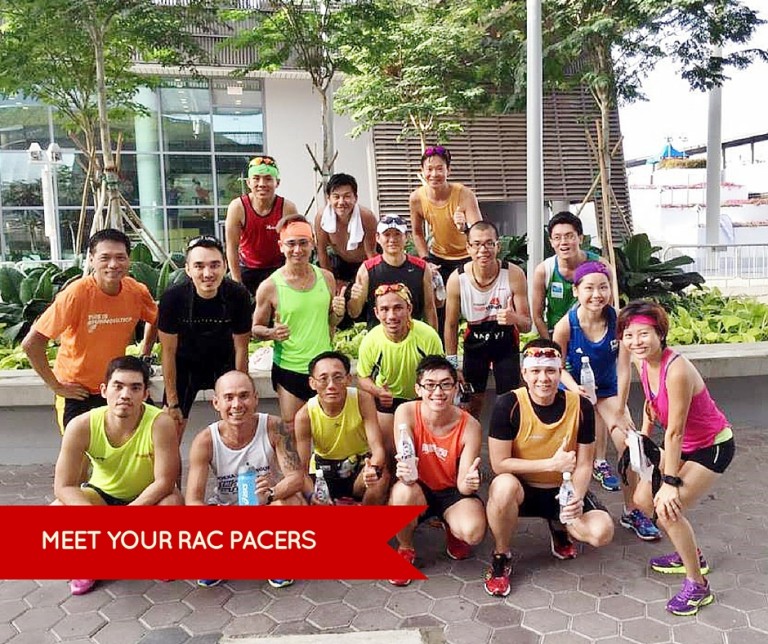 Meet the friendly runners from the Peirce Reservoir Runners (PRR) Group!
RAC had been identified by PRR as an annual must-support event and ever since 2013, PRR had went through and completed this run together annually.
This year, they will be running beside you and cheering you on to achieve your goal!
Led by experienced Chief Pacer and Pacer Group I/Cs, below are the 4 pacing groups available:
10km – 1 hour (Blue Balloons)
10km – 1 hour 20 minutes (Green Balloons)
15km – 1 hour 30 minutes (Yellow Balloons)
15km – 1 hour 45 minutes (Pink Balloons)
Join them and follow the balloons!
Feel free to speak to any of them on Race Day if you have any enquiries. They are definitely a bunch of lovely and cheerful folks!
Just so you know. PRR conducts regular runs at Peirce Reservoirs on alternate Saturday or Sunday morning every weekend to cater for different groups. Also every Tuesday night, they conduct speed work + strength building sessions.
So don't be shy and talk to them to know more!
Swooshhhh!
Oh yeah and lastly, RAC runners, don't forget to hashtag your photos #RACEAGAINSTCANCER2015 on social media and share the joy!
See you on September 13! 🙂
"If you're trying to achieve, there will be roadblocks. I've had them; everyone has had them. But obstacles don't have to stop you. If you run into a wall, don't turn around and give up. Figure out how to climb it, go through it or work around it." – Michael Jordan