"Race Against Racism" ended. Running doesn't. So is the spirit.
On August 29, held at Marina Bay Sands Event Plaza, was the Orange Ribbon Run "Race Against Racism" 2015.
I suppose most people are aware of Yellow Ribbon or Pink Ribbon, but Orange Ribbon, what's that? So here's a little information you should know today.
Since the 1990s, the Orange Ribbon has been adopted by countries and groups of individuals as the symbol of harmony, equality and freedom. In Singapore, the Orange Ribbon is adopted as a symbol of respect, understanding, trust and friendship.
This year is my second year participating in Orange Ribbon Run. I completed the 10km race last year but due to an injury of my right knee which caused me walking and climbing stairs difficulties for the past 1 week, I was not fit to run the 5km race this year. It was a hard decision for me to come to terms with, but I understand that rest and recovery are imperative for a long-term healthy running lifestyle.
Nonetheless, I was at the event to support a special someone, who was supposedly be running with me, if not for my injury. Hence, this race review will be solely based on what I had seen and heard to my best ability. Read on folks!
REPC: 230815
Collection was at Velocity Novena Level 1 Atrium which was a very common venue for REPC. There was no queue when I reached and it was a breeze! Organised and well-trained staff. Not forgetting, they were all so friendly!
Same as last year, there was a drawstring bag with all the necessary items inside. There was a rectangular case inside that attracted my attention. I opened it up and realised it was a portable cutlery set! This was so interesting as it was my first time receiving such a thing in my race pack! This portable cutlery set will come in handy when I go overseas! Need a fork and spoon anytime? No sweat, I have this portable cutlery set!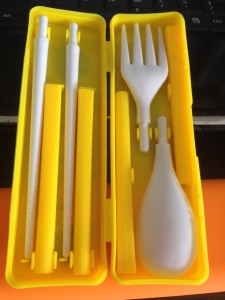 Race Day: 290815
The flag-off time for 5km race was 4.30pm! It's so seldom to have races flagging off at this timing because the Singapore's weather would be very hot and humid. Indeed, I began to experience a slight headache after standing under the sun for a short while. With the recent unfavourable haze condition, it was making the heat unbearable for everyone outdoors. If you run around the Marina Bay area often, I dare-say this race route will be "just another easy run" for you. Hence, it was more of battling with the heat at that hour and staying hydrated was very crucial.
There was a few booths around and I guess everyone's favourite would be the potong ice-cream booth! There were a good selection of different flavours to choose from and it was FREE! As a hardcore durian lover, I of course picked the durian flavour and indulged in it before it melted away quickly. There was also a booth giving out FREE snacks such as Mamee noodles and many more! Doesn't it sound like we are at a carnival?
The highlight of the even would be the arrival of DPM Mr Teo Chee Hean, the mass recital of pledge and a 3.5km Fun Family Walk which was flagged off at 5.45pm which a lot people took part in, as compared to its 5km and 10km competitive race!
Conclusion
This year is our Nation's 50th birthday! Let us not forget that the peace and racial harmony we have achieved today was the hard work of our forefathers of yesterdays. Looking at the regional countries around us, we must feel blessed and be glad that we are able to run on the streets safely even at nights, without having to fear that we might be attacked by someone of another racial group out of nowhere.
To end off, hope everyone have a good rest and run happy! 🙂