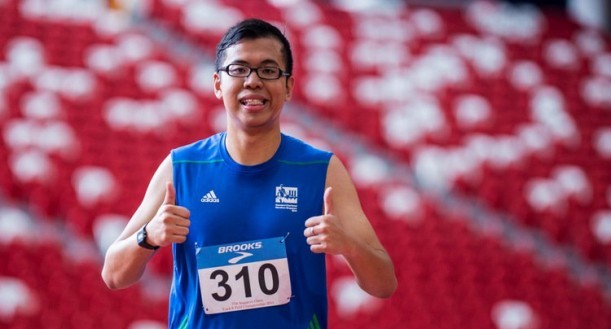 Hao Yi | 22 | 176cm | 70kg
A little Introduction for JRL community:
Hello runners & readers! 🙂
I used to be someone who was into sports when I was young – Badminton, Basketball, Soccer.
In 2004, when I was 11 years ago, I was diagnosed with Heart Murmur in the routine check-up provided by Health Promotion Board in Primary School.
I was issued with a "免死金牌" and was excused of all Physical Exercises (PE) in PE lessons, which slowly and surely, caused me to lose interest in playing sports and eventually become a couch-potato.
In 2014, 10 years later, I started to do physical activities and exercises but I kept experiencing chest pains. A few trips down to National Heart Centre and an echo-cardiogram confirmed that I have Mitral Valve Prolapse (MVP) with Mild Regurgitation.
Actually before I learnt that I have MVP, I had already started running and developed a strong passion, interest and love for this sport.
I have to credit this to my Platoon Commander whom I met in my Basic Military Training (BMT) in National Service (NS). He was in the Track & Field team when he was young, and he could really run fast! He would always train us in runs and share with us his experience and knowledge so that we could improve our timings.
I was truly inspired and motivated by him and it was then I promised myself I would never give up running. Instead, I would train to run faster and better! Within two and a half month of intensive trainings, I was able to run 10km in 65 minutes. It was not the fastest timing one could ever have but that was a great result and satisfaction for me.
I never imagined myself running, and falling in love with it and being so siao on!
There are a lot of times I have to admit that I want to throw in the towel, to just lepak and slack off. There are people who say both the positive and negative comments about running but at the end of the day I feel that you must listen to yourself. Listen to your body and stay injury-free. Start slow and train progressively.
In this running odyssey for a year now, I realise it doesn't matter when or where you start; 12 or 40 years old, 2.4km or 26.2miles. They are just numbers. What matter most is that you must have the courage to start, the faith to believe in yourself, the trust that you can do it, the perseverance when times are tough, and the discipline to keep going.
Most importantly, enjoy and be happy because fitness is of a lifetime and no one can take this away from you or tell you what your limits are.
2015 is coming to an end soon. But it's never too late to make fitness your lifestyle!
Just RUN Lah!
"To be Inspired is Great, but to Inspire is an Honour" – Stacey T Hunt