Welcome to the Race Database, your one-stop for running events information in Asia!
In this resource you can find all the vital information for past and future running events, such as registration fees, venues, route maps, runners entitlement photos and more. What's more, you can rate and comment on any race you have taken part in, discuss your experiences with others or write your own reviews.
The database is linked to our mobile app (
www.justracalah.com
) which allows you to create your own race portfolio, shortlist events, log your finisher times and add notes and photos to races you have taken part in.
✓ Sorting and filtering options
We have created navigational tools to make finding of events easier. Races can be sorted
alphabetically (A to Z, or Z to A) or by date (Old to New, New to Old)
.
You can also choose to display races only of a
specific distance category
, such as Full Marathons, Half Marathons, 10km, 5km or other.
Select
future events
for upcoming races, or all
past events
to review or rate a previous race, or, click on a
specific year
(e.g. 2014) to display all races for that year.

✓ Rate a race
Let your voices be heard! All the listed races can be rated by our members on key attributes, such as route planning, pre-race logistics, hydration and amenities or runner's entitlement. Comments and reviews by our readers are also welcome and can be published using the form at the bottom.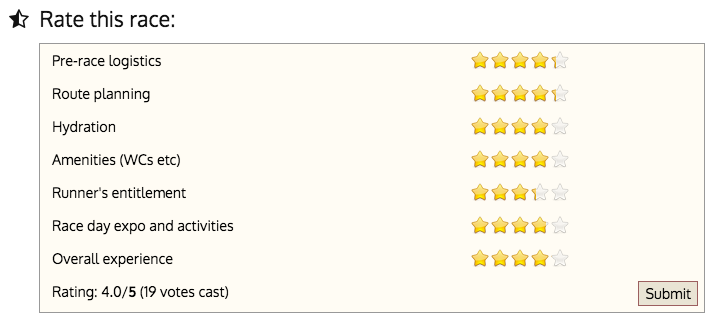 Want to find out what are the top-rated races? Click on
Top 20 races
.

✓ Gallery views
You can view finisher medals, route maps, race apparel or runner entitlement galleries from upcoming races. Which upcoming race has the most attractive medal design, apparel design, or the most scenic route? Compare them here!
✓ Add / edit an event
JustRunLah!
is a user-centered website and we could have not done all these without the running community. Any user can add a race or update information (e.g. submit better photos, add additional details) on an existing one.
Click here to add a new race
to our database, or, if you want to update information about an existing event, click on "Edit this race" at the top right of each individual event page; we will process your submission within 24 hours.
>